Car diecast Majorette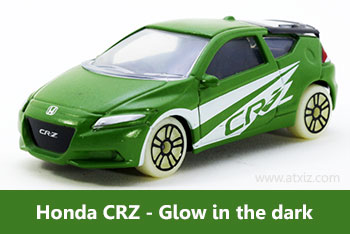 Majorette Honda CRZ Green - Glow in the dark
This green Majorette Honda CR-Z model green car Actually, no, I don't know Is it set up in the Series 4 Glow in the Dark? According to the information, the Honda CR-Z in this green colored car is not in the Series 4 Glow in the dark Limited Edition Series 4. But I see that the wheels are glowing wheels. Light and think it should be in the same set as the fluorescent kit.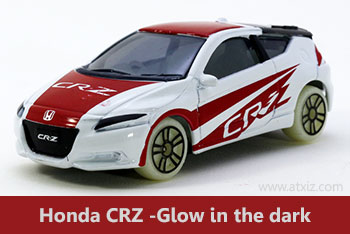 Majorette Honda CRZ  White & Red - Glow in the dark
For information, Honda CR-Z with 4-cylinder engine, 1,497 cc, engine power 114 hp, top speed 200 km / h, acceleration 0-100 km / h in 9.9 sec. The car weight is 1,245 kg. This is the car's data. Honda CR-Z. Really, this time we look at the CR-Z Majorette diecast.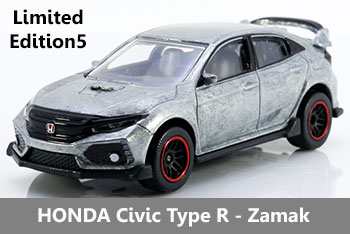 Majorette Honda Civic Type R (Zamak) Limited Edition 2018
Honda Civic Type R (Zamak) Limited Edition 2018 is one of 10 Majorette models produced in 2018 with a special alloy called Zamak consisting of aluminum, magnesium, copper and zinc.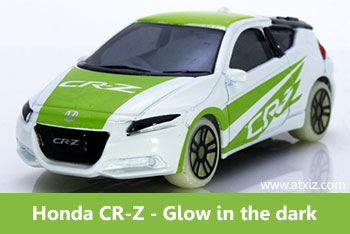 Majorette Honda CR-Z Glow in the dark
Majorette's car model in the Limited Edition Series4 Glow in the dark set is a car that can glow in the dark. All of that will include this Honda CR-Z. The glowing model cars that I have about 8 cars. Let's see the details of this car better.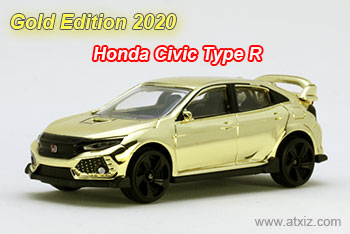 The most wanted die cast car in Thailand at the moment!
Before March 2020, there was a rumor from Majorette, the children's favorite metal car model manufacturer. And adults all over Thailand That the gold Honda Civic Type R model will be available for sale in March. And there will be a special, approximately 2% of production only Until becoming a trend for steel car collectors fans to find rare.