Die cast Cars
Die cast Cars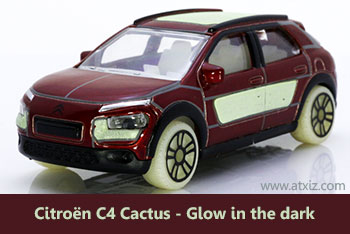 Majorette Citroën C4 Cactus Red - Glow in the dark
The Majorette car diecast that many people are searching for to be a key jigsaw for the Limited Edition Series4 Glow in the dark. That car can glow in the dark. Why is this red Citroen C4 Cactus so rare? Since it is only in Multipack Exclusive boxes. Cannot be purchased in regular single packs.
Hits: 817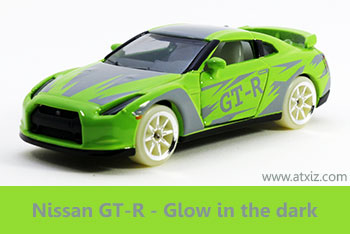 Majorette Nissan GTR - Glow in the dark
If we are talking about Japanese cars with powerful engines, I think of the Nissan GT-R in the past that used to be the most powerful engine. With a 3,799 cc 6-cylinder engine, but with a power output of 570 horsepower With a top speed of 315 km / h, acceleration 0-100 km / h in just 2.8 sec. Only when we know the real car information We also came to see the model cars.
Hits: 704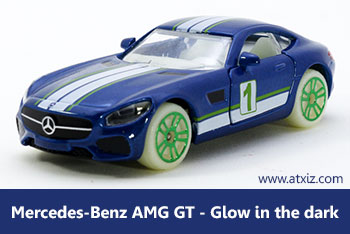 Majorette Benz AMG GT - Glow in the dark
We come to see the beautiful cars in the Limited Edition4 Glow in the dark, which is a glow in the dark. This is the Mercedes Benz AMG GT, a cool 2-door sports car. For real information, this car is an 8-cylinder 3,983 cc engine with 476 horse power and a top speed of 304 km / h at 0-100 km / h at 4 seconds. Weight only 1,615 kg.
Hits: 479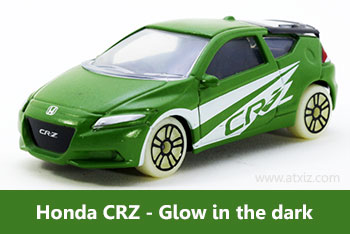 Majorette Honda CRZ Green - Glow in the dark
This green Majorette Honda CR-Z model green car Actually, no, I don't know Is it set up in the Series 4 Glow in the Dark? According to the information, the Honda CR-Z in this green colored car is not in the Series 4 Glow in the dark Limited Edition Series 4. But I see that the wheels are glowing wheels. Light and think it should be in the same set as the fluorescent kit.
Hits: 469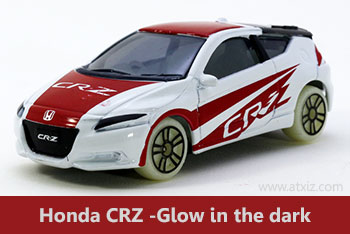 Majorette Honda CRZ  White & Red - Glow in the dark
For information, Honda CR-Z with 4-cylinder engine, 1,497 cc, engine power 114 hp, top speed 200 km / h, acceleration 0-100 km / h in 9.9 sec. The car weight is 1,245 kg. This is the car's data. Honda CR-Z. Really, this time we look at the CR-Z Majorette diecast.
Hits: 542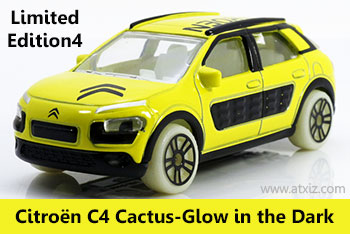 Majorette Citroen C4 Cactus Glow
Citroen Citroen C4 Cactus is a French national 5-cylinder engine with 1,199 cc engine capacity of 110 horsepower, top speed at 188 Km / h, acceleration 0-100 Km / h at 9.3 seconds, body weight 1,020 Kg.
Hits: 655