Chevrolet Camaro (Zamak)
Metal model Chevrolet Camaro Limited Edition Zamak color metal. In the past, we will have you with a small, colorful metal model car, but Majorette has produced a model car made of special alloy Zamak which is obtained from zinc, aluminum and magnesium. Copper produces Zamac pigments and is produced in limited quantities.
Usually, that model steel car is called a metal car, but it's actually not made of steel. Is a special alloy, which is made from special alloys Then show off the raw skin color Zamac color to go straight away, no need to do complicated coloring But for the beauty of the car racing style, there must be a black pattern expected a bit enough to be beautiful.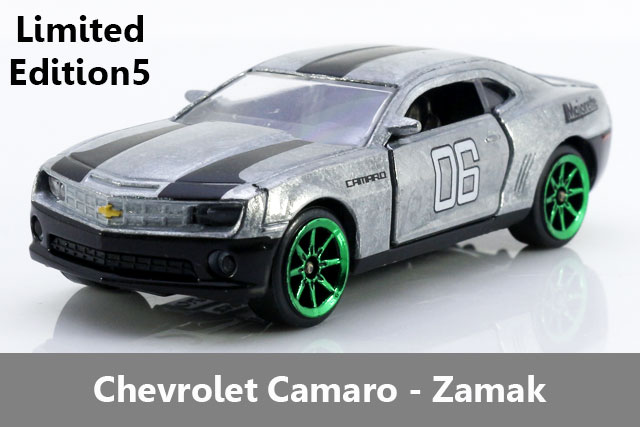 This Chevrolet Camaro model is 3 inches in length. Compared to the actual car, the size is reduced to 1/62, which means that if we put this model in 62 units, it will be equal to The actual length of the Chevrolet Camaro.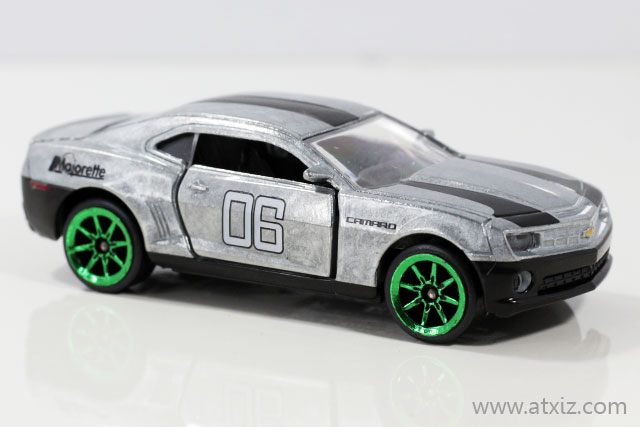 The body of the car is made from zinc, aluminum, magnesium and copper (copper) alloys, resulting in a special Zamac car paint. When obtaining this special color, there is no need to paint in order to conceal the speciality. Should reveal that this car is not ordinary But still has a black Racing pattern expected on the bonnet and roof Add fierceness to the car I guarantee that this car must be beautiful and pleasing to many people.
Do not need car insurance.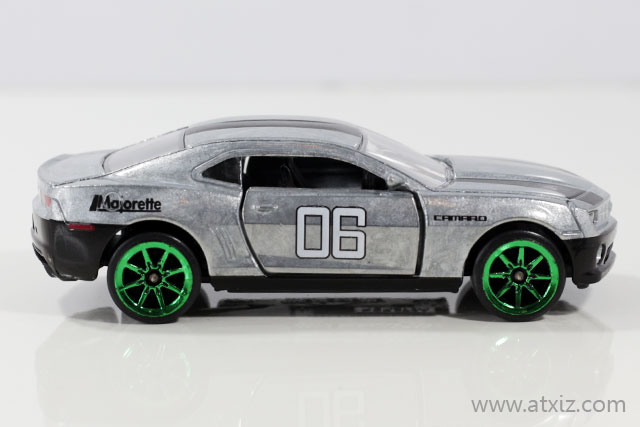 Side car door With Mark No. 06 in white. The front cheek has the model name of CAMARO. The rear cheek of the car has Mark Majorette in black.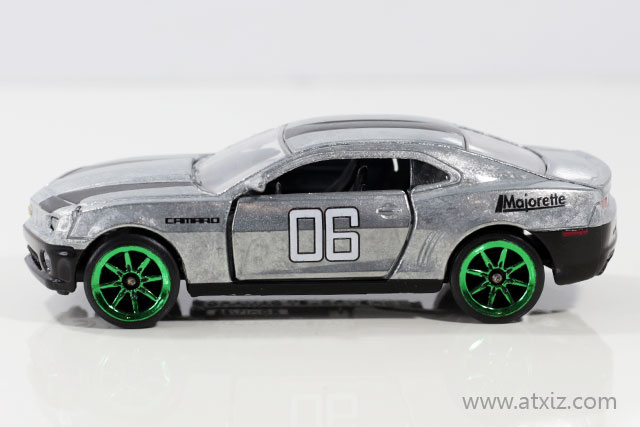 วThe wheels are green, shiny and beautiful max. For the rubber wheel is plastic. Not a genuine rubber in any way.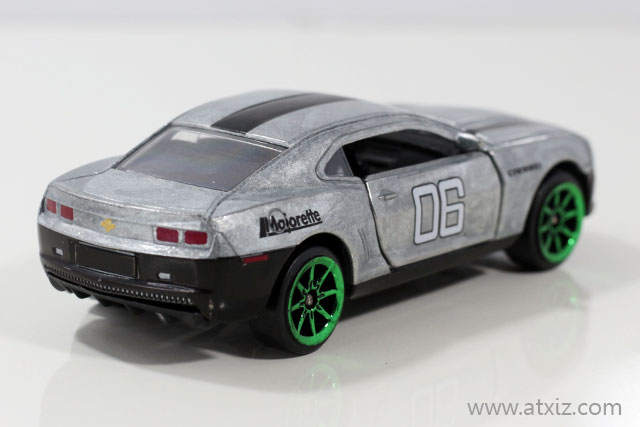 The back sees the gold Chevrolet logo along with a pair of red taillights.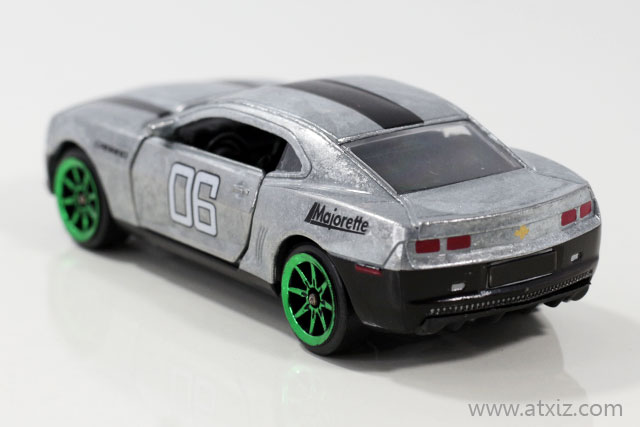 The front and back glass are clear and can be seen inside the car door glass.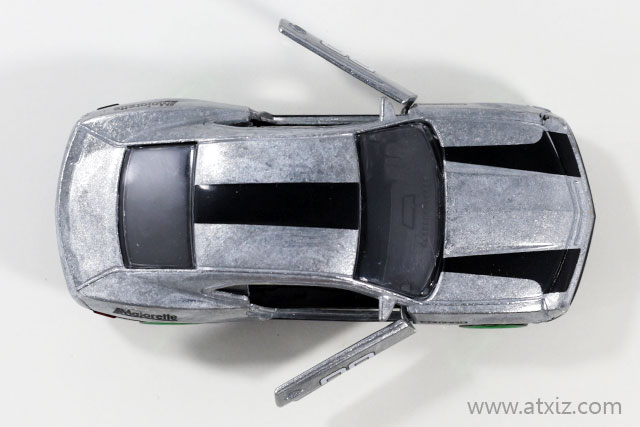 The car door can be opened on both sides, revealing the inside of the car. If viewed from the top, racing black stripes are expected on the bonnet and on the roof.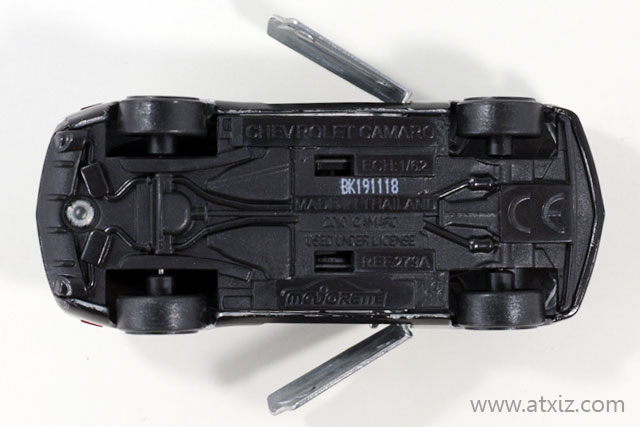 The bottom is black plastic. There is a letter indicating Chevrolet Camaro and ECH scale: 1/62, followed by a white letter mark indicating the production date BK191118, date 19, month 11, year year, made in Thailand, Made in Thailand and the Majorette logo. Reference REF: 279A
As for the Majorette, the Series5 Limited Edition 2018 Zamac color car will be produced in 10 models which
Majorette Limited Edition 2018 Zamac color.
1. Chevrolet Camaro 2010 8SG wheels
2. Chevrolet Camaro 2010 Wheels D6CSWL (Multipack Exclusive)
3. Dodge Challenger SRT Hellcat, D6CSPL wheels
4. Dodge Challenger SRT Hellcat, D6CSWL (Multipack Exclusive) 
5. Ford Raptor 5LTS2T Wheels (Multipack Exclusive)
6. Honda Civic Type R Wheels D6CSRL
7. Jaguar F-Type Wheels D5SW (Multipack Exclusive)
8. Porsche 911 GT3 RS Wheels D5SG
9. Volkswagen Beetle Wheels 5SVB
10. Volkswagen Golf GTI Wheels D5SW
note :
1. Zamak is a special alloy between aluminum, magnesium, zinc and copper.
2. Zamac is the color of Zamak alloys.