Ford Fiesta WRC Full Mark
The Ford Fiesta WRC (World Rally Championship) is a must have for every model of the collector of dust-racing models! Majorette produced the Ford Fiesta in a 1:58 scale, just as intense black but with a beautiful, white line pattern that has been screened. But it has rare vehicles and collectors want Let's see how it looks.
Majorette model collectors should not miss the Black Fiesta WRC (World Rally Championship). The majorette collectors with the unique WRC black color make this car from another Majorette Ford Fiesta WRC. This is a car that everyone. Must have in their personal collection.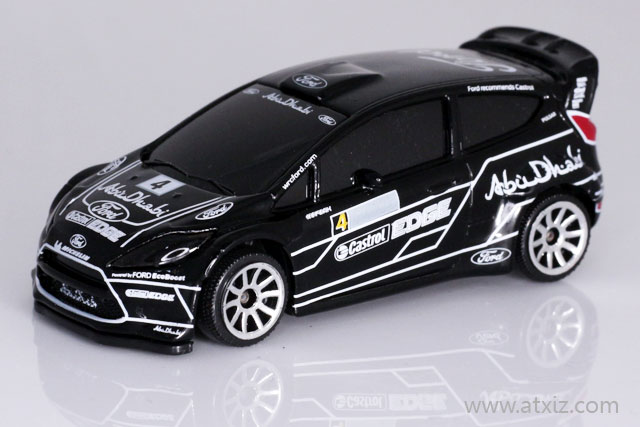 This Ford Fiesta is available in black. But with the pattern of white lines contrasting with the most beautiful.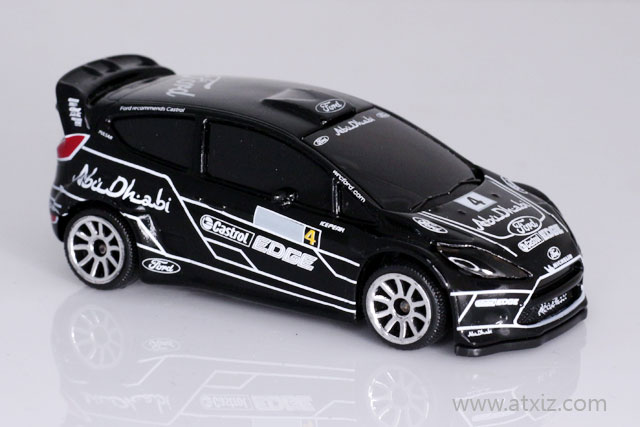 This version of Majorette has been abbreviated from the actual Ford Fiesta, 1:58 scale, produced around 2012-1014.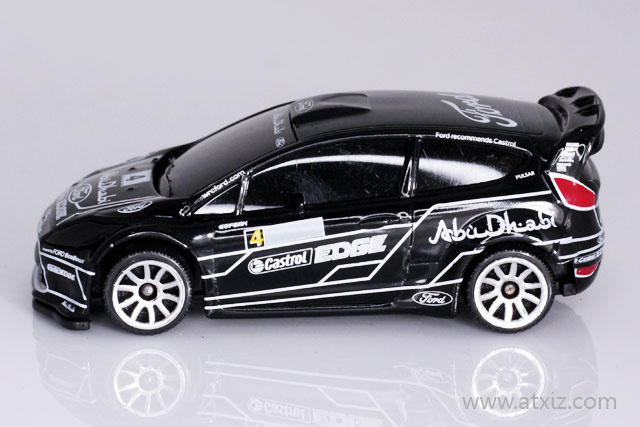 The wheels are made of U-shaped 5U, shiny silver bronze. Black plastic rubber wheels Not a wheel made of rubber I guarantee this car will be pleasing to many people for sure.Do not need car insurance.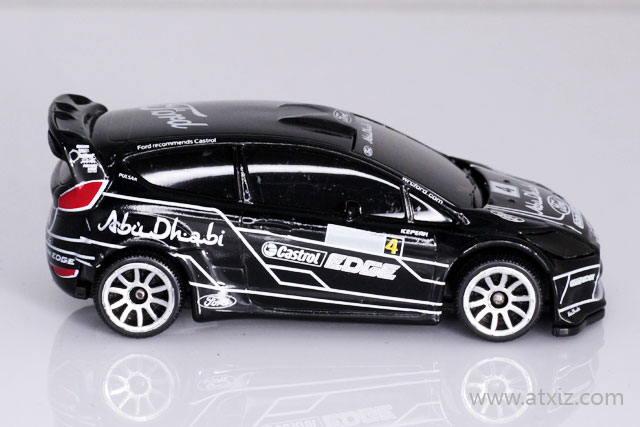 The car door cannot be opened. The car bonnet, front and back, cannot be opened either.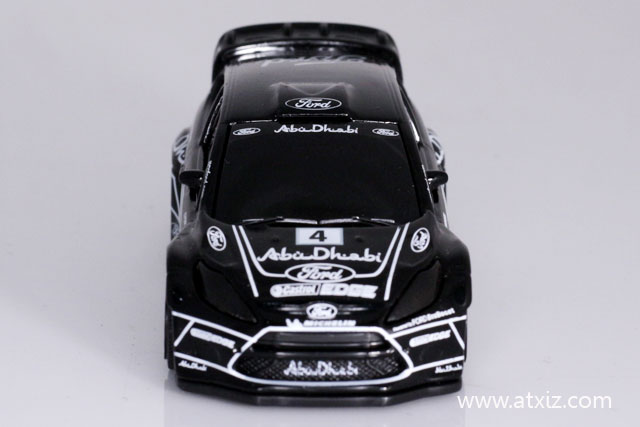 The black front lights blend in harmoniously with the car. Attach the number 4 to the front bonnet. Black grille with Abu Dhabi letters, white screen attached.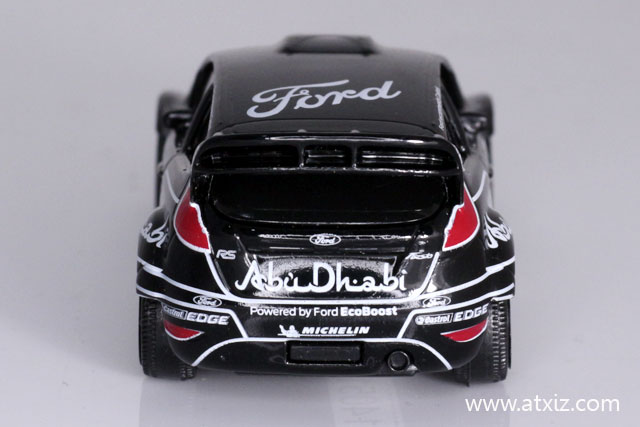 The back of the red rear light Can see the end of the exhaust pipe and rear tires The rear bumper is screened with MICHELIN. The tire supporters have Abu Dabi letters. The white Arabic font design is very beautiful.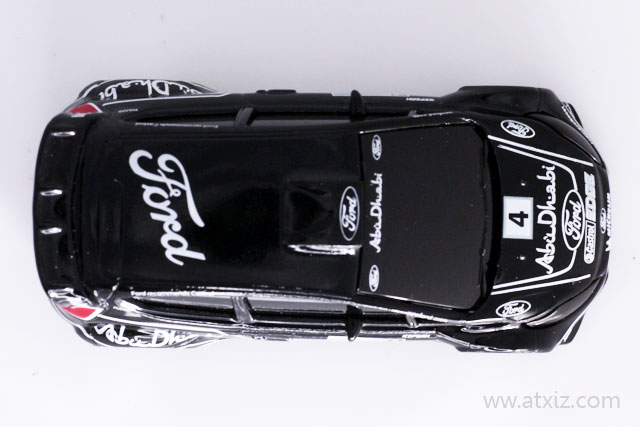 Above the roof is black with a white Ford logo.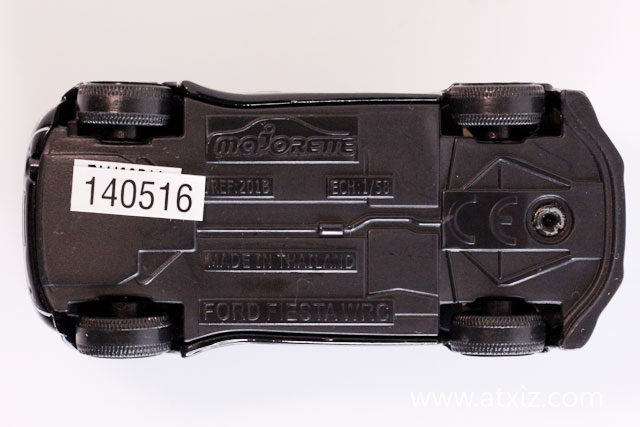 The bottom of the car is black plastic with the Majorette logo and reference number REF: 201B, followed by ECH scale: 1/58, followed by the production location in Made in Thailand and the model name of the Ford Fiesta WRC.
White sticker With numbers indicating the date, month, year of manufacture, date 14, month 5, year 2016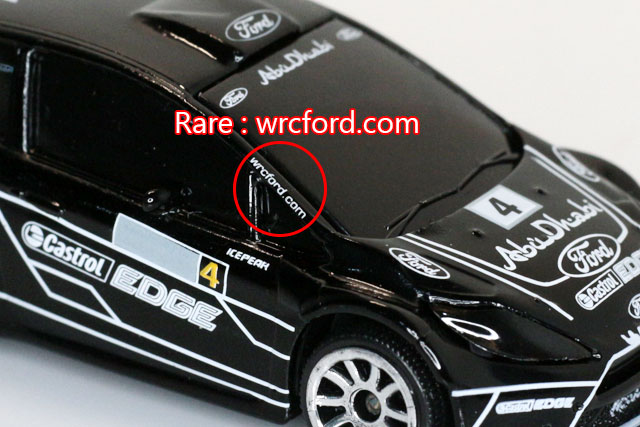 The above image is an important point, different from the typical Ford Fiesta wrc, Mark. "wrcford.com" white. If found, this is difficult for collectors.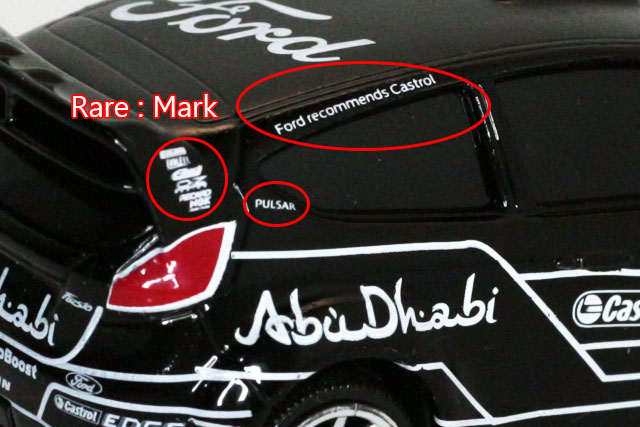 On the back, there are 3 more locations that are different from the regular Ford Fiesta wrc. If anyone finds the "Eager" Ford Fiesta wrc in black like this, it can be collected because it's a rare destination for all collectors.
Summary of Ford Fiesta wrc Full Mark
Because of the speciality of the Ford Fiesta wrc, because there are more Marks than normal cars that we can easily see. Different points, we can separate into 4 positions as follows
1. At the front of the front door post, there will be a mark "wrcford.com"
2. Spoiler area There is a sponsored logo mark.
3. The glass edge has a mark "Ford Reccomends Castrol"
4. The back has a "PULSAR" mark.