Majorette Benz SLS 
This time, we arrive at the Majorette model car "Mercedes Benz SLS", which I got in the condition of a second hand car. The car's color may be slightly scratched. The door is also closed. The max of the car is also scratched. But never mind, I took a review to see In case anyone thinks to find a collection of this model car.
This Mercedes is a group of Street Cars, which are cars on the general road separate from race cars. But anyway, this is a beautiful 2-door sports car. And also a Mercedes It is a car that many people dream of.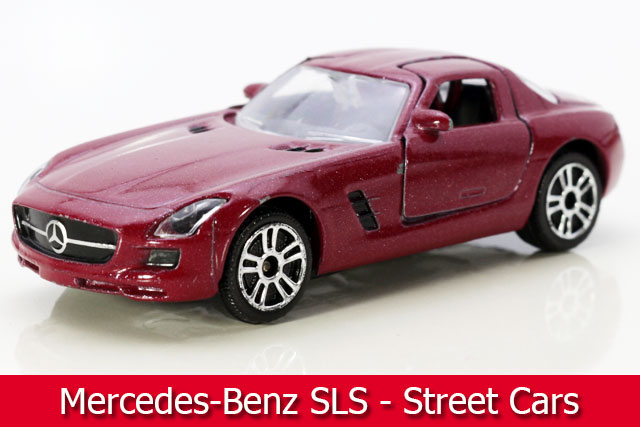 This Mercedes-Benz comes in "Glossy Dark Red" body color, bright red, beautiful glossy. The front has a highly influential logo for our cars, the large Benz logo in the black front grille. This car is guaranteed to be pretty, definitely beautiful.
Do not need car insurance.
The front lights are clear plastic like a real lamp. The glass front is clear plastic.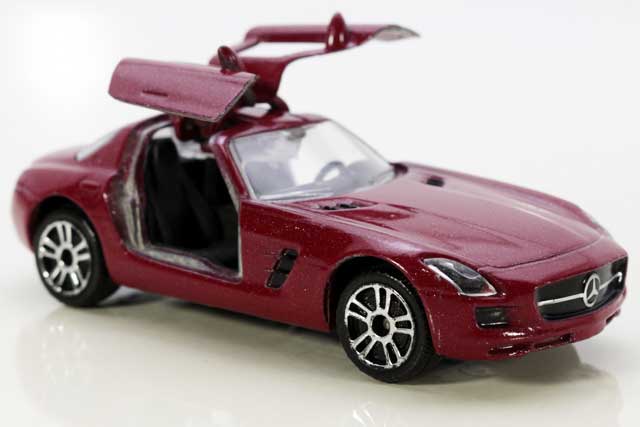 The specialty of this Mercedes Benz SLS is that the door can be opened. And opened uncommon with Open the side door lift up door wing release. Children will definitely like this car.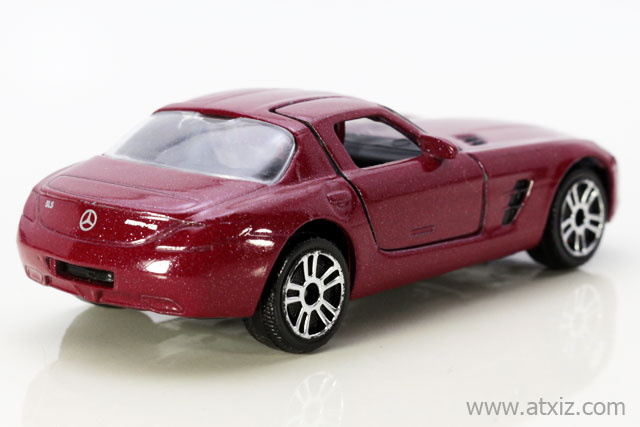 The rear of the car has a Benz logo and the SLS character. The red tail lights blend with the color of the car. The back glass is clear plastic like glass.
The wheels are in shiny silver-tone MAX. The rubber wheel is made of black plastic. Not made of rubber in any way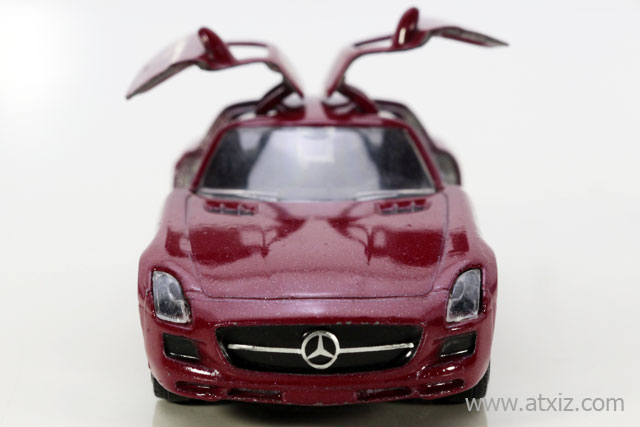 The view from the front is beautiful like a Mercedes. The door opens when it looks like a bird's wing, which is an innovative and beautiful design. But I can't help wondering if the car that opens the door like this, if going into the mall when parked in a narrow parking lot with a lot of cars, how can the driver open the door out of the car? Because when it is unfolded, it will definitely have to stick to the side car However, drivers of this level might find VIP parking spaces.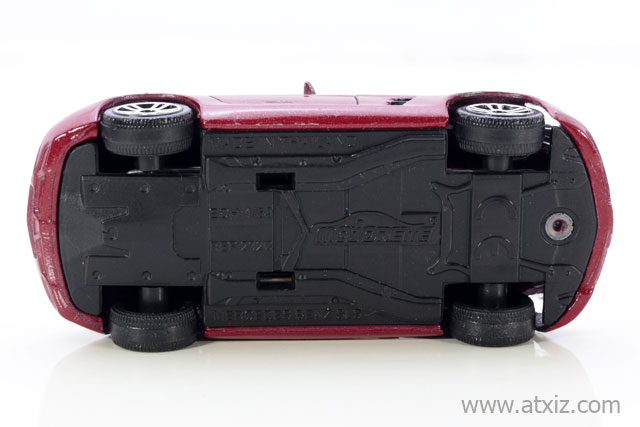 The car floor is made of black plastic with the Majorette logo. Place of manufacture. Made in Thailand. Scale ECH: 1/59. Reference order in production REF: 232C. Finally, the Mercedes Benz SLS model has no Lot number.
For anyone who likes to collect Benz cars Should not miss this model, it is a beautiful car.