Camping at Yutthana Farm, Ratchaburi
Date 14-15-16 May 2022
Ratchaburi Tent Ground, a large camping line that supports a large number of tourists. You must bring your own tent only. There are water activities such as kayaking, traveling to see the stream that flows from the mountains in the forest. Can play in the water and swim You can jump into the water. It is an activity that is very suitable for families and children.
Me and my family of 3 people, parents and children, drove out of our home. Phra Nakhon Si Ayutthaya Province at approximately 6:00 a.m., heading to Suan Phueng District, Ratchaburi Province. The distance is approximately 233 km. It takes approximately 4 hours. We may stop at a gas station. to find a drink as iced coffee and snacks for children to eat along the way But it didn't waste much time. It's a chilly drive.
We have reserved 2 nights and checked in on Saturday. And will check out on Monday, entrance fee is 80 baht per person per night, children are free of charge. Transfer to pay 50% of booking fee.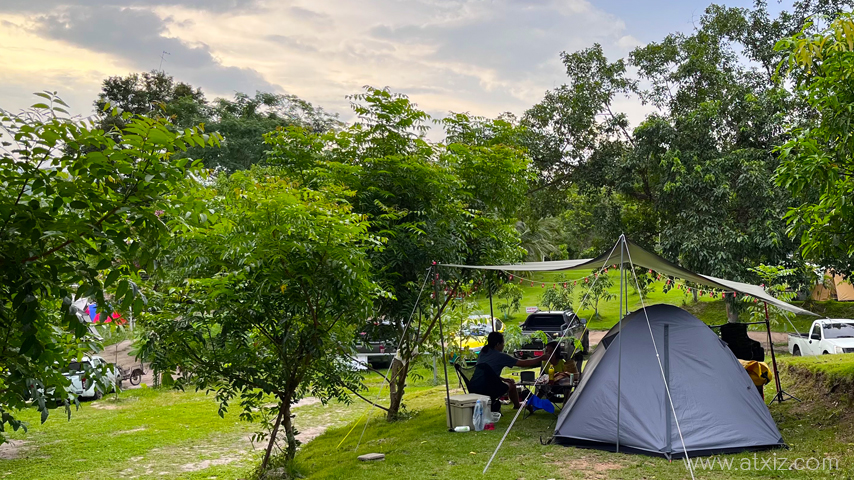 When we arrived, we could go straight into setting up our tents. By choosing to find a location as you like It's good to spread out by the water. but will carry the luggage far from the parking spot Or in the middle of the grassy area above, it's close to the cars and bathrooms, but the view isn't as beautiful as the waterfront.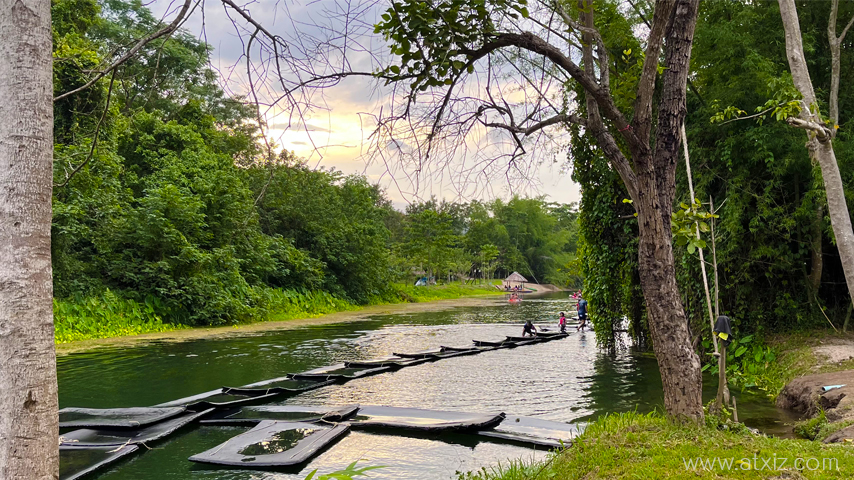 I chose the one close to the parking lot because it was easy to move my luggage. and close to the bathroom But too close When the wind blows from the bathroom There was also an unwanted smell floating around.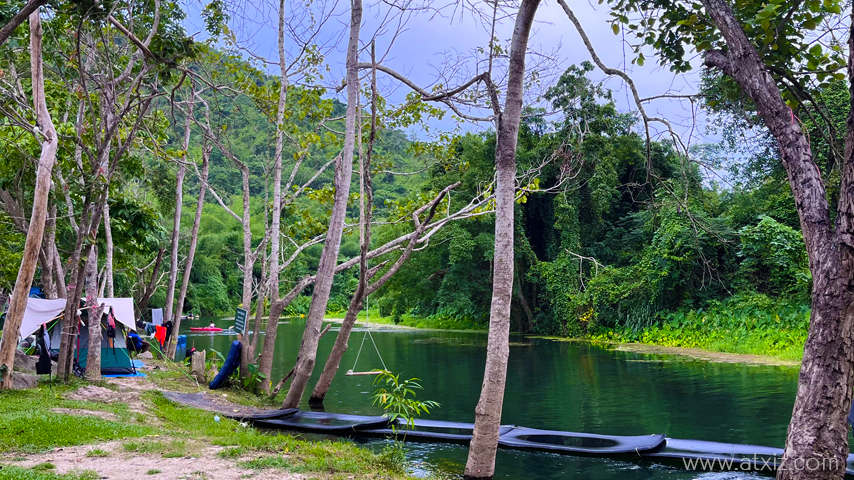 We hurriedly set up the tent. for fear that it will rain heavily because it's the rainy season While driving, there was a little bit of rain pouring down. I don't want to pitch a tent after it rains. or during the rain Afraid it will be messy.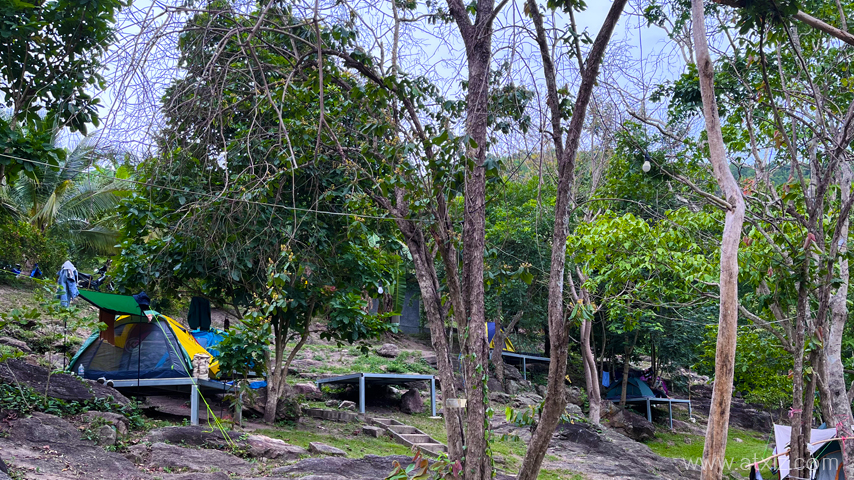 During this time, the sun was very hot and the weather was sweltering. The kind that the wind doesn't wiggle at all. The leaves looked still and motionless. camping activities It will be difficult when setting up the tent and storing the tent.
Pitch a tent in hot weather I will sweat and sag. because the weather is not good The more almost At noon, it can make me feel black. When we come to set up the tent near noon, it makes us not know the direction. where the sun rises and where is the sunset When the setting up was finished, in the evening the sun shone instead and allowed us to sit and cool. back hot again If you want to move the tent before going to bed, that's right. Must look at the direction carefully before pitching the tent.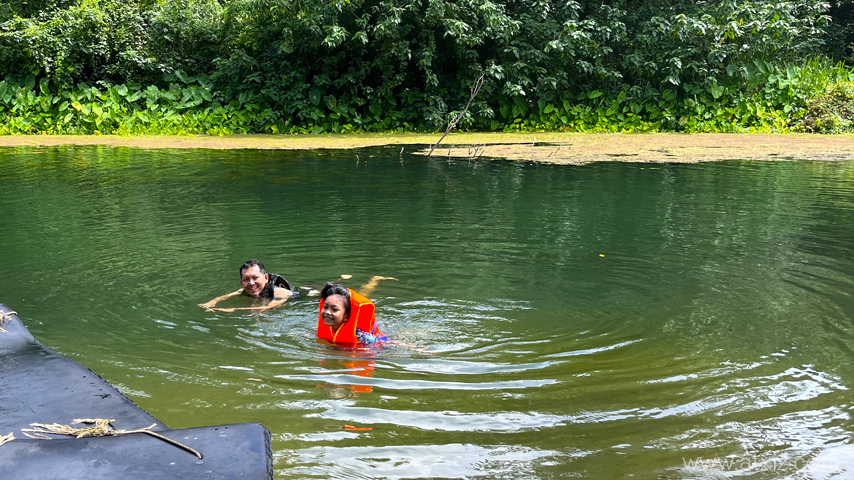 After setting up the tent, it was noon and it was time to find something to eat for lunch. I take simple Went to buy fried rice at the shop at the entrance to the farm. It's not expensive, it's a simple food. The taste is good enough to eat. soft drink ice for sale also buy ice to add to the flask as well Because the hot weather wastes a lot of ice.
When you're done eating, take a little rest. I took my daughter to play in the water. Of course, the water stream from the forest is very cold. But the damn ship is leaking. No matter how you sit, the boat capsizes. Until I had to row the boat and get a new boat. It was enough for my daughter to sit on a boat and play.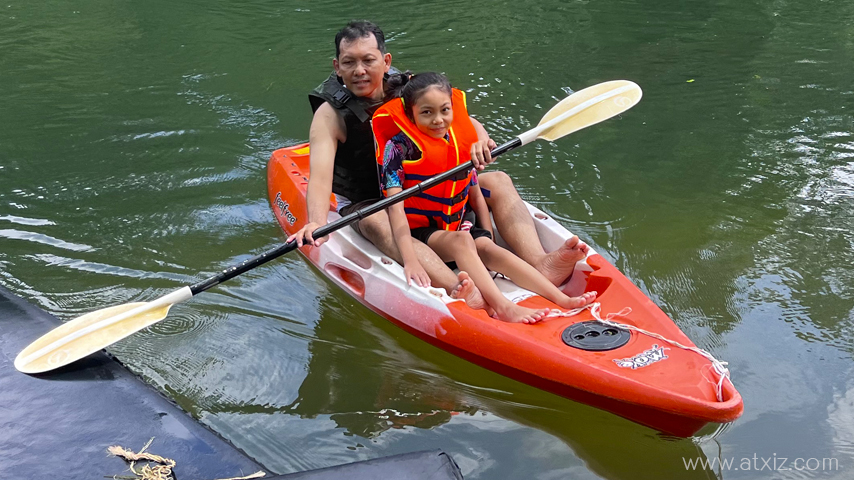 My daughter's favorite thing is to go swimming. But she was afraid of being around her father all the time, even though she had a life jacket on her. Life jackets are very important for water activities. Even though I have been swimming in my hometown, I have lived next to a canal and played in the water since I was a child. But when I encountered cold water like this, my legs cramped many times. If you don't have a life jacket, it's no less dangerous.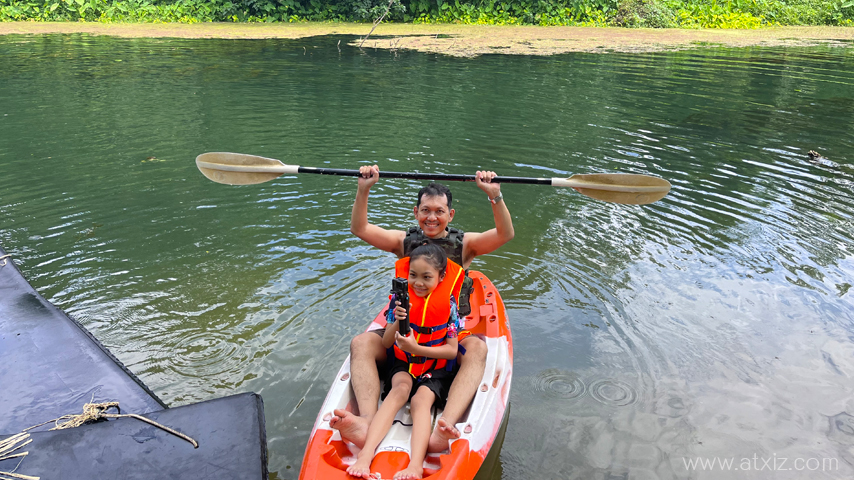 After playing in the water for a long time, they all went up to take a shower and change clothes. To rest and find something to eat for dinner. The weather right now still hasn't cooled down. Stuffiness exists all the time. The wind didn't hold back, the leaves didn't move at all. Good thing there's a fan included. And at Rai Yutthana, there are electrical plugs for use. Which I bring the car battery to charge to connect to the fan at all times.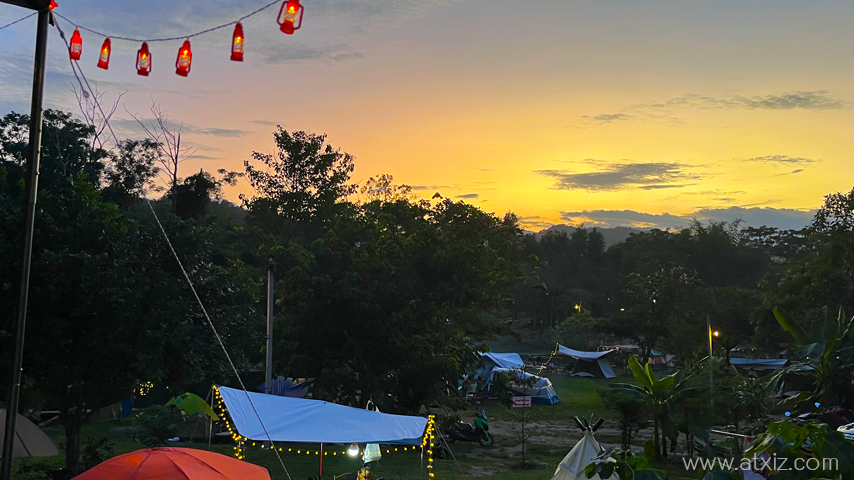 Tonight at the farm there is folk song music playing live from 6:00 p.m. to 10:00 p.m. Stop using the sound system. But many groups can sit and drink alcohol and talk. For me, I go to bed at 10:00 p.m. It was good that the fan was turned on in the tent, causing the sound of the fan to drown out the chatter from the other tent groups.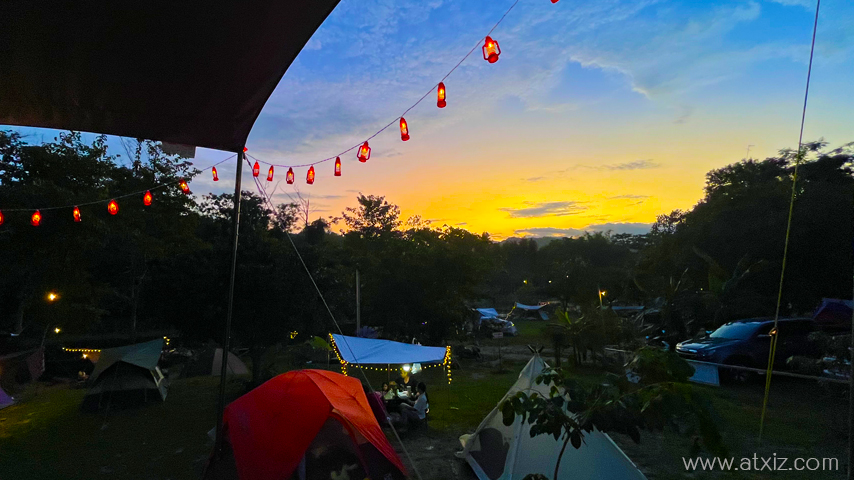 Sunday morning, May 15, 2022
Woke up this morning with a slightly cooler weather. But it's not cold. heard other tents Talk early in the morning if anyone wants to come and enjoy the natural atmosphere. Recommended that you shouldn't come during the holidays. because you can hear people talking shouting at each other from time to time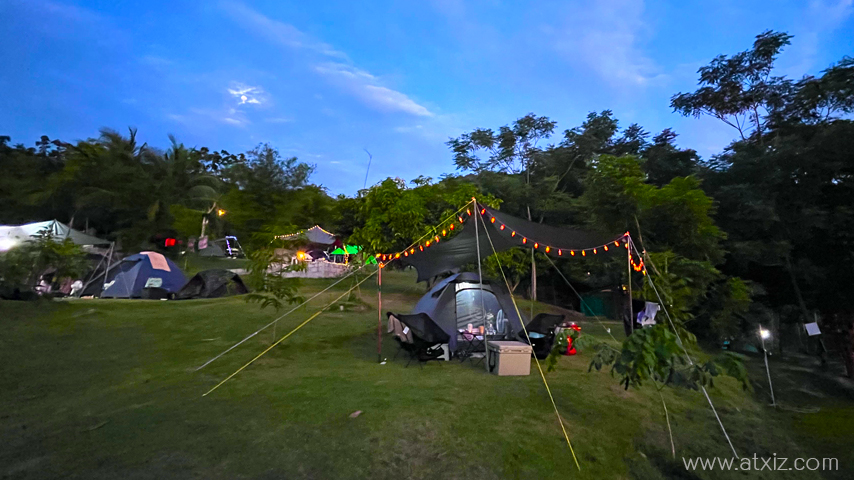 This morning I saw the sun shining straight into the tent. So I moved the tent to a new one. Enter between the shade trees Yesterday I was going to put it up here, but there was a nest of red fire ants. So must be avoided Now that the ant nest is gone, you can move around. It's okay. I think the ants may have moved the nest away. Because before setting up the tent Sprayed insect repellent around the tent.
Several groups packed their tents and went home. leaving a lot of free space But I chose to move closer to the original place because I didn't want to be tired of carrying things. The weather is swelteringly hot, not too much wasted.
We make porridge to eat in the morning. It was a very delicious breakfast. After that, the daughter invited her father to go play in the water because many people said that it would rain in the afternoon, but in the late morning we saw rain clouds floating in. and the sound of thunder But until the afternoon the rain didn't fall. But it's still good to have a cool breeze. It helps to cool down very well. Today the weather is cooler and more refreshing than yesterday.
There was no folk song playing in the evening like on Saturday night. but heard music from other tents floating around to be heard interchangeably I ate dinner and sat and talked. The child went into the tent to play with the phone. At 10 p.m., I went to bed. Tonight, late at night There was a little rain falling, but not a lot.
In the morning, we helped each other put the tents and other equipment on the car and drove home at around 9:00 a.m. and arrived home around 12:45 p.m.
"Rai Yutthana Mixed Agriculture", Suan Phueng District, Ratchaburi Province
Tent service fee 80 baht per person / night, children, the elderly and people with disabilities free (according to the conditions Do not go into details because of changes)
There are no houses, no tents for rent. You must bring your own tent and equipment.
Facilities
1. Power plugs are available at various points. Do not connect to an electric stove. and portable air conditioner
2.Wi-Fi is available in many points. But the signal is not very good. Because many people use it on long holidays.
3. Bathrooms, combined shower rooms, there are many points, clean enough. Not even beautiful and clean
4. There is an a la carte restaurant selling rice, ice, drinks, mineral salt, soft drinks and alcoholic beverages.
5. Spacious parking lot
Recreational activities
1. Kayaking: There are many boats you can paddle.
2. Life jackets are available for free. Hang it near the water's edge.
3. Water activity equipment There is a raft for walking. and believe in water jumping