Kaeng Krachan National Park
Travel date 9-10 April 2022
Khao Phanoen Thung Hill Kaeng Krachan National Park It is regarded as one of the most beautiful sea mist viewing spots in Thailand. And there is a good chance of seeing the sea of mist during the summer. Like in April, me and my family and friends. Therefore, make an appointment to set up a tent and wait to see the sea of mist on the top of Mount Panoen Thung. After missing out on seeing the sea of mist during the past winter.
We agreed to travel in the morning of Saturday, April 9, 2022 and will return from the peak on April 10, 2022 by car at Kaeng Krachan National Park. Allowed to climb Khao Phanoen Thung It has been determined that it must be a car with 4-wheel drive only, there may be reasons to reduce the amount of the car to go up. And for safety when encountering unexpected obstacles For example, in the case of going up and it rains, the road is slippery.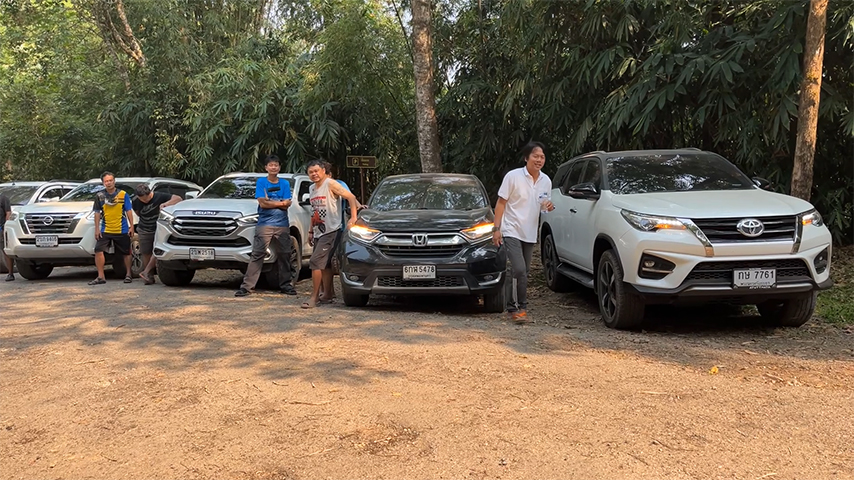 My car is a New Nissan Terra VL 4WD and I have driven up to "Peak Thewada Peak, Phu Toei National Park 3" once before and this time I will test the performance and strength of the car I bought to see if there will be any problems. Not with this time going up Phanoen Thung mountain. My friend Yod's car is another Toyota Fortuner Sport TRD 4WD. There should be no problem going up the mountain this time.
Another friend of mine, named Ray, who had been to Khao Thewada together, used a 2-wheel drive Toyota Vigo. He could not pass the park's criteria that only allowed 4-wheel drive, so had to make an appointment with another friend named Boy. And there is a 4 wheel drive car Isuzu MU-X 4WD
Followed by a friend named Continue The body and leg strength are not very good because they are all middle-aged. Later, I have leg pain and am unable to walk up a long distance, but this trip involves driving a 4WD up the mountain, so I would like to go along. Since the car used is a Honda CRV AWD car, another friend of mine named Bat asked to join the trip using a Mitsubishi Pajero 4WD car, making this trip a total of 5 4WD cars and 5 different brands of cars at all.
After making an appointment with each other already by different people Anyone who is convenient at any time can travel at that time. but will go straight ahead before reaching Ban Krang campground at Khao Sam Yod Pass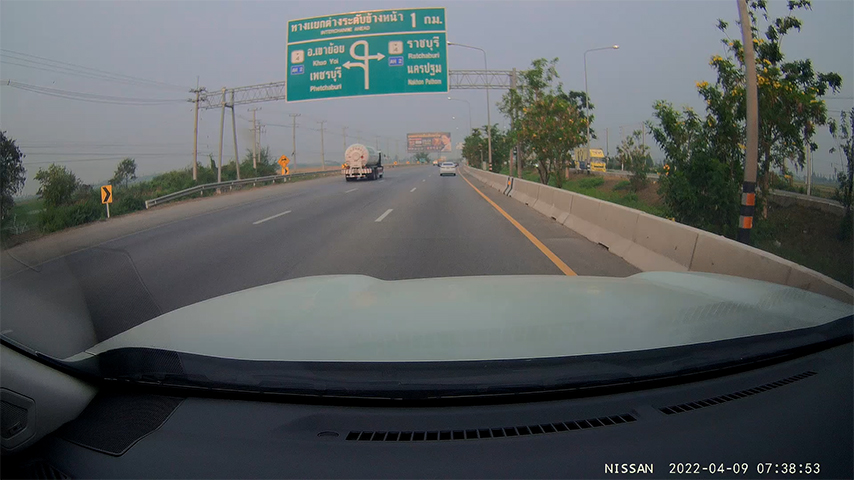 I left around 4:00 a.m. Because I want to get to my destination early in the morning. Stop by to fill up a full tank of gas for 580 baht because there is already gas. After that, he drove away to reach his destination before his friends. You will have time to eat before going up to Khao Phanoen Thung. I use the Bang Pa-in Expressway. To go out onto Rama 2 Road heading towards Samut Sakhon Province. and heading to Phetchaburi Province.
When I turned into Phetchaburi Province I'm looking for a grocery store. in order to buy ice in a thermos to eat on Panoen Thung Mountain Even though he said it was cool but couldn't resist having to buy it along with it. Because the weather in our country is really unreliable.
I drove past the sales point. Gateway to the South It's a large grocery store. and clearly saw an ice bucket in front I hurriedly slowed down the car and turned in. I wasn't disappointed. I bought ice in a 35L basket for only 30 baht. Kaeng Krachan District.
Along the way, I try to find a gas station to stop for coffee. Or go to the bathroom but didn't see any along the way. And then my daughter had a stomach ache. Causing me to quickly find a bathroom But there is no gas station that will have toilets available. So I hurried to go to Sam Yot checkpoint. But before I arrived, I met a three-way intersection with km. And there is a bathroom as well. So I stopped by immediately.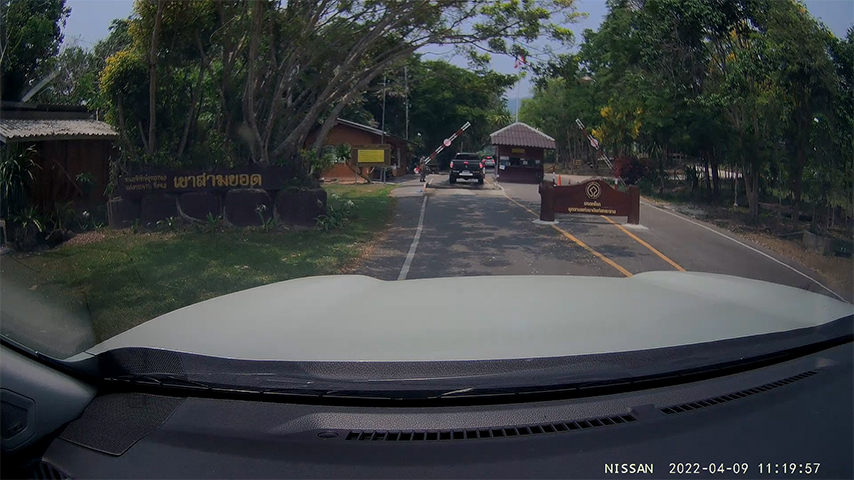 My wife took my daughter to the bathroom and I sat and waited. Ordered food to eat. There was meatball noodles. They were delicious, so I used this spot as a resting spot to wait for friends.
Meanwhile, friends gradually arrived. and order food to eat Before traveling up to Baan Krang Camp
From km 0, we drive about 2 kilometers to reach Sam Yot checkpoint. and pay for various services at this point
Entrance fee to Kaeng Krachan National Park
4 wheel cars 30 baht each
Adults 100 baht each, age 60 years and up free.
Children aged 3-14 years 40 baht
Tent rental fee: 30 baht per person/night.
I don't forget to stamp Kaeng Krachan National Park in the National Park Seal Notebook after paying for any services. finished We drove to Ban Krang Camp immediately. This part of the route is an asphalt road. Drive comfortably and enjoy the views on both sides of the road. It takes about 20 minutes to reach the point of Ban Krang Camp.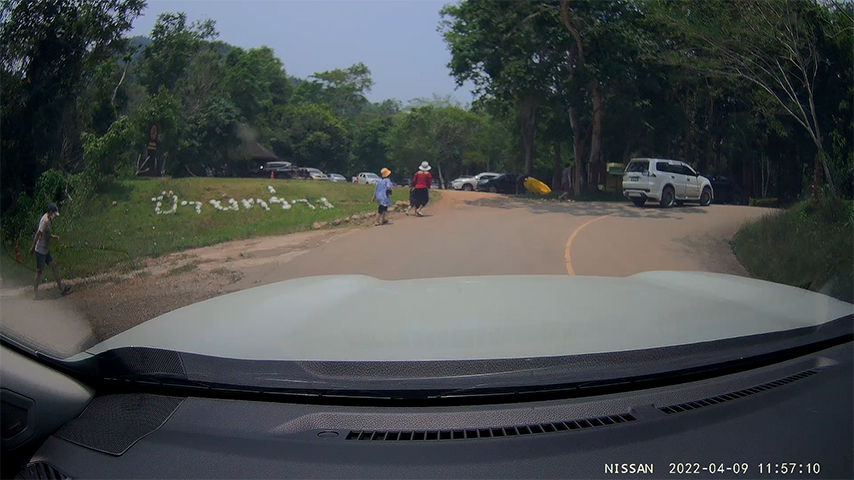 The highlight here is Swarms of butterflies numbering in the hundreds and thousands. Let's all fly together. And in the dirt walkway, if there is wet water, swarms of butterflies will come and eat the minerals in the soil. There will be a lot of them on the mounds of the earth along the flowing streams. It is a very impressive picture.
But there is one thing you have to be careful of: crowds of bees, especially in the men's bathroom. In the area of male urination There will be swarms of bees everywhere. Friends walking past each other said there were a lot of bees. I don't believe what my friend said. Just walking up to it. I didn't dare to unzip my pants. There were thousands of bees, some flying, some clinging to the urine. as a group I was afraid that those bees would increase the size of him without our request. So I avoided using the restroom instead. which has fewer bees.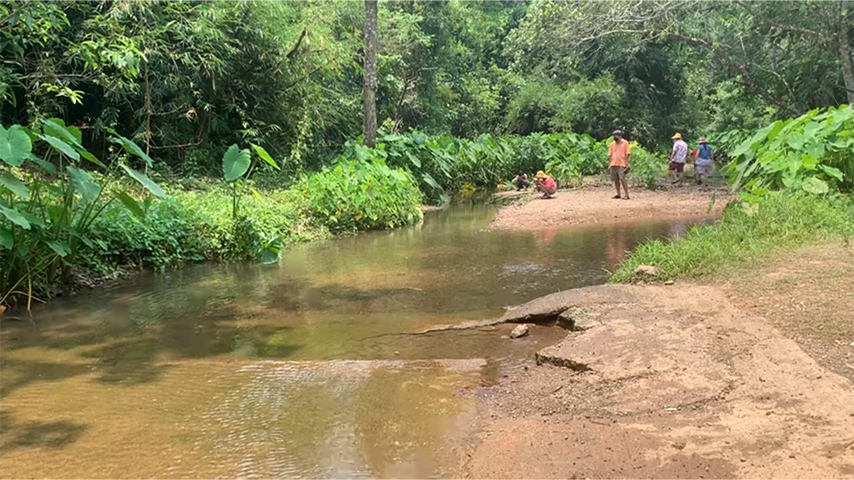 After completing personal business We drove up to the Kaeng Krachan Weir at the top. Because this point will be the starting point for cars to go up Khao Phanoen Thung on time. In order to prevent cars from crossing each other above. It takes about 20 minutes because the path is narrow and there are a few tourists. Bring the car up and drive down. There is a nature viewing park, bird watching park, bird watching, butterfly photography. And there is also a point where the car must drive through a flowing stream. There are about 3 streams. If it's a 4WD car, there's no problem at all in small streams like this. But if it's a sedan or small car, it might get stuck on rocks in the stream, causing damage to the car's suspension as well.
While we were waiting for the time to go up Khao Phanoen Thung I took my daughter on my back to go for a walk and see the surrounding nature. which is a forest and has a water dam as well So I walked to the weir so that my children could look at it. There will be more water on one side of the weir than on the other side. This slows down the flow of water so that it does not flow until it dries up. There should be enough for wild animals and aquatic animals to live in.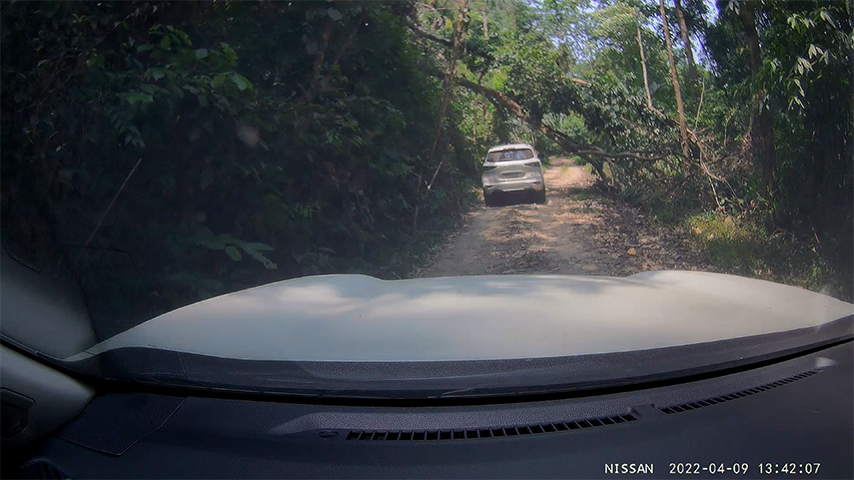 When the time arrived at 1:00 p.m., the officials opened the baton. Gradually we drove up. The route is an alternating uphill and downhill path. I use the HDC (Hill Descent Control) system when going down a steep slope. which the system will brake to slow down the speed for the car appropriately But it also caused the car to move slowly and to brake frequently, causing the comrades behind to become frustrated as well. The best way is that this system should only be used down really steep slopes and should not be used throughout the entire journey up and down the hill.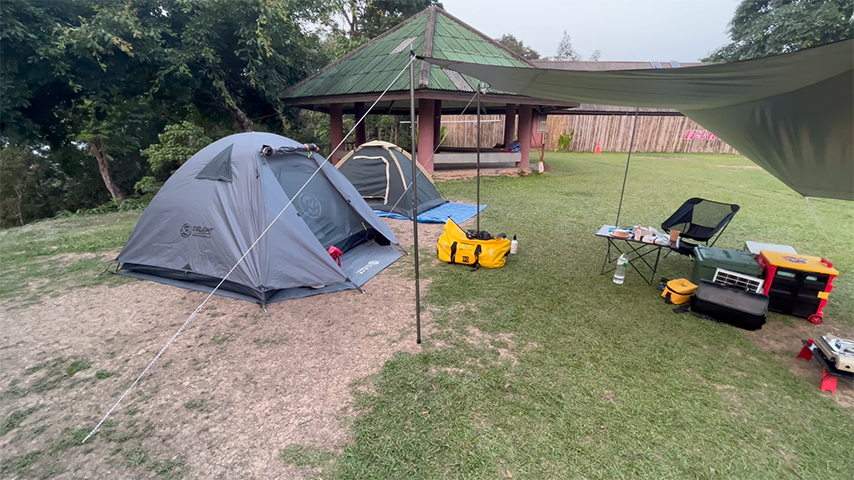 It took us exactly 1 hour to reach the top of Phanoen Thung mountain. After parking the car, we carried our things to set up our tent at the tent area inside.
It's about a yard wide. But not much So we choose according to whoever's convenience it is. As I was slowly carrying things from the car to the tent, I saw a bear and a dog. Walk straight to the parking lot.
which created great excitement among tourists. We were able to see real wild animals in front of us, about 10 meters apart, without bars like in a zoo.
Ignoring the human being taking pictures as a thriller This bear didn't show any signs of aggression towards us. He probably walked along the forest line until he reached the parking lot.
The officer then waved away. This caused the bear to avoid going down into the forest below while setting up a tent. We saw a large hornbill swoop down and perch on a nearby tree.
with where we pitched a tent My daughter and wife Hurry and see and take pictures and record videos.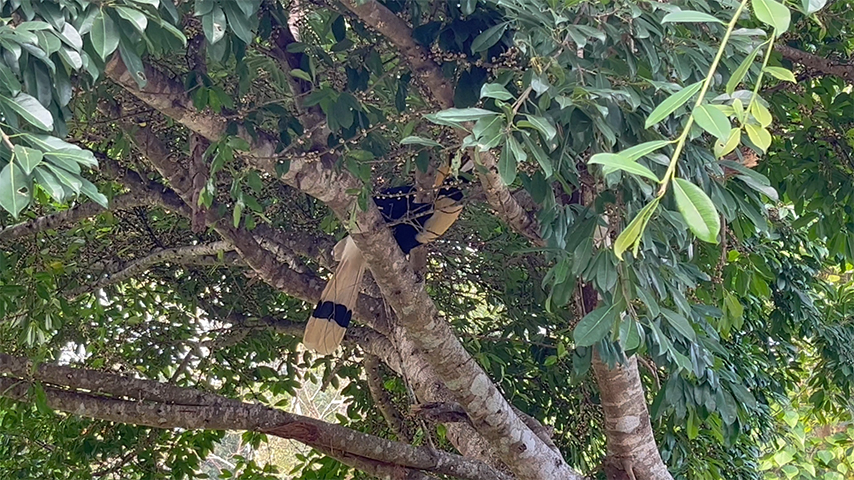 When I finished pitching the tent walked to the viewpoint Khao Phanoen Thung What is the route like? Is it far or not? In the morning I will be able to wake up and travel properly.
So that you won't get lost like when you go up to the top of the mountain. that we don't care about the route at all In the morning, the hand made us lose our way until we were tired.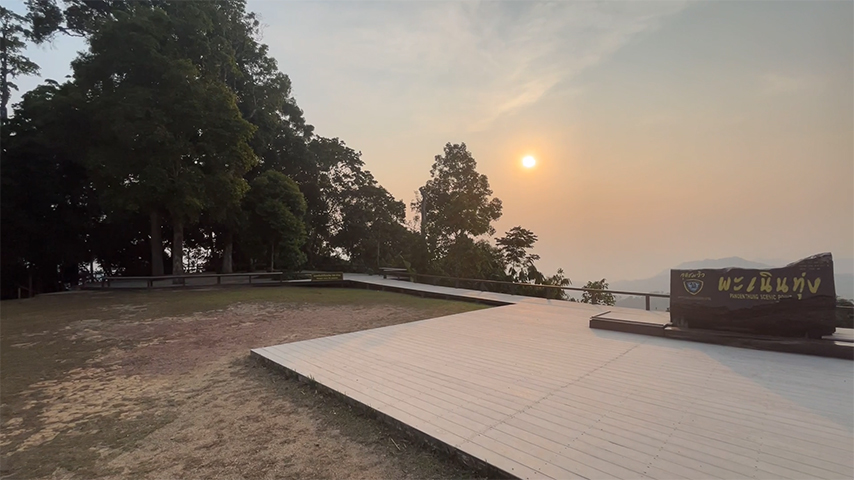 The path to the viewpoint is not very far. A little walk down from the tent site. and went up to the viewpoint. There are stairs to walk easily. in this evening It's the time when the sun is setting.
It was such a beautiful atmosphere, and in the treetops below I could see some movement. causes the branches to sway in the direction of movement It was some kind of wild animal that I couldn't clearly see jumping through the treetops.
And not just one There are likely to be several together. But the sun is nearing the horizon I couldn't see what it was.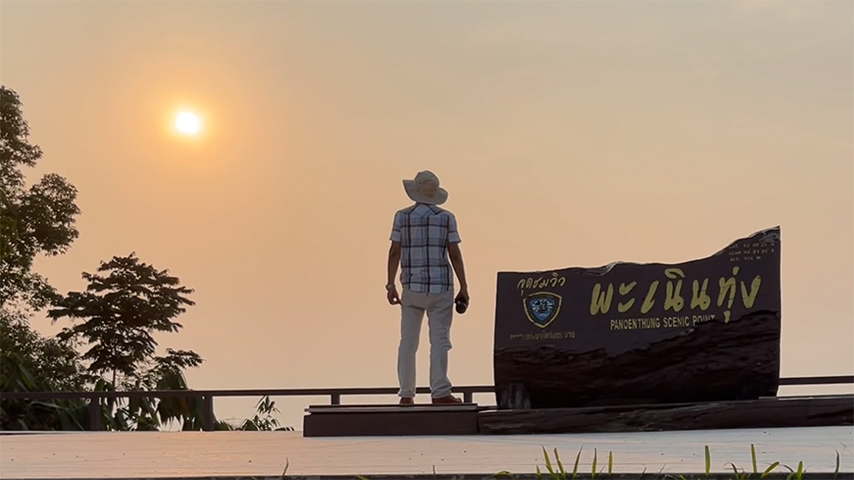 The air was slowly getting colder and I had to wrap a cloth around my neck for warmth. and sit and talk like friends long time no see This group of friends are friends from school, technical vocational certificates, and all of them have grown up and have families. This time was a good opportunity for us to meet up and sit and talk on the cool mountain top. At 10 p.m.
We split up and went to bed. Because in the morning I didn't want to wake up late and miss seeing the sea of mist at the viewpoint.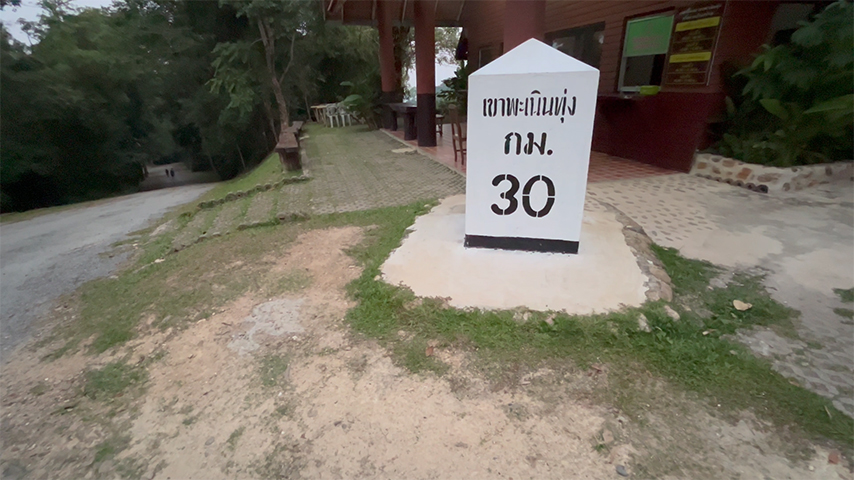 It was around 5:00 a.m. when I woke up and woke up my daughter and wife to go wash my face and brush my teeth. Then we invite each other to walk to the viewpoint.
When reaching the viewpoint We were a little disappointed. This is because the fog seen is a mist that spreads everywhere. It doesn't clump together like a sea of mist, as many people have found.
But even though this time nature did not allow us to see the sea of mist. But the atmosphere felt good and it was a precious memory for us.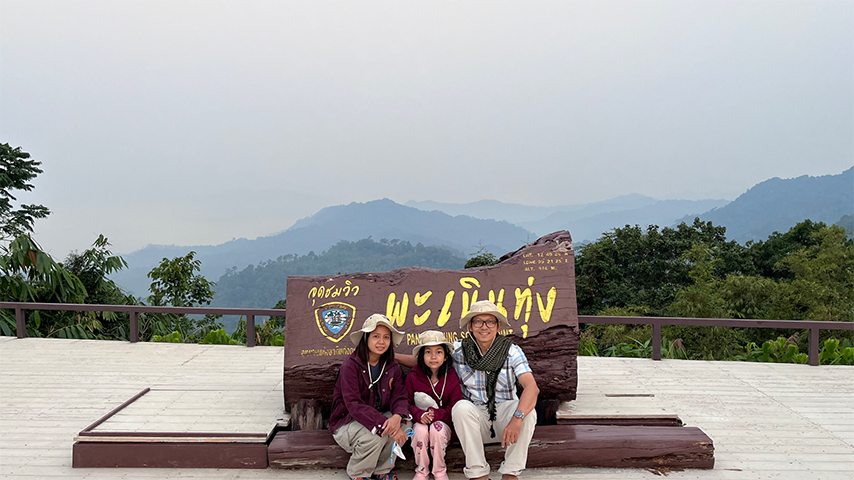 When the sun rises above the treetops We walked down from the viewpoint and saw a group of tourists looking at something in the bamboo thickets along the forest.
When I went to look, I found that it was a cute little spectacled lemur, black and white with white eye rims like wearing glasses.
Maybe it's what makes them called spectacled lemurs, and these lemurs are probably the animals I saw leaping on the treetops in the evening.
Some of the spectacled lemurs in his hands were holding large bamboo shoots. He was eating bamboo shoots. some eat leaves and some climbed to the top of the bamboo before leaping onto the nearby trees.
Then he leapt to the tree on the other side of the road. This makes us feel very excited about these spectacled lemurs because this is a real wild animal living in a group, probably about 5-6 lemurs, and they are happily eating the treetops, not paying attention to humans like us.
Any other So we went back to the tent and made breakfast and a little coffee, then packed up the tent. To go down from the mountain between 9:00 a.m. and 11:30 a.m.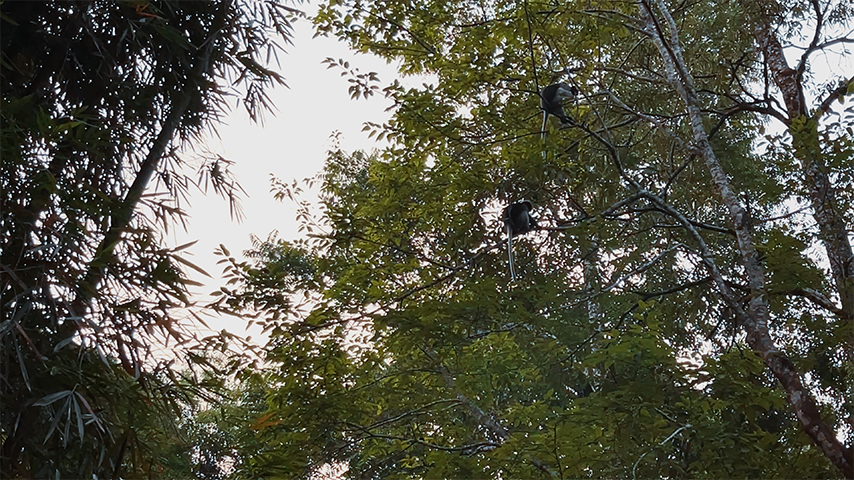 During the drive down the mountain I saw some animals. At first I thought it was a dog But when you can clearly see it, it's a small deer or mouse deer jumping around.
When seeing our car I leapt down to the side of the road. Along the way I heard the sound of gibbons screaming loudly in the forest. It's a sound that you can't help but enjoy listening to.
and near Aunt Nok Krang's camp My wife also saw some monkeys in the forest along the side of the road.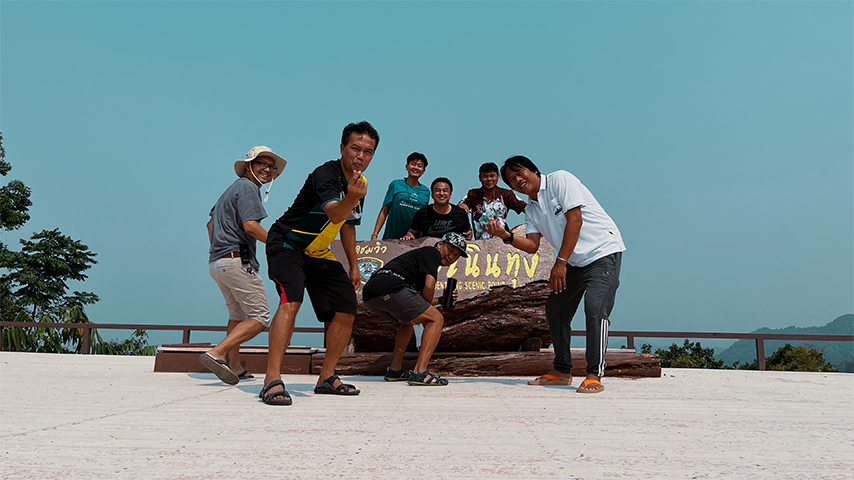 Forests in Kaeng Krachan National Park Phetchaburi Province It is considered the largest park in Thailand. Allowing us to experience the abundance and atmosphere of the forest and some wild animals that we have seen fully.
This trip led my daughter to write a report for her teacher. Tell stories and experiences you've had. It is considered to be one of learning with a real forest place.
Not only on the phone screen or on a computer screen that children of this generation will inevitably have to study online