April camping
April 8, 2023
Hat Wanakorn National Park on the Gulf of Thailand Prachuap Khiri Khan Province Known for its beauty, cleanliness, and tranquility, it is a destination for travelers. and camping tourists, set up a tent at "Hat Wanakorn National Park Tent Area" for the month of April, very hot summer, the weather will be favorable for camping people. Pitch a tent or not?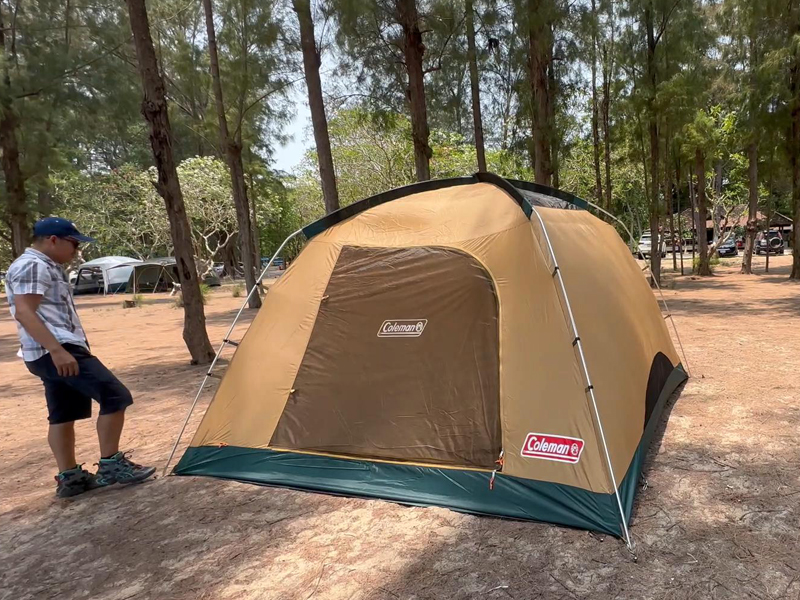 I left early in the morning on April 9, 2023 because the route was very far from home. I want to reach my destination before noon. will have time to pitch the tent and rest from the journey.
I drive a car to Bangkok heading south Passing Samut Sakhon, Samut Songkhram and entering Phetchaburi I drove past Hua Hin into Prachuap Khiri Khan Province around 11:00 a.m. and saw a sign "Had Wanakorn National Park" on the left hand side of the road. I drove into the park Paying for services in the park.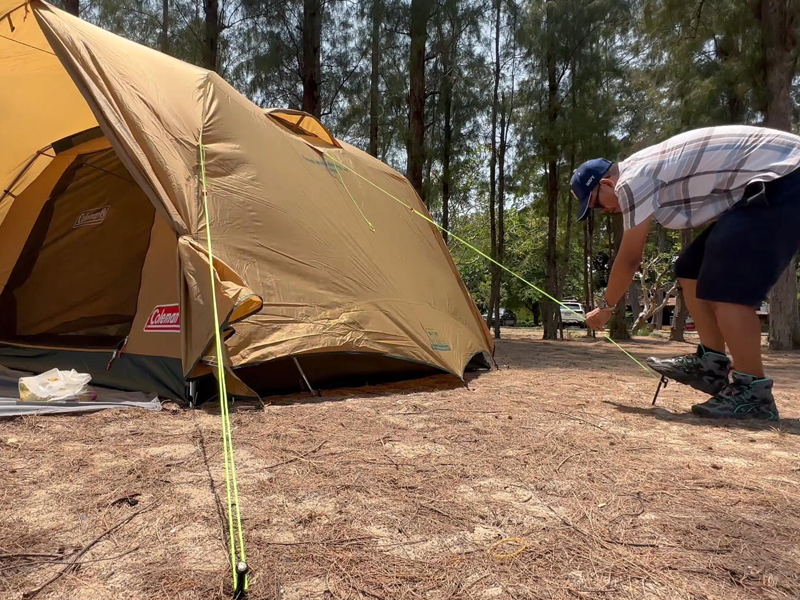 At the entrance to Wanakorn Beach There will be an officer fort We went down to pay the service fee. The price is the same as Huai Yang Waterfall. And there is still a card for showing in and out of the staff in case we want to go anywhere else. Just show the pass card only.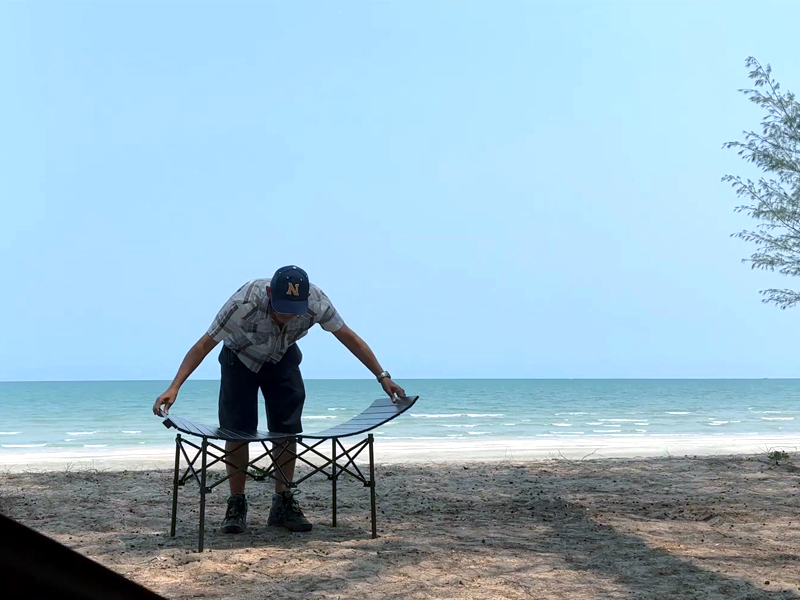 Drive in for a short time and you'll reach the beach. Turn right and park in front of the tourist service center. Go in and pay a fee for setting up a tent, 30 baht per person/night.
I chose to set up a tent on the beach, under a pine tree, across from the tourist center and restaurant, behind which was a restroom. If going to spread at another point, it will be far from restaurants and bathrooms.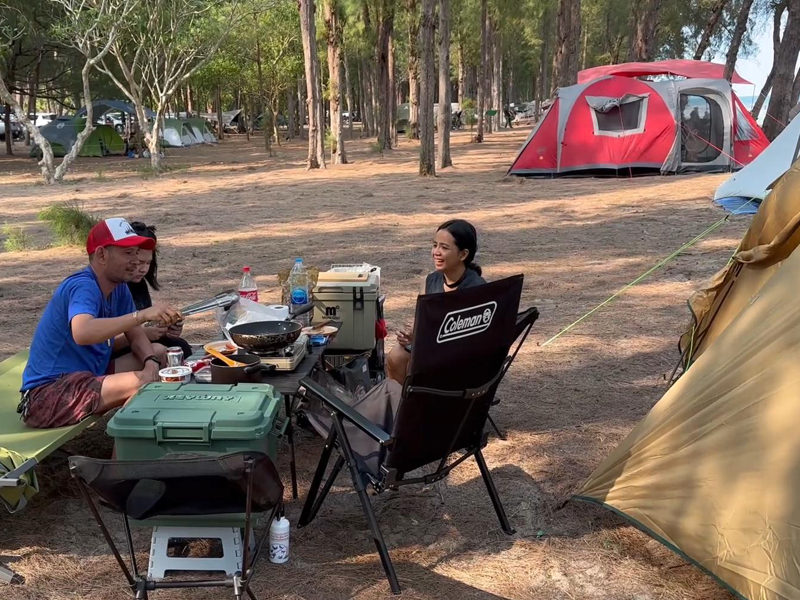 When I got the place that my wife was satisfied with, I started to pitch the tent. This is a large 3x3 meter tent that was bought at a discounted price during the New Year. but never once used to pitch a tent and this is the first time
Although it is large, it doesn't take much time. and not much hassle Because I've pitched a tent like this many times. Only this tent is bigger.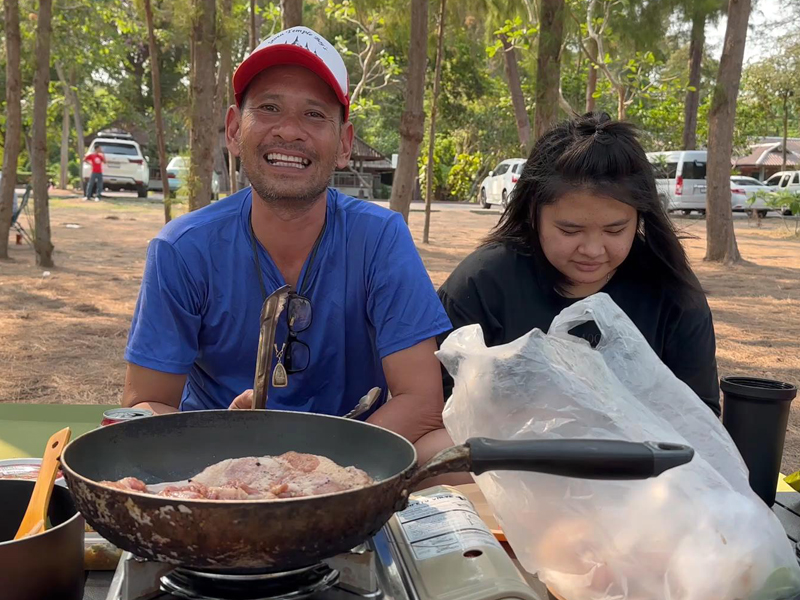 When finished setting up the tent Then prepare a place to sleep on the bed with a fan, which is indispensable if you go camping in the summer like this. The daytime weather is considered very hot. It's quite stuffy. Even though the sea breeze blows in all the time But it is like the wind that carries the heat from the stove towards us. Including the sea vapor that forms a sticky texture. During this time, find a shady place to sit still and drink something cool.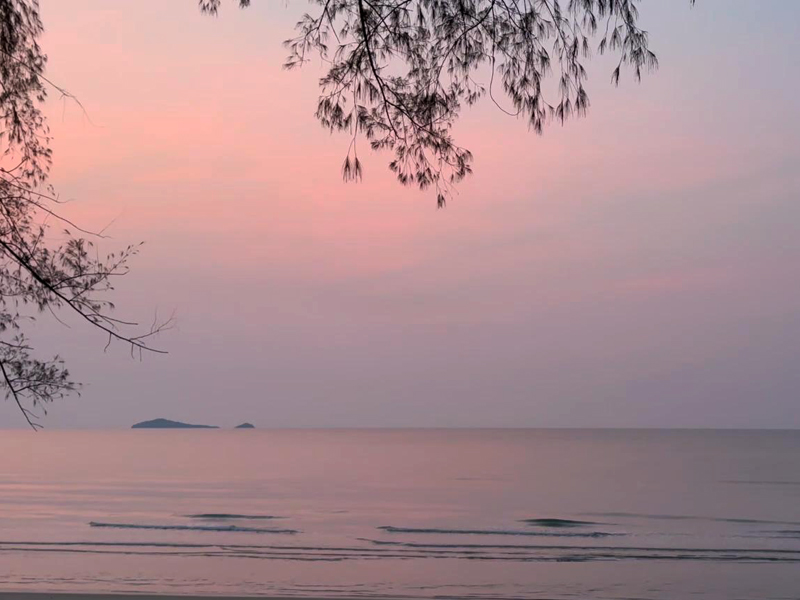 At about 4:00 p.m., the red light began to weaken. causing the sea breeze that blows in to start to become a cool breeze And not sticky like in the middle of the day in the hot sun.
During this time, I searched for a shady area and set up a table to prepare food because my friend from school in Prachuap was coming to see me. Because I also have a hard time meeting friends I haven't seen in many years. We'll sit and talk about old times. during school time.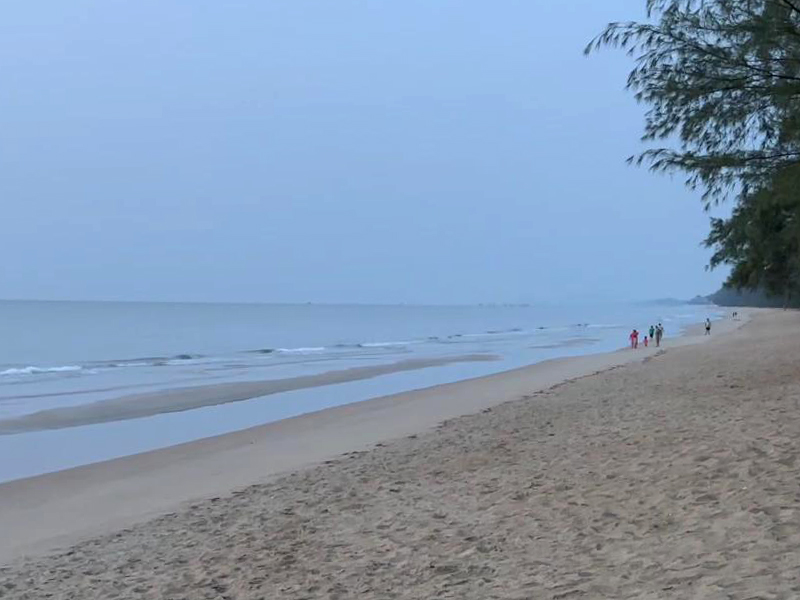 A friend brought his daughter along. So we cooked food together. and sat and talked The atmosphere in the evening was very impressive. Soon it began to get dark. So my friend asked to go home first.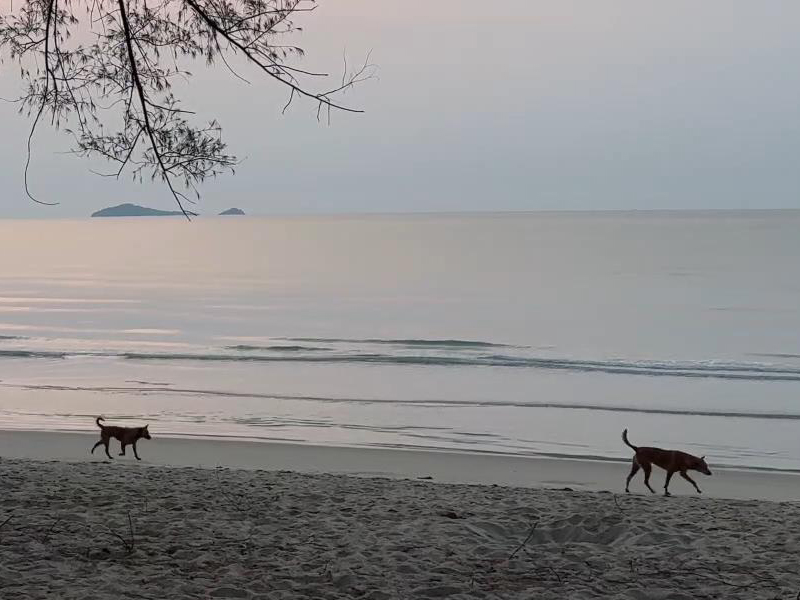 So I took turns taking a shower to get comfortable. When sleeping, you can sleep well. In the evening, I bring a chair to sit in front of the tent and feel the cool breeze. But around 8:00 p.m., the wind suddenly disappears, completely still. When there is no wind, mosquitoes start to appear and the weather starts to sweltering So I went into the tent because there was a fan, which was a DC 12V fan powered by a power box.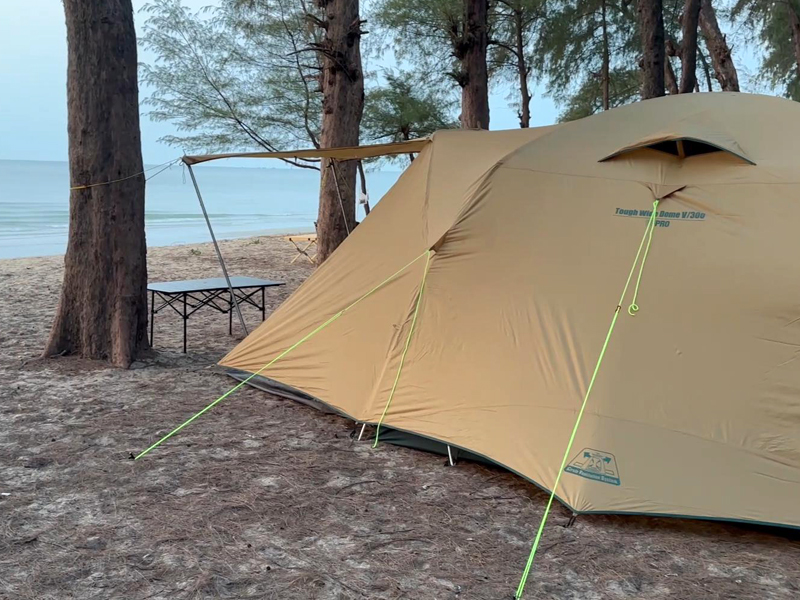 Tonight I didn't sleep very well. because he was afraid that it would rain around 11:00 p.m., like a strong wind This made me have to get up and look around the tent and put some things in the tent to protect them from getting wet in the rain. In the early morning, I felt cold. and everyone slept in blankets So I turned off the fan to save energy.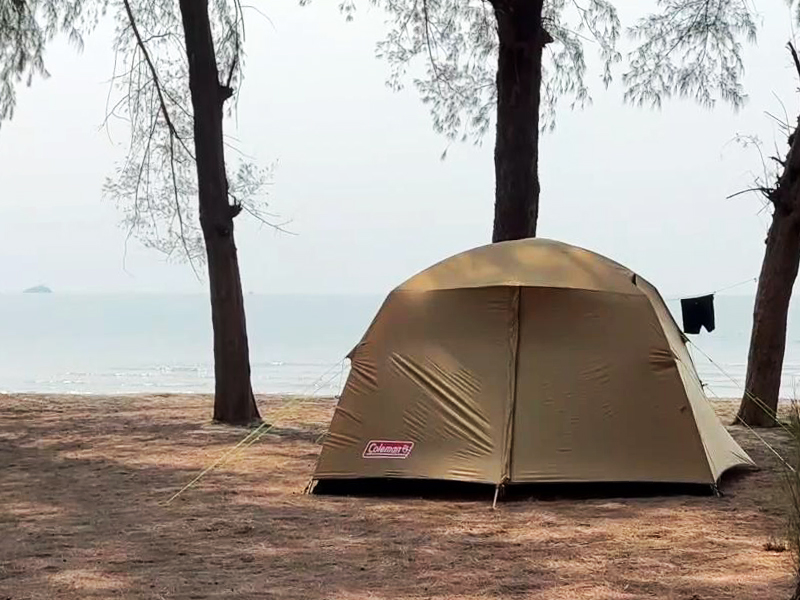 In the morning I opened my eyes and woke up. along with fresh air I hurried to take a shower and let the wife and children take a bath Because we will travel to "Khao Sam Roi Yot National Park"
Everyone finished taking a shower. I packed my stuff into the tent and zipped it tightly. then go have breakfast at the welfare store It's a very delicious meal. according to the rumor that Welfare restaurant at Wanakorn beach. Delicious.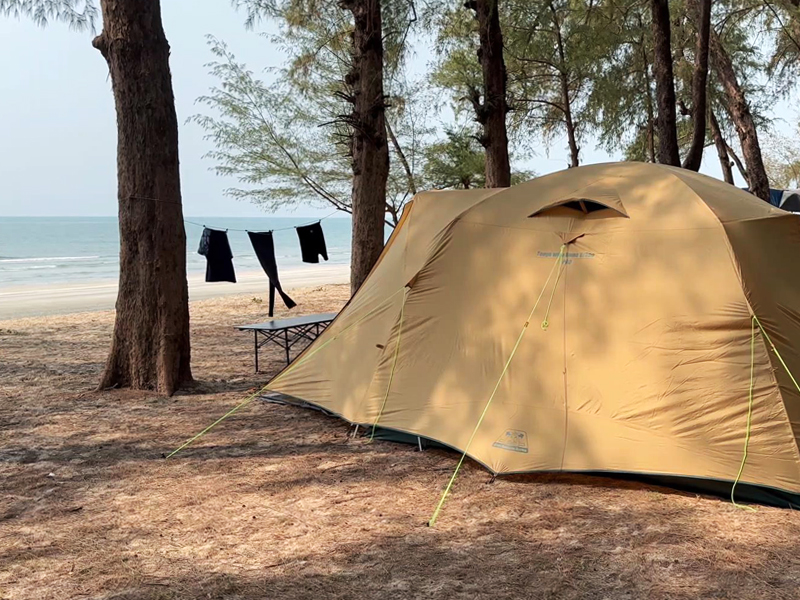 After we finished eating, we went to buy coffee and green tea together. before driving on the next trip The coffee taste is normal, I think. But the coffee shop atmosphere is quite good.
I drove out of the park. By showing the pass card to enter and exit outside the park to the official. and drive towards "Khao Sam Roi Yot National Park"