Visit Phraya Nakhon Cave
April 9, 2023
This morning at Wanakorn Beach, I took a shower and got dressed. and keep important equipment in the car Keep bedding inside the tent with the door closed. before we had breakfast at the welfare shop and drive away from Hat Wanakorn National Park to go to "Khao Sam Roi Yot National Park", a distance of approximately 80 kilometers away.
I drive along as suggested by Google Map. The view near me will see the beautiful complex and high mountains. I didn't think that Thailand would have such a beautiful scenery. We drove to Khao Sam Roi Yot National Park office. enter the park seal without any service charge.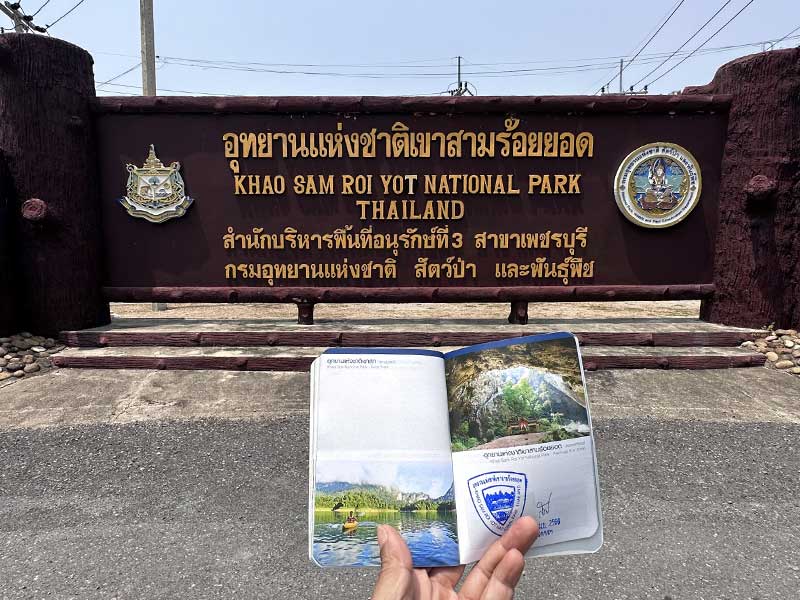 But at the park in the parking lot you have to be careful of monkeys. who often snatches the bags of gold tourists Especially female tourists who like to carry shoulder bags. The monkey will get close and pounce on the bag, causing everyone to shout and scream.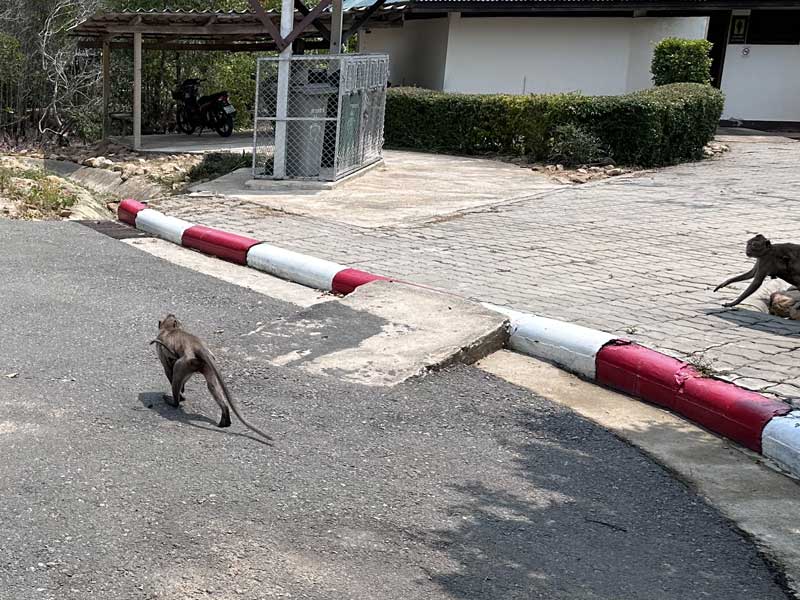 I would like to remind you that If anyone goes on a trip and sees wild monkeys in the tourist spot. You must be careful and keep your luggage as closed as possible. Because if the monkey snatches it, tracking it down and retrieving it will probably be difficult. Monkeys don't care about valuables. But he thought that there might be some things in the bag that he could eat.
I parked my car in the parking lot. The monkey even climbs onto the roof rack. because he saw a bag of luggage on the car's roof rack It's nice that the roof rack bag zips shut and is securely tied with ropes.
After taking a picture of the check-in photo with the national park sign, we continue driving to "Wat Bang Pu" to visit Phraya Nakhon Cave which is the landmark of this place. We had to drive to Bang Pu Temple. and park at the Bang Pu Temple yard There will be a service fee of 20 baht per vehicle.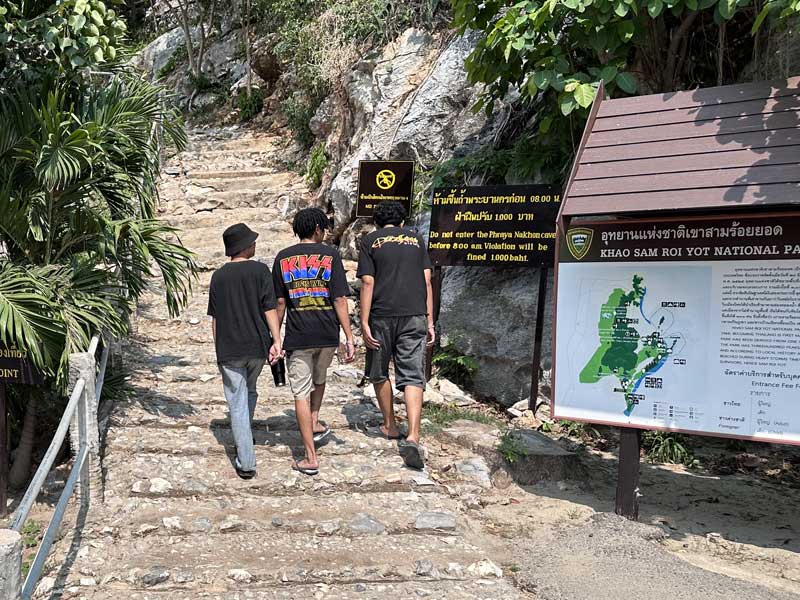 When the car is parked There will be a park ranger's fort. If we go to visit Phraya Nakhon Cave We pay a service fee of 40 baht per person, 20 baht for children and there will be stairs to walk up the mountain to Phraya Nakhon Cave.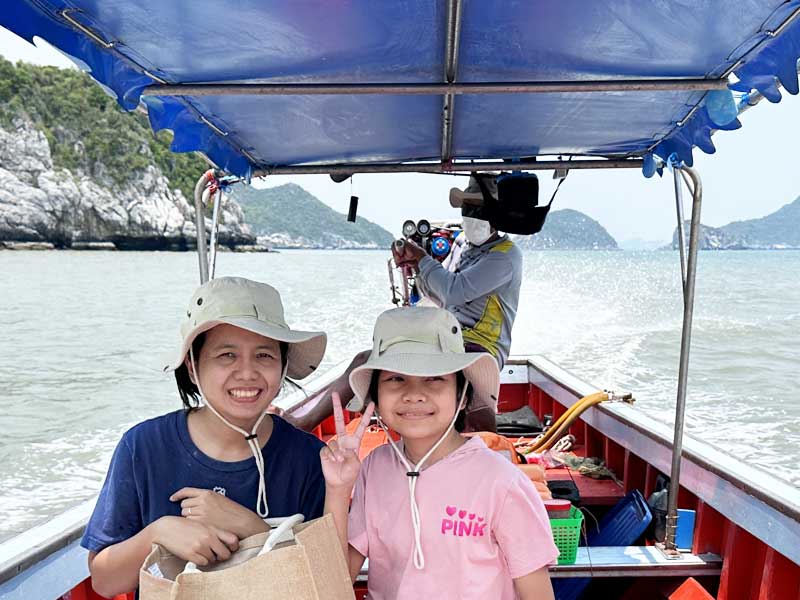 But here, there is still a boat service to take you to the beach before reaching Phraya Nakhon Cave. The return service fee is 400 baht and I choose to use the boat service because the time I arrive is almost noon. The sun was hot and I didn't want my wife and children to walk around in the sun. And thought that taking a boat to the cave, you can visit the cave without having to be tired, but I was wrong because when I got on the boat which had to wade through the water to get on the boat Therefore, wear shorts and sandals. Or strap on heels that are easy to take off and put on. When the boat is sent to the destination My family and I had to continue walking up a steep mountain. About half a kilo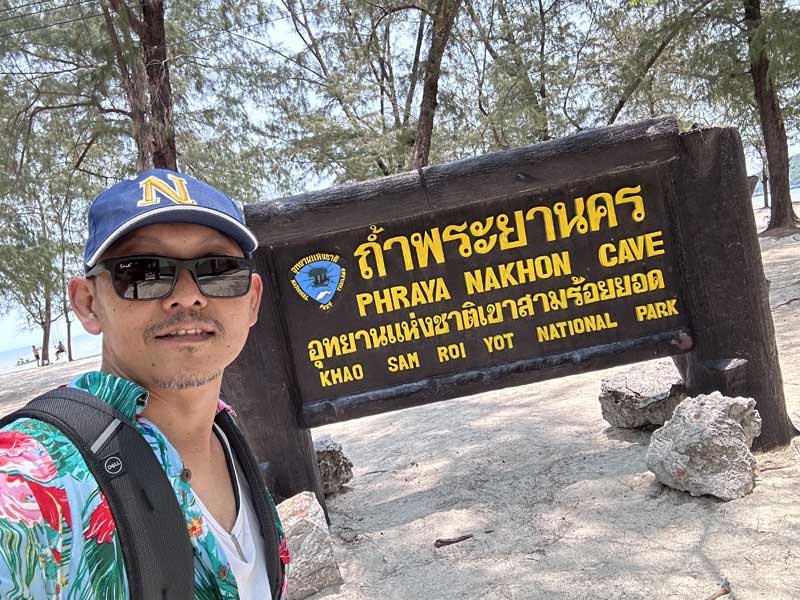 Walking up the mountain to Phraya Nakhon Cave The path is steep. The top of Khao Thewada that I had climbed when visiting Phu Toei National Park. Playing with the wife's child saying "If dad takes you on a trip like this I won't come with you next time."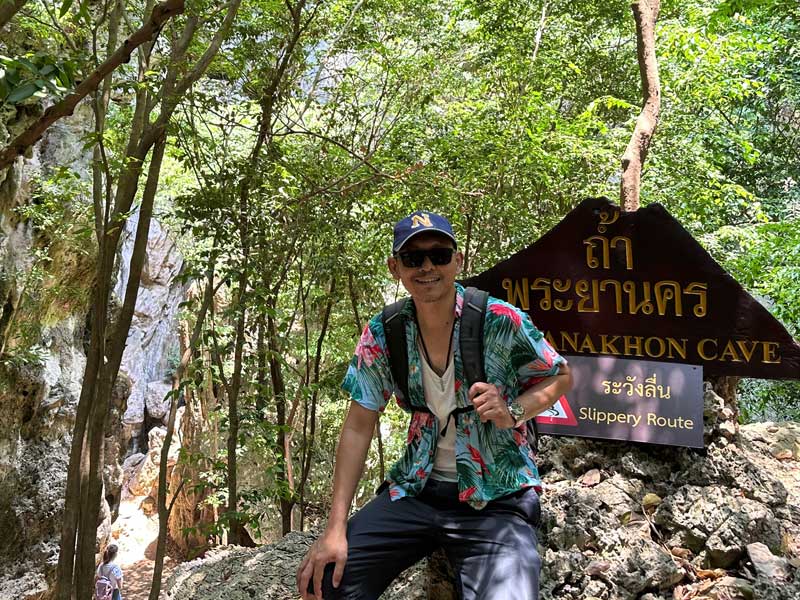 The weather was hot and we only had one bottle of water with us. must share the drink Because I didn't think that the route would be about half a kilometer long. It's a steep path that goes up the hill.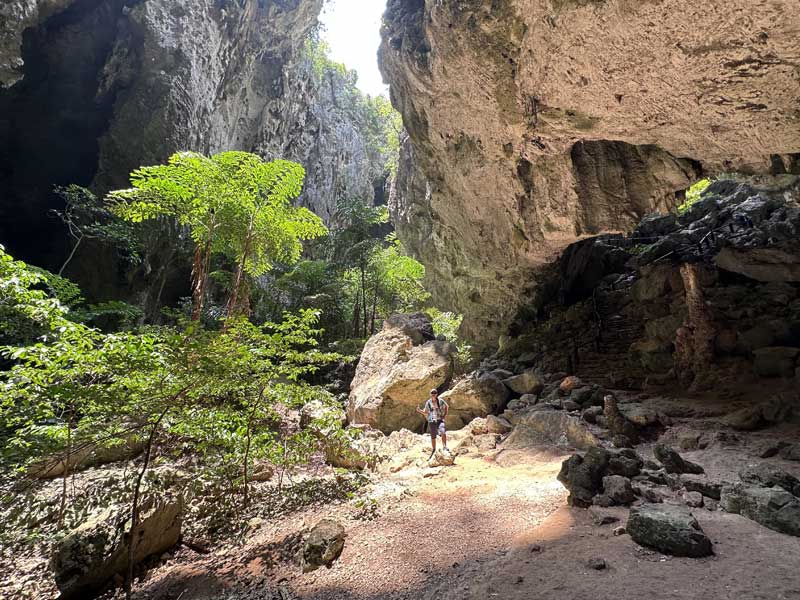 Finally we made it to Phraya Nakhon Cave. The entire route is full of tourists. They both followed each other. and walked back Inside Phraya Nakhon Cave It will be a mountain crater with sunlight coming in through a beautiful hole. And inside the hall is King Rama V's pavilion. It is an architecture that goes well with the beauty of the cave when it's lit by sunlight.
I admire beauty and took pictures until satisfied, then walked back together The walk back was a little easier because it was a downhill route. We were able to walk down continuously without feeling tired like when walking up.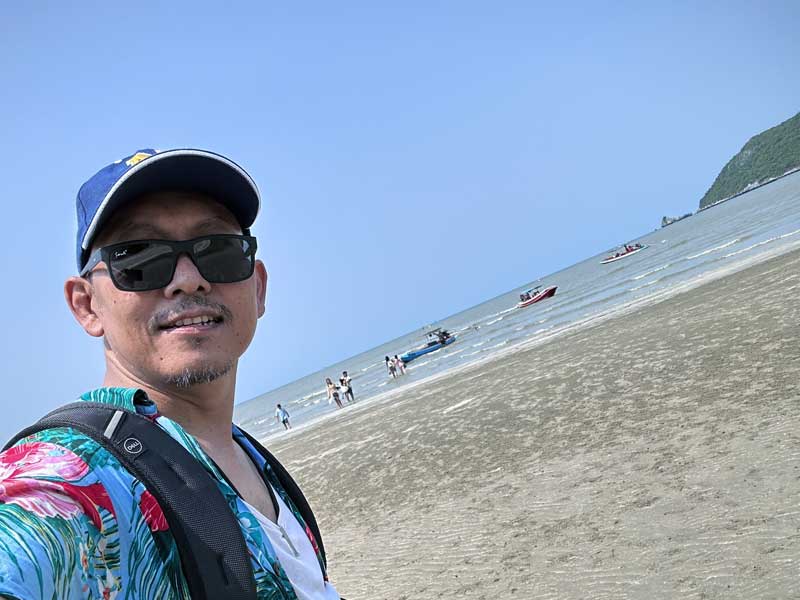 We reached the beach before we went to board the boat. I stopped by to drink water. Mineral drinks for added refreshment Because the weather right now is considered very hot.
We waited for the boat in line for a while. Then take a boat back to Wat Bang Pu. It is considered a travel experience to ride a long-tailed boat in the sea for the first time. But unfortunately, the distance to travel is very close. It took less than ten minutes to arrive at the destination.
After that we drove back to Wanakorn Beach. to rest and eat Take your children for a swim in the sea at Wanakorn Beach to get soaked.
For people who are going to travel Khao Sam Roi Yot National Park and visit Phraya Nakhon Cave.
If walking from Bang Pu Temple Go early in the morning. And it's also a good idea to prepare a backpack to carry food, drinking water, and personal medicine. Because it's like a small forest walk.
If you take a boat Wear shorts, sandals, or closed-toe hiking shoes. Easy to put on and take off Because you have to wade through the water to get to the boat or get off the boat. The water is knee high. However, you should prepare a bottle of water for each person. to drink along the way.
Review: Khao Sam Roi Yot National Park, Phraya Nakhon Cave
Park entrance fee: adults 40 baht / children 20 baht
Thai senior citizens 60 years and above enter for free.
Foreigners adults 200 baht / Foreigners children 100 baht
The parking fee at Bang Pu Temple is 20 baht per car.
The return boat fee is 400 baht (if you walk across the mountain yourself, you don't have to pay).
Khao Sam Roi Yot National Park Camping.
          Khao Sam Roi Yot National Park There is an area to set up tents in front of Sam Phraya Beach. Cooking food with smells and smoke is not allowed, except for tea, coffee and instant noodles. The park has a restaurant (kitchen closes at 7:00 p.m.). Pets and alcohol are not allowed in the park.

Service fee for camping.
Tent rental for 2-3 people (single size) costs 225 baht (not including bedding).
The fee for setting up a tent is 30 baht per house.
Khao Sam Roi Yot National Park contact information.
Lodges in Khao Sam Roi Yot National Park.
          Within the area of Khao Sam Roi Yot National Park There are housing services including:
Sam Phraya Beach House Sam Phraya Beach area Ban Thiw Son, 4 rooms / 1 room, 1,000 baht per night, 1 room can accommodate 2 people / 1 bathroom, equipped with amenities such as bedding, air conditioning, fan, satellite TV, water heater and cabinet. Evening. See the steps for reserving national park accommodation at

nps.dnp

.go.th Can be reserved no more than 60 days in advance.