Camping listening to the Mun River
December 26, 2022
After we traveled to see the ancient paintings in Pha Taem National Park We continued our journey with our destination being Kaeng Tana National Park It takes about 1 hour to travel. The route is as comfortable as before. I used GPS to easily navigate to my destination. We have a plan to camp by setting up a tent and sleeping at Kaeng Tana National Park.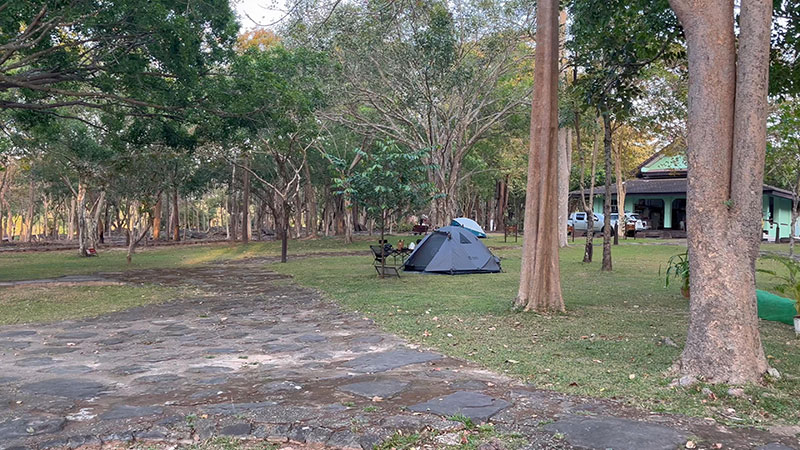 I don't have much information about this tent camping area. So I don't know what the tent area is like. When we started our journey from Pha Taem National Park It's already 3 p.m.
If it takes about 1 hour, we will arrive at Kaeng Tana National Park. Around 4 p.m. It might allow us to just set up a tent and find something to eat and then just go to bed.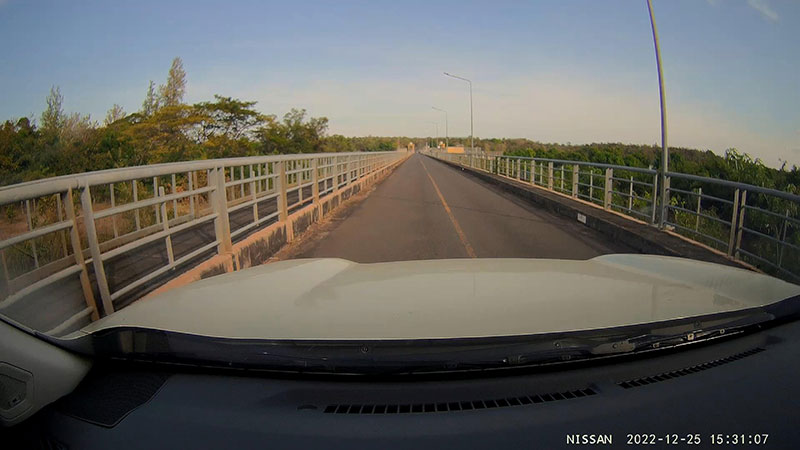 The route must pass through the dam at the mouth of the Mun River. But since time had passed until It's already 3:30 p.m. I was afraid it would be dark before I set up the tent. It's going to be difficult. Because I haven't seen what the place is like yet.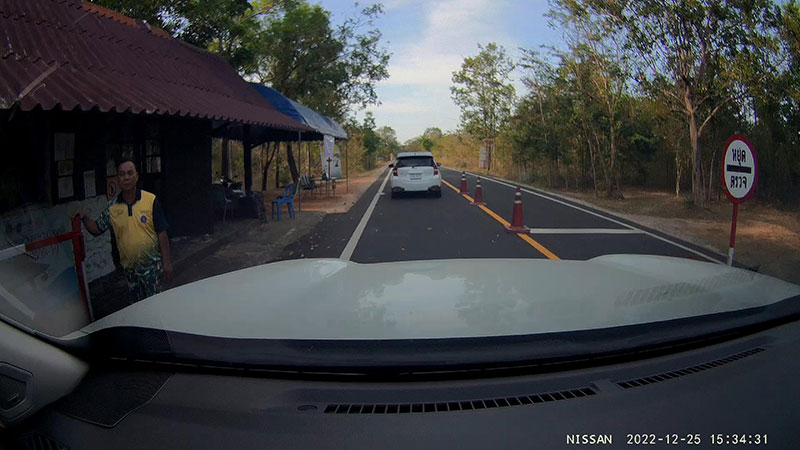 After passing through the checkpoint, pay the usual park entry fee: 40 baht per adult, 20 baht for children, 30 baht per car.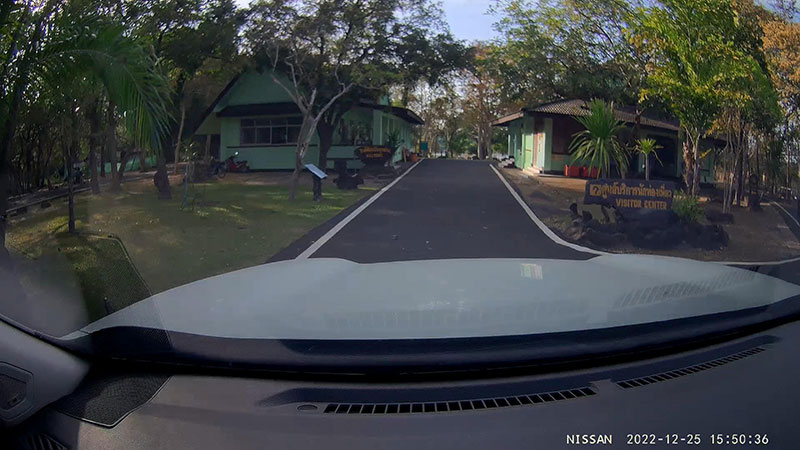 until reaching the inside This point is the tent site. There is a tourist service center building. We have to register for COVID screening. and pay a tent fee of 30 baht per person/night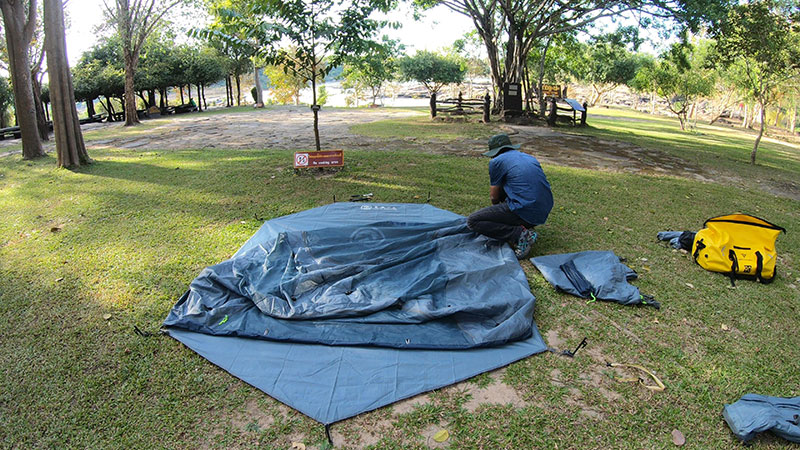 When I saw the courtyard for the first time, I was really wowed. There were already people setting up tents, just one tent. The yard is wide, beautiful, clean, with shady trees. In front is the beautiful Tana rapids with the sound of the water hitting the rocks.
I hurriedly set up the tent before it gets dark. Choose a plain area near the shade of trees. If the floor is uneven, it will be uncomfortable to sleep on. Or the floor itself is too much The bed will flow according to the inclination of the floor.
and must observe the east and west direction which way the sun will rise in the morning Is there a canopy that blocks the sun for shade in the morning? In the morning the sun will be hot and we won't be able to do anything.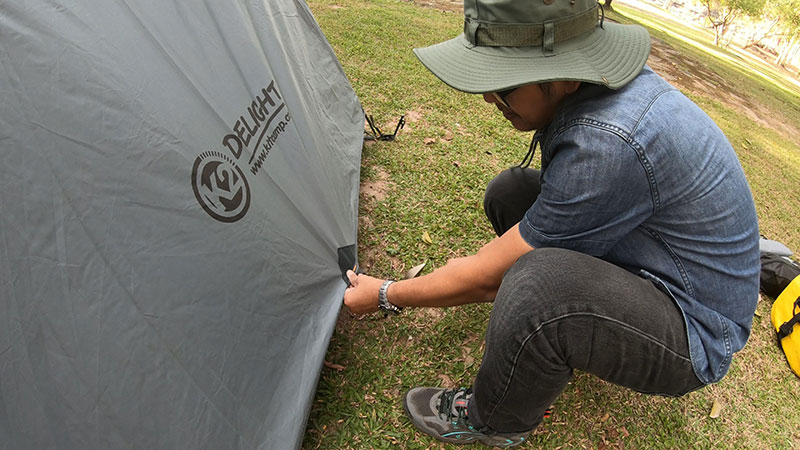 pitching a tent at Kaeng Tana this time I do not spread the tarp because the place is quite shady There are a lot of tree shadows.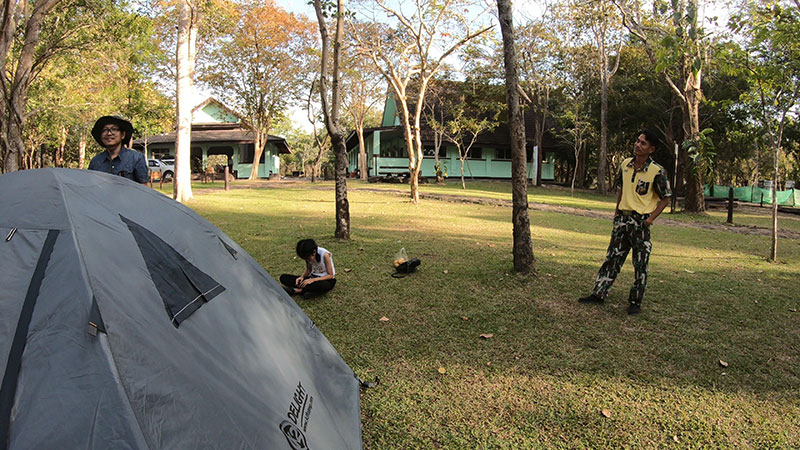 Park tent location quite safe because park officials came to walk around and inspect and chatting and giving advice on many things
We were able to rest comfortably in And there is a point to connect to an electrical outlet. Charge various devices behind the building And there are separate bathrooms for men and women. The bathrooms are clean.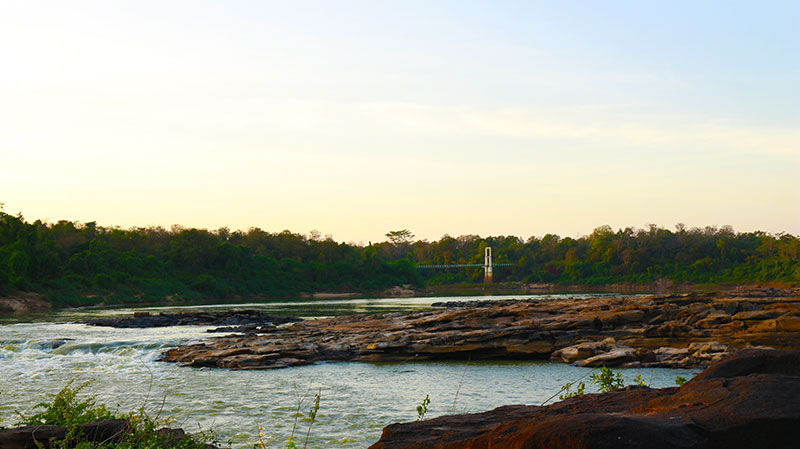 I walked down to look at the front along Kaeng Tana. You will see a suspension bridge crossing the Mun River. There will be 2 spots together, but I don't have time to travel and explore. It is very unfortunate.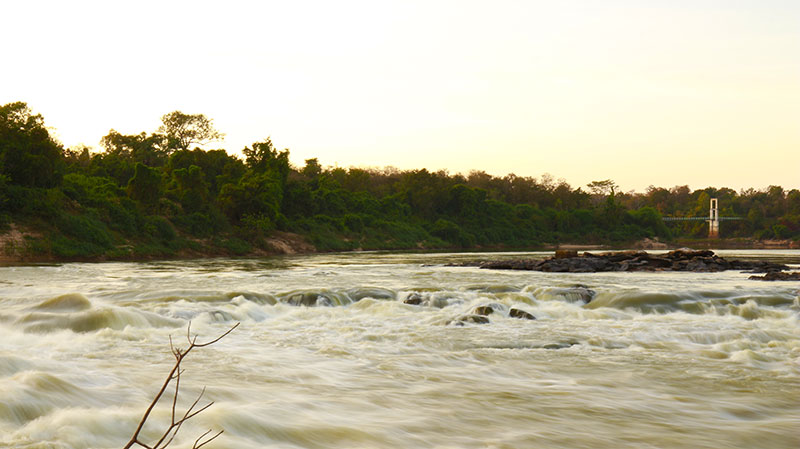 The Mun River flows rapidly into the Mekong River. The sound of hitting rocks is always loud. It's like we're listening to the sound of a waterfall.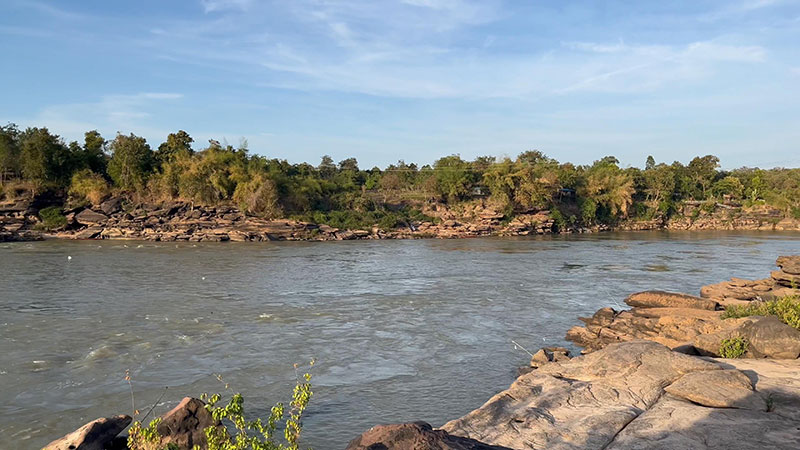 The water line that flows down will meet with the Mekong River. On the opposite side is the house of the villagers by the river. There is also fishing.
Return to our sleeping tent. Now I'm tired from traveling. So I ordered a welfare store. next to the green building There is food for sale to order. Delicious taste and inexpensive price But you must order quickly if it gets dark. will close the service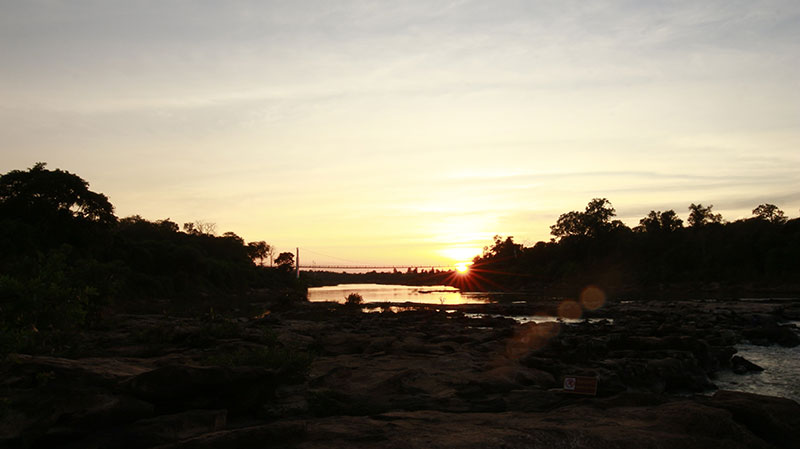 The sun sets on the other side of the suspension bridge. beautiful according to the story This is another beautiful sunset spot.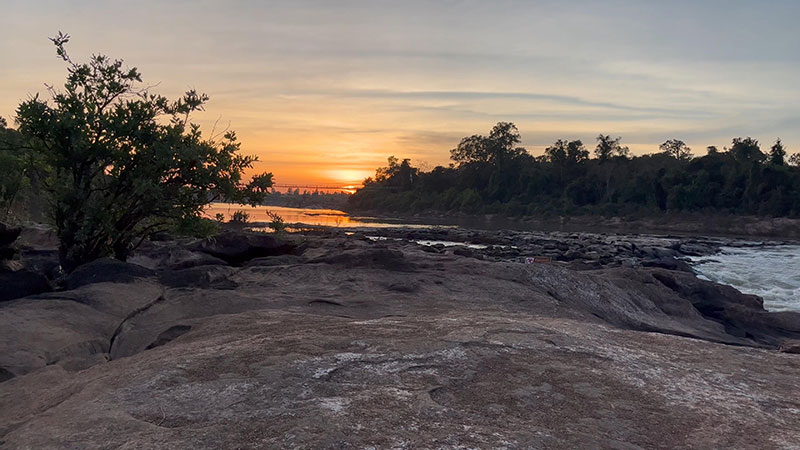 The weather is getting cold And the dew came down and the flysheet tent got wet. We had not put up a tarp for protection, so we had to quickly sleep in the tent.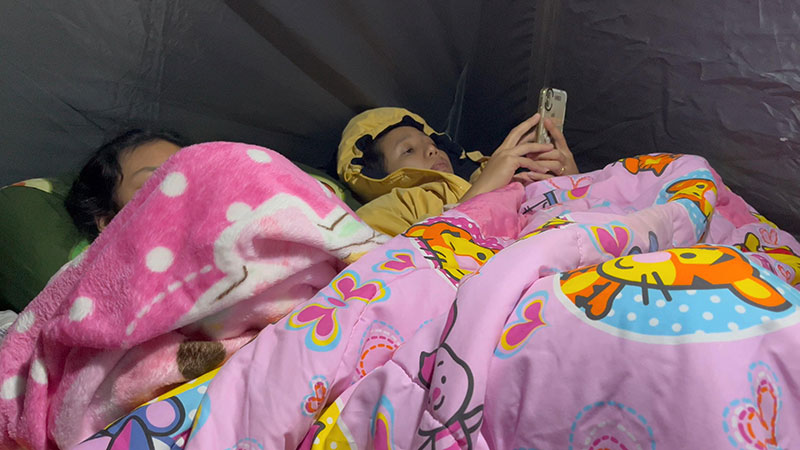 This tent has been in use for 1 year, sleeps 3 people, parents and children, warm and safe. But now I feel like it's too cramped. Because the child began to grow up Probably got a claim to buy a new tent that is bigger than before.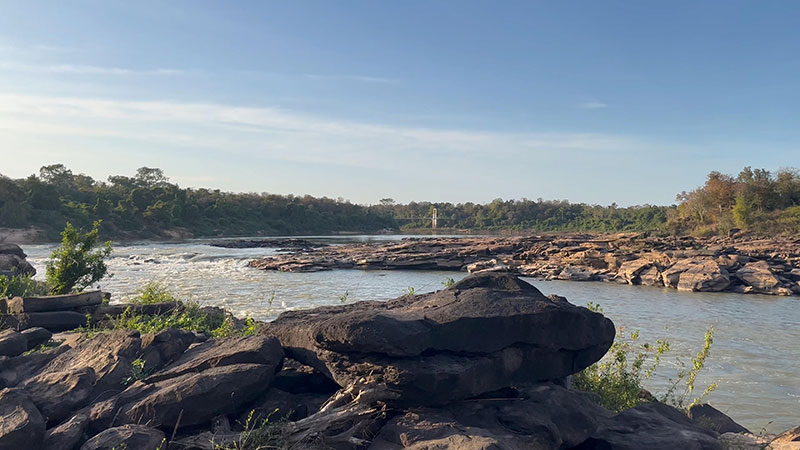 In the morning the weather was nice and clear. along with coolness and freshness. Actually traveling and setting up a camping tent like this You may look and there's nothing at all. Plus I'm tired of having to set up a tent and put away a tent.
Cooking and using the shared bathroom, but it made memories during the trip. And build a relationship to do activities together for the family as well.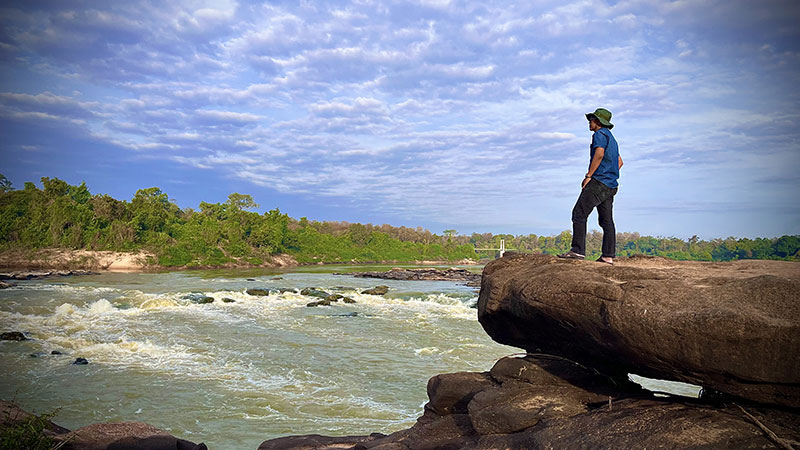 Traveling at the end of 2022 in the northeastern region of Thailand. Ubon Ratchathani province, starting from Sam Phan Bok, setting up a tent to sleep on the Chanadai cliff. Visit Pha Taem National Park I'm glad to set up a tent to sleep in. Kaeng Tana National Park.
Then return for 3 days and 2 nights, which is considered an experience to the wider world. If you just stay at home We probably won't see or experience these things. Our lives are short, we should travel and gather our dreams and good memories. Give to yourself and your family as much as possible.
Location: Kaeng Tana National Park
40 baht per adult
20 baht per child
Each car is 30 baht.
Tent setting fee: 30 baht/person/night
There is a welfare shop selling food.
Separate male and female bathrooms.
There is a charging point. for equipment.
The atmosphere is shady and quiet.