Where is Sam Phan Bok?
Sunday 25 December 2022
I took my family from Amnat Charoen province. In the morning to travel to "Sam Phan Bok" view point located in Lao Ngam sub-district, Pho Sai district, Ubon Ratchathani province. The driving route is quite far. because we plan to go Setting up a tent at Pha Chanadai In the evening, we would like to visit a tourist spot like Sam Phan Bok because we still have time to set up a tent.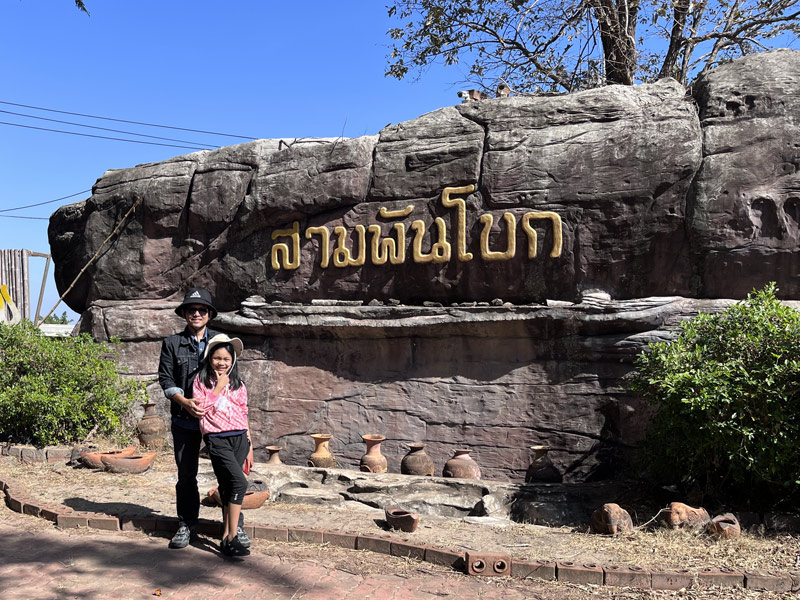 By the time the car arrives, it's about ten o'clock. Really bright sunshine But in the winter, the wind blows cold all the time. It helps us not get too hot in the sun. But if coming in the summer This place is probably not suitable for walking around at all.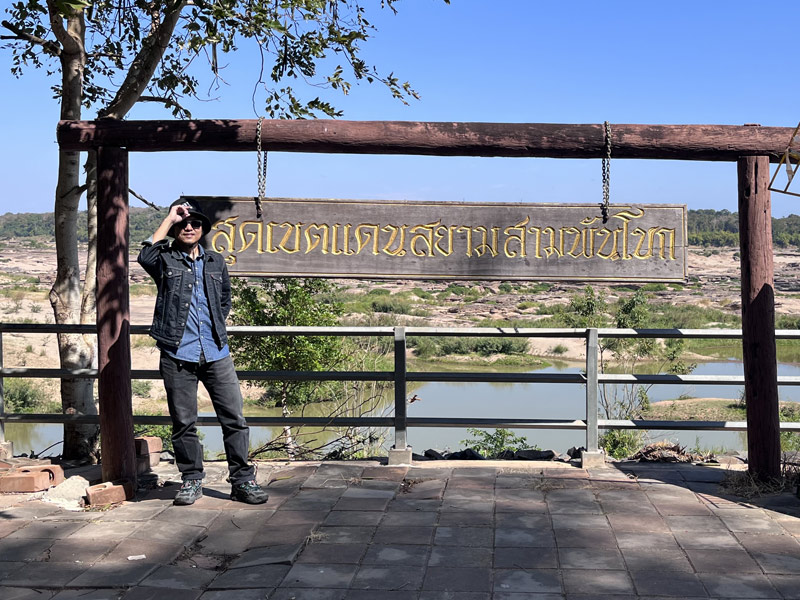 Enter the parking lot went down to explore Found that there were minibuses hired by villagers in the area queuing up to wait for tourists. I'm not sure if we can bring a car to drive down or not. But seeing tourists go with a minibus.
The price of a minibus Think of it as a round-trip trip, 200 baht. Will share or go alone, it's 200 baht.
Before going, my family and I would like to take pictures of the check-in first.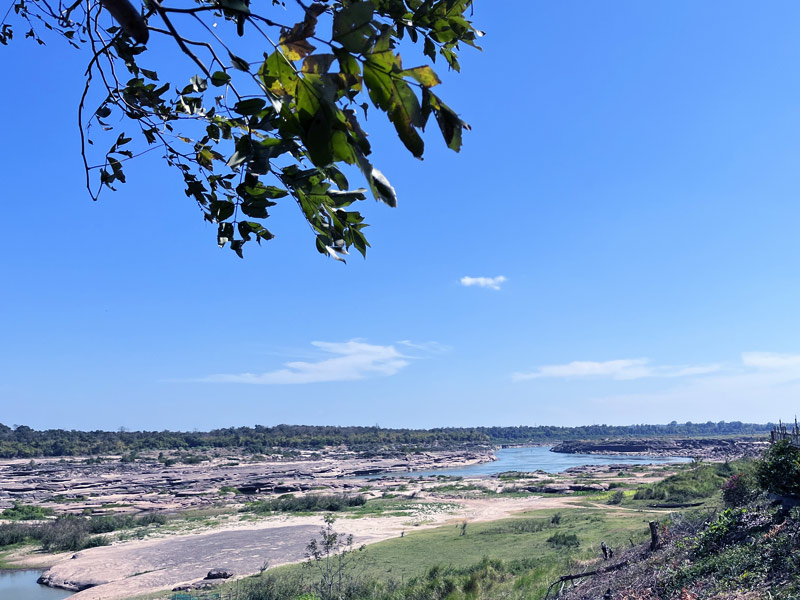 The route that we are going to go see the bok (hole) is on the nearby rocky hill in front of us. They say it's about 3 kilometers. If we walk there, we probably won't be able to walk back. Taking a minibus is best.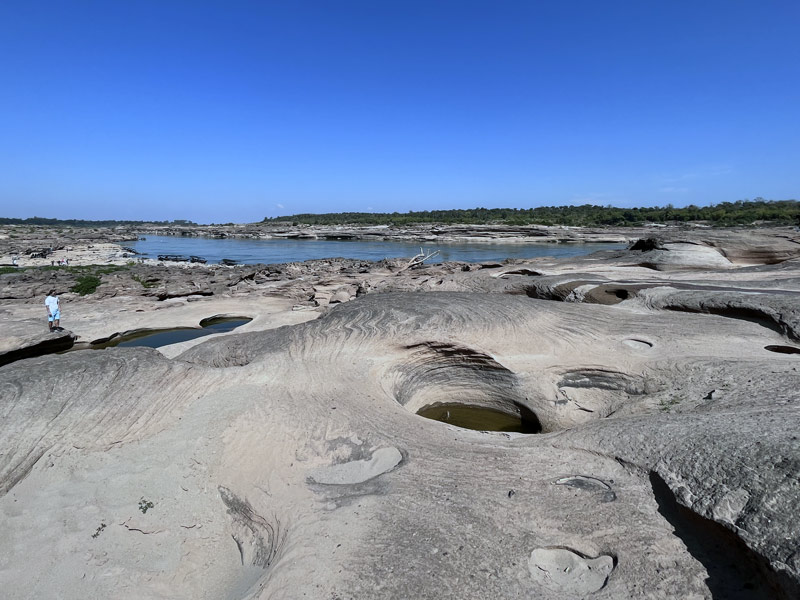 When we arrive, we will find rocky hills alternating with islands and rapids. These rocky hills are under the Mekong River when the Mekong River is full. It looked very amazing.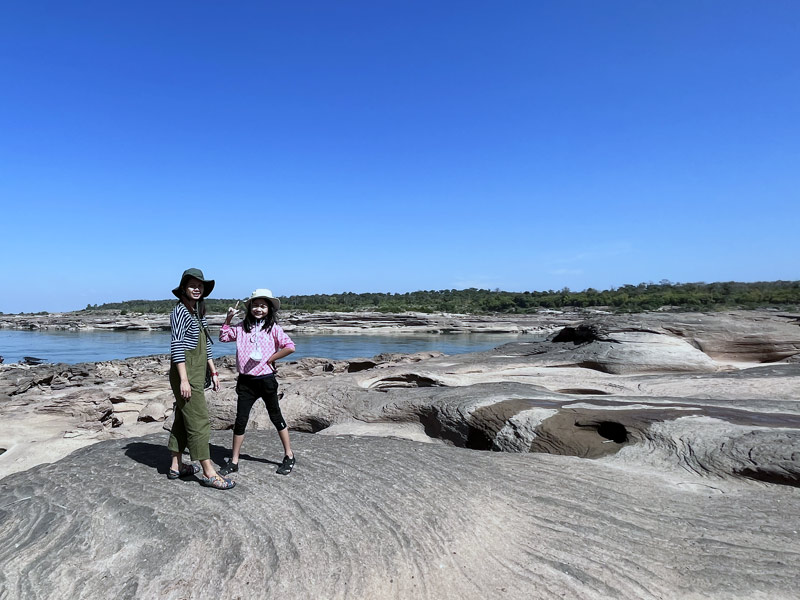 Mother and my daughter It's fun to walk around. It's a trip to Out Door sometimes because I'm at home playing with the phone for kids nowadays.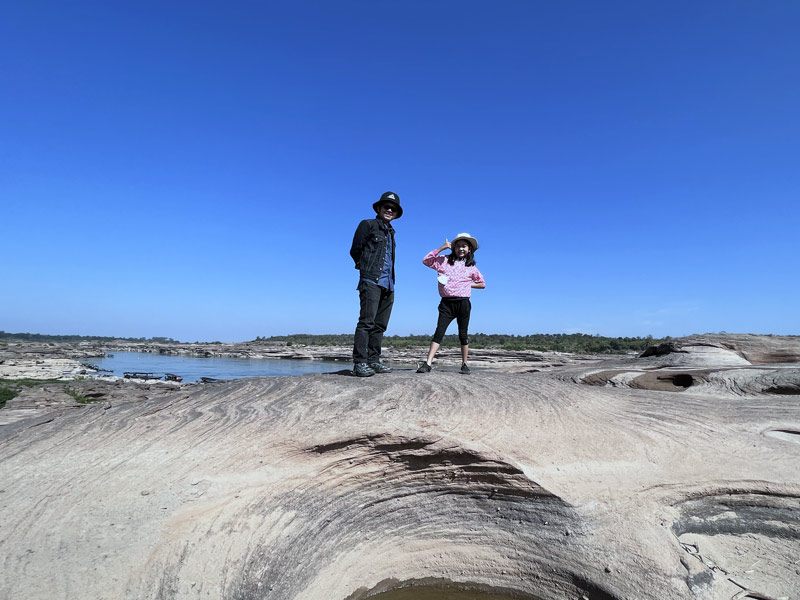 This place If it comes to the surface, there will probably be nothing. But if you walk around carefully, you will see the wonders of nature. I don't know how long it will take to take shape like this.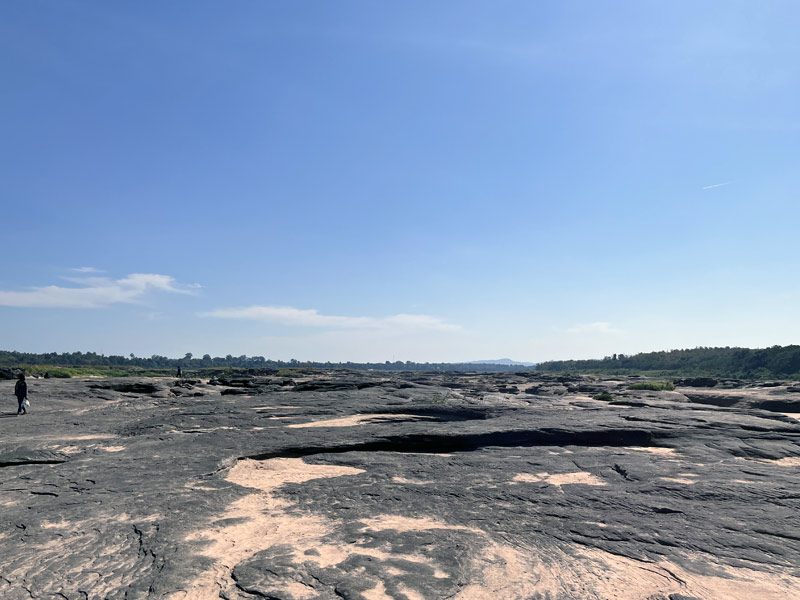 Now I feel that we are walking in the depths of the Mekong River. because if you look up on both sides, it will be a very high cliff I don't know either. Until when will the oil dry like this?
On the other side of the Mekong River is Laos. Looking at it, it seems that we can walk across to meet each other.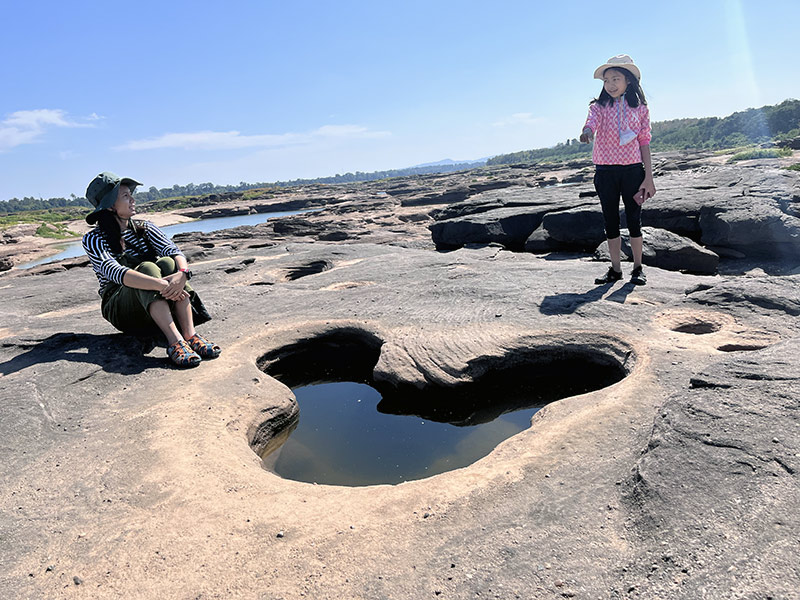 Arrive at the point of waving Mickey Mouse. It's a hole with an abandoned shape like the head of a famous cartoon. which is truly a natural creation.
It is the highlight point here. You have to walk up to the top. But it's not too far and we'll find it.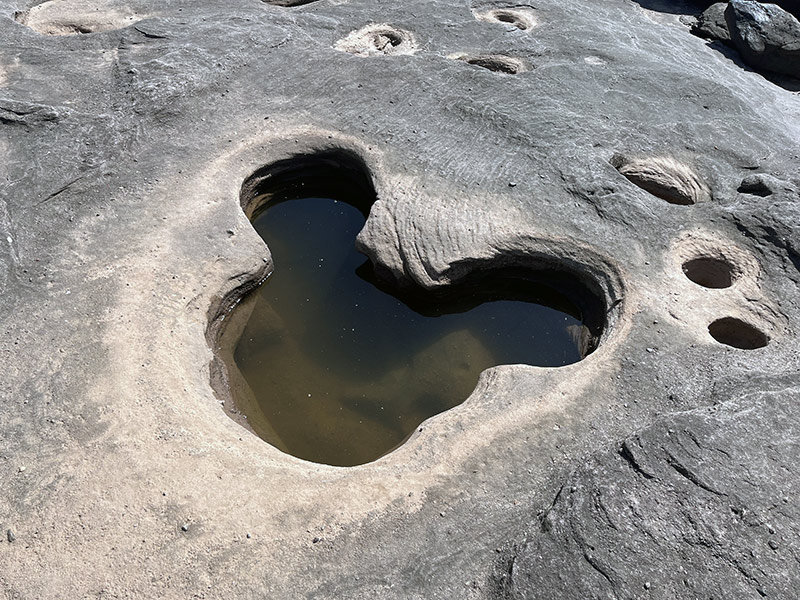 From every angle you look, it looks like Mickey Mouse. Children will probably like that it looks like the cartoon character.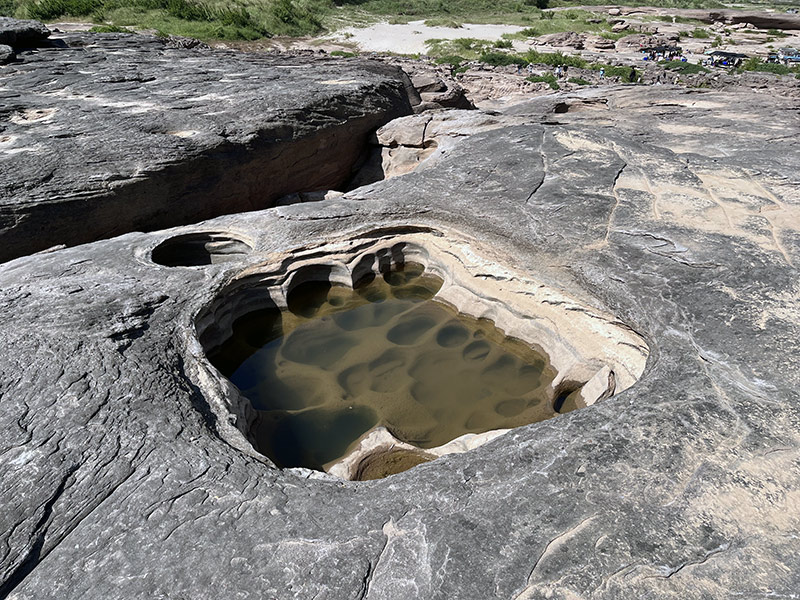 For this waving, he is waving bear footprints. But I think it's more like a dinosaur's footprint. Because it's big enough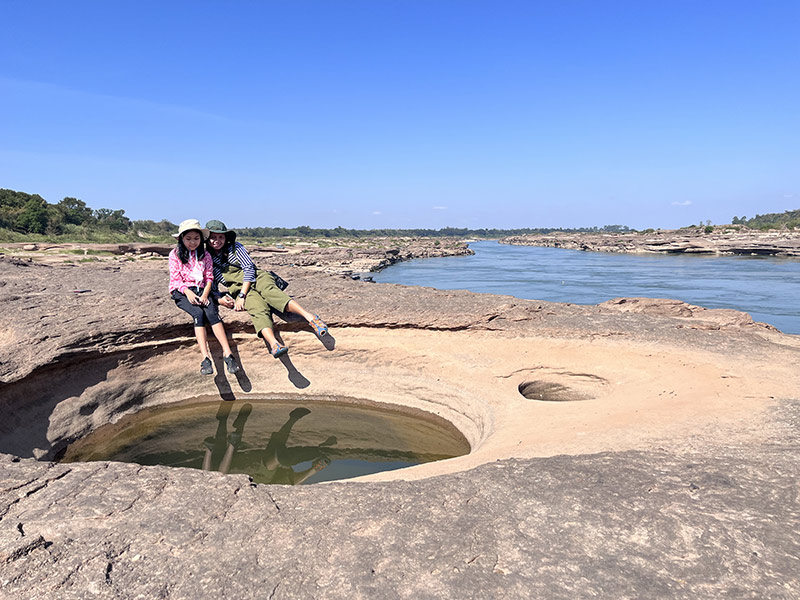 Each hole, each wave has standing water, and some waves have fish swimming in them. When taking photos near the hole, be careful as valuables may fall. because some holes are deep enough.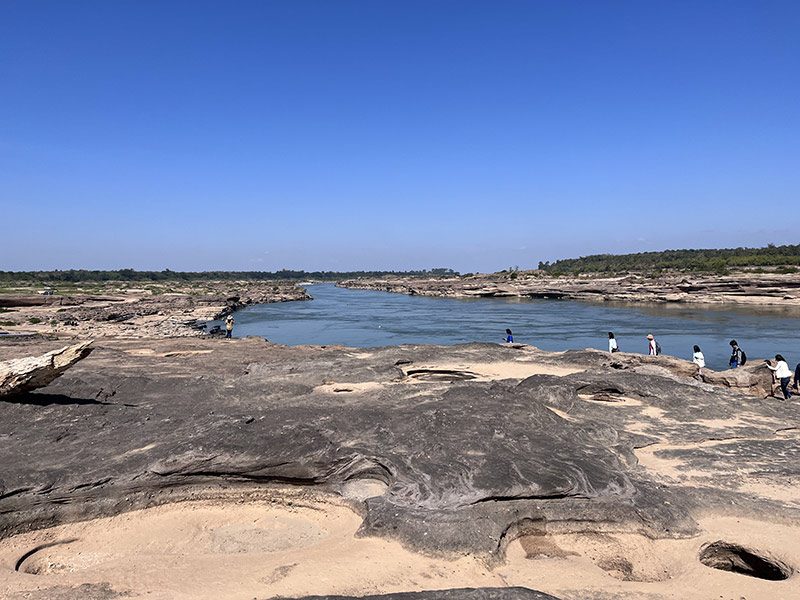 Once finished, we headed back to the two rows of parking lots waiting in line to send us back. Minibus with no time limit If you come in the same group, it's not a problem. But if you come to divide with other groups
We had to wait because some groups wanted to return quickly. Some groups may not want to travel for a long time to take photos.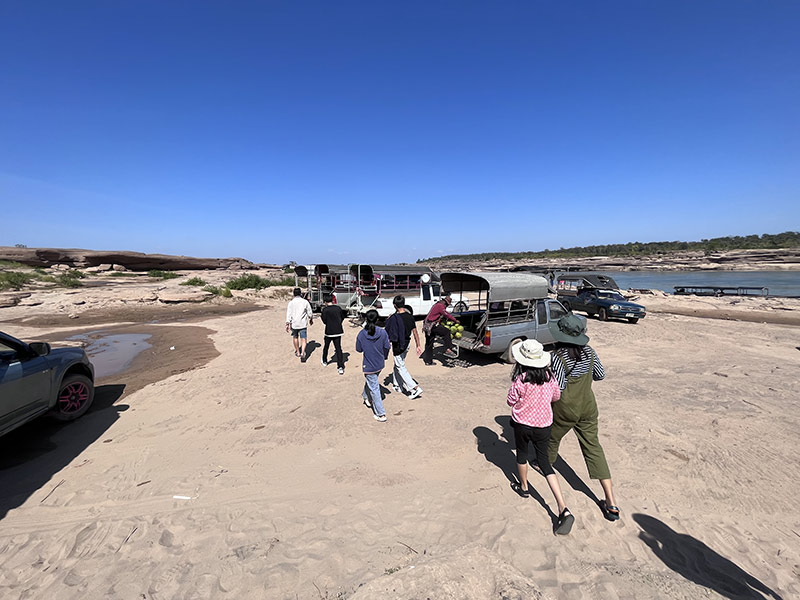 The path down the middle I think it's better to hire a car. Because the rocky hills are high and low and full of dust and sand. When sitting, you should wear a mask as well because there is a lot of dust.
The cost of a minibus going down to the viewpoint is 200 baht per vehicle per trip.
Map https://goo.gl/maps/wSLNGgH8bawMbMmP6