Visit Klong Klong Lan Waterfall
Date 28 July 2023
I leave Phra Nakhon Si Ayutthaya Province at 5:30 a.m. to head to Khlong Lan National Park. Because of the beauty of Klong Lan Waterfall that attracted me to visit this time. I hope that the waterfall will be enough for us to see the grandeur and beauty.
because it is a public holiday contact since Friday-Saturday-Sunday. Some workplaces may be closed until Wednesday. Causing a lot of cars on the Asian road heading north.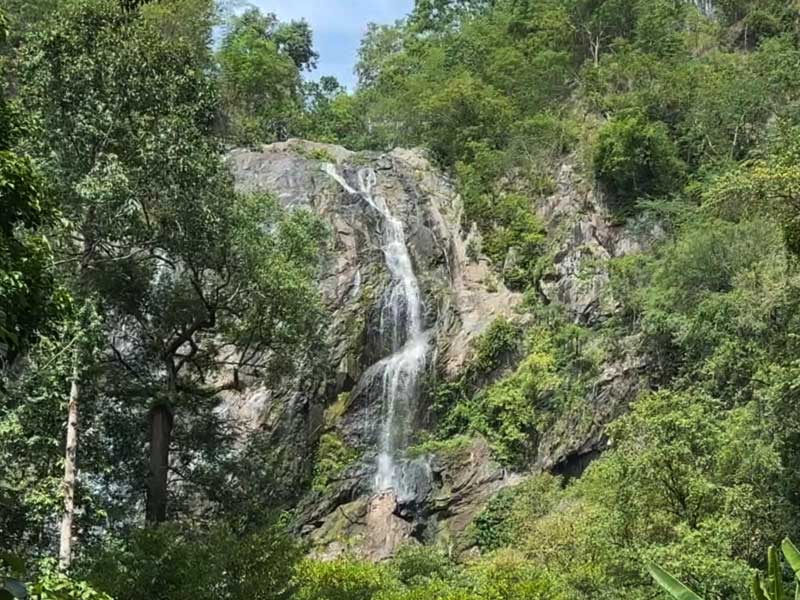 Apple Car play, I connected to Google map, let me turn to Uthai Thani. Through the Sakae Krang River into various districts both in Uthai Thani and Nakhon Sawan provinces. Rural roads are good and convenient without a lot of cars. The atmosphere on both sides of the road is beautiful.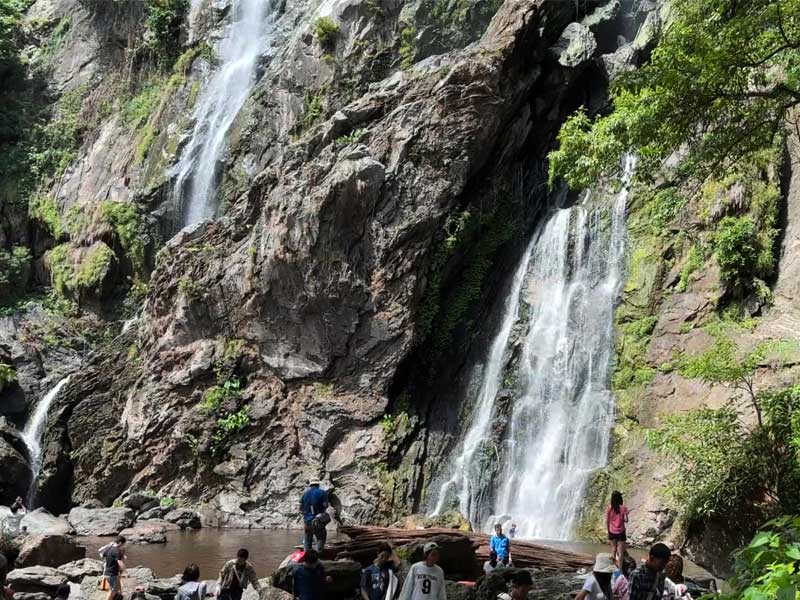 I finally arrived at my destination. Khlong Lan National Park at 10:00 a.m. We drive into the checkpoint. officials said free entry today. Because it is the birthday of King Rama 10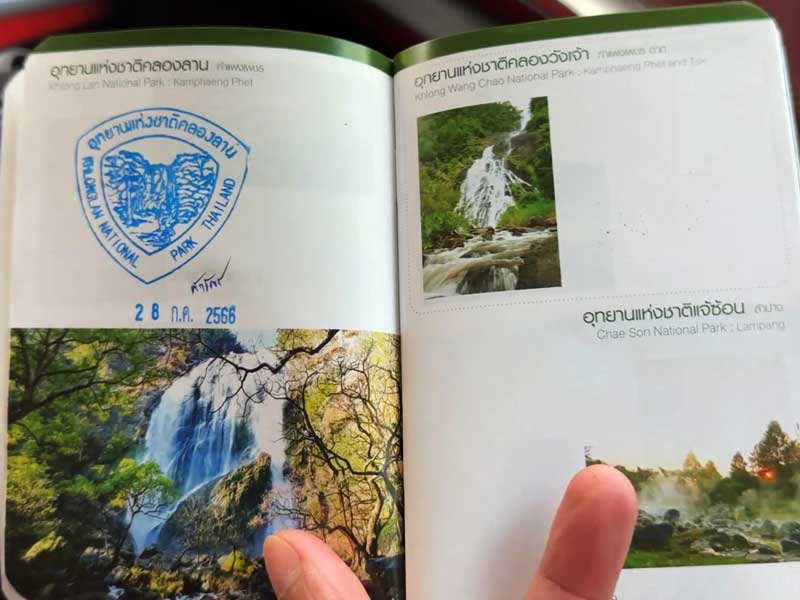 I drove the car and parked in front of the tourist service center. Before taking down the national park seal book to seal the national park and ask for details about the camping ground.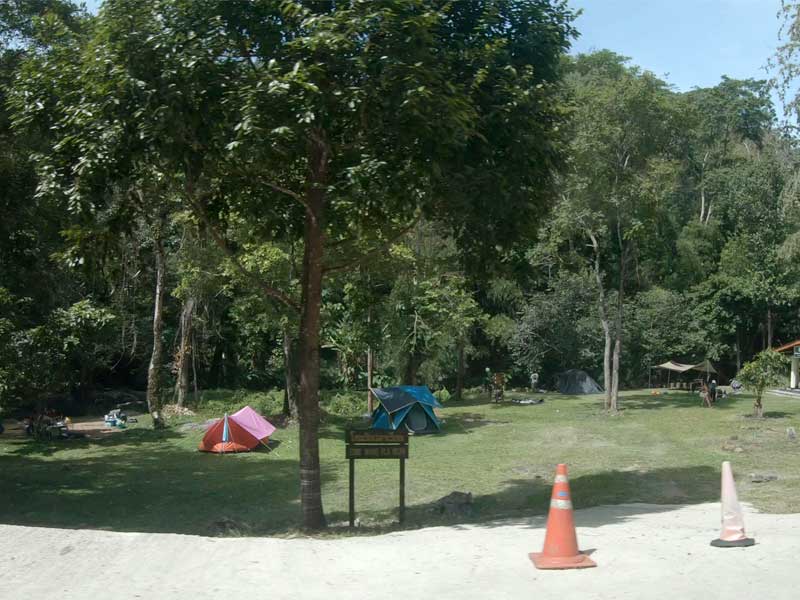 Khlong Lan National Park There is a tent area Lan Wang Pla Wien and Lan Kaew are next to the stream of the waterfall. Personally, I like courtyards with green grass. Thick as a soft Brahma rather than a courtyard near a stream of waterfalls. Most of them have soil and rocks, although there is some grass, but others have already occupied their tents.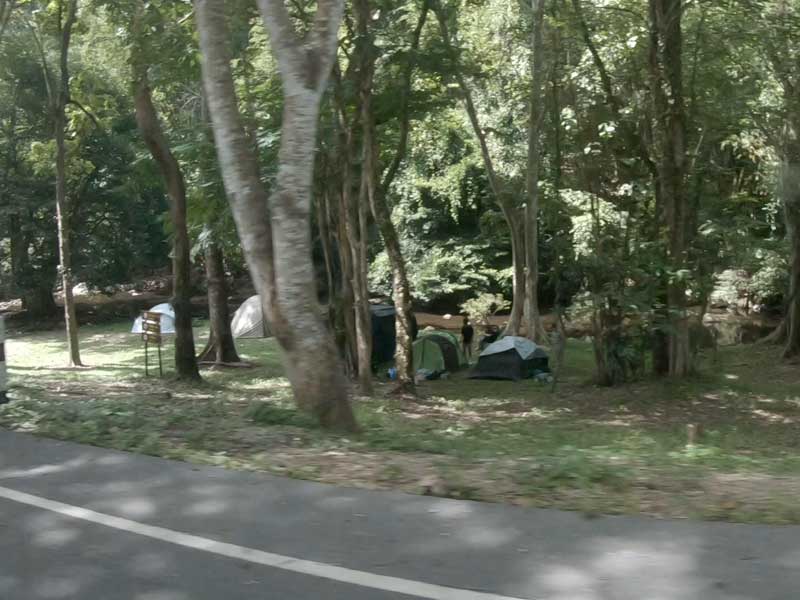 Carrying luggage down to set up a tent seems far from the parking spot. Bringing equipment down to the courtyard below quite troublesome. 
I don't want to choose the camping spot of Khlong Lan National Park. Because my heart expected to go camping at Klong Nam Lai Waterfall.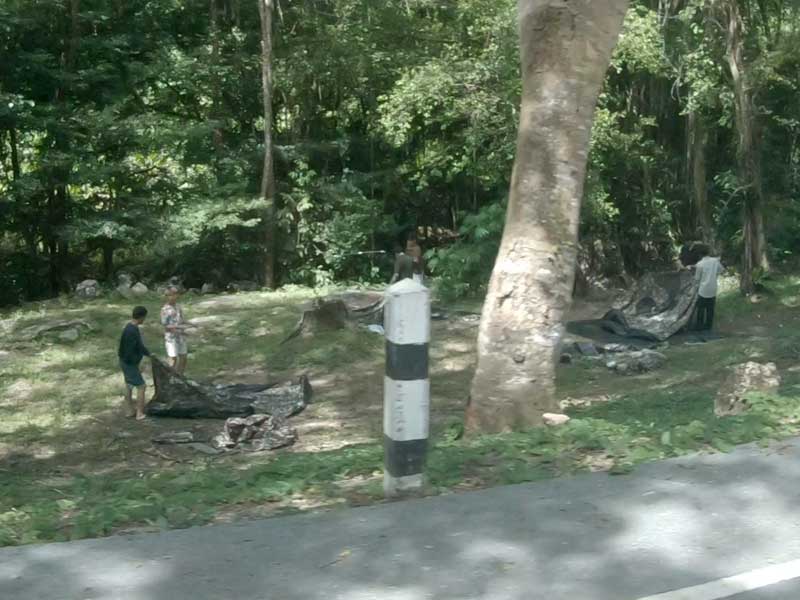 ฺBut how I also want to see Khlong Lan Waterfall up close. will not lose a trip that travels hundreds of kilometers.
The weather in the late afternoon, almost noon, is about 34-35 degrees hot even at the waterfall. still feeling hot But the beauty of Klong Lan Waterfall that shows the majesty towering in front of us can also refresh us.
More and more people began to descend to the waterfall viewing point. So I walk back to the car to head to Klong Nam Lai Waterfall for setting up a tent to sleep and rest comfortably.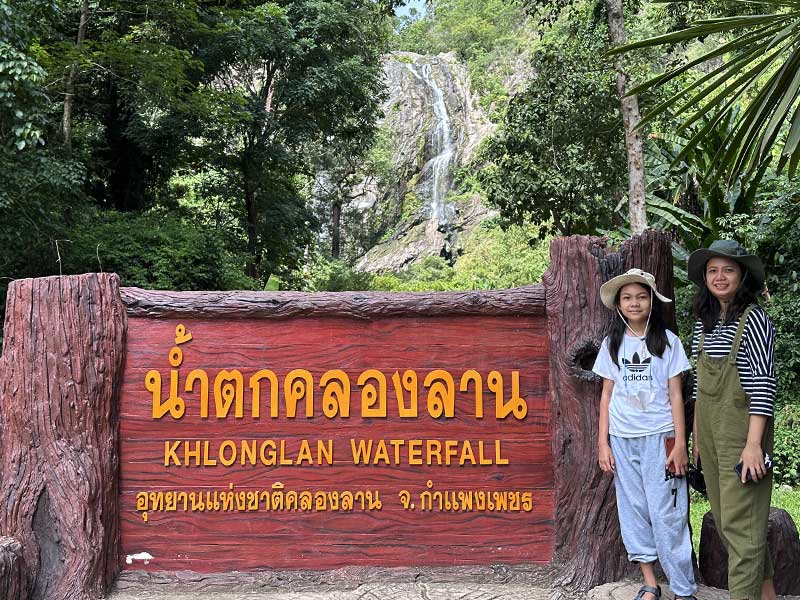 Review of Khlong Lan National Park.
National park entrance fees.
Thai people: adults 40 baht, children 20 baht, seniors over 60 free.
Foreigners: adults 200 baht, children 100 baht.
Tent area: 30 baht/person.
Car 30 baht/car.
Motorcycle 20 baht/car.
Atmosphere Khlong Lan Waterfall.
A large waterfall, 100 meters high, 40 meters wide, and beautiful.
The weather is hot and humid during July, 34-35 degrees Celsius.
The waterfall is clear and clean and tourists are not allowed to bring food to eat in the waterfall area.
There is a walking path to see the nature of Kiang Wong Chang. The distance is about 700 meters. I didn't go up. Reminds me of going up Khao Thevada for 800 meters, probably pretty tired.
facilities.
The parking lot is wide, but full of tourist cars. that gradually come to visit until the courtyard is full.
The bathroom is clean, especially in the nearby area. Visitor Center.
Good service staff, friendly, speak politely.
There is a coffee shop.
House in Khlong Lan National Park, 600 baht per night, en-suite bathroom.
There is a tent for rent 225 baht/night.
There is a trash can.
Camping ground.
There is a courtyard of Wang Pla Wien. and Lan Wang Kaew.
The camping ground is about 200 meters from the tourist center.
Tent pitching area next to the waterfall stream.
There is a place to dry clothes after playing in the water.
can cook.
Don't make bonfires on the ground.
You can use a portable gas stove to cook.
Do not drink alcohol and make noise that disturbs others.
Things to prepare for camping here.
To charge electrical equipment, prepare a Power Box as well.
If coming during the summer and rainy season, you should prepare a fan as well. because it's sweltering.
The area has a lot of ants and insects.
Prepare flashlights and lanterns to illuminate the tent area.
Contact place: Khlong Lan District, Kamphaeng Phet Province 62180
Phone : 088 407 9915
Email : This email address is being protected from spambots. You need JavaScript enabled to view it.
Facebook : อุทยานแห่งชาติคลองลาน - Khlong Lan National Park