Nakhon Nayok Camping
Date 28-29 July 2022
This time I made an appointment with my friends. in order to go to the middle of the camping tent in Nakhon Nayok Province A place called "Grandma's house camping" that I choose this place is Have looked at the profile and see that there is a canal or stream flowing from Khun Dan Dam and combined with the water that comes from Sarika Waterfall.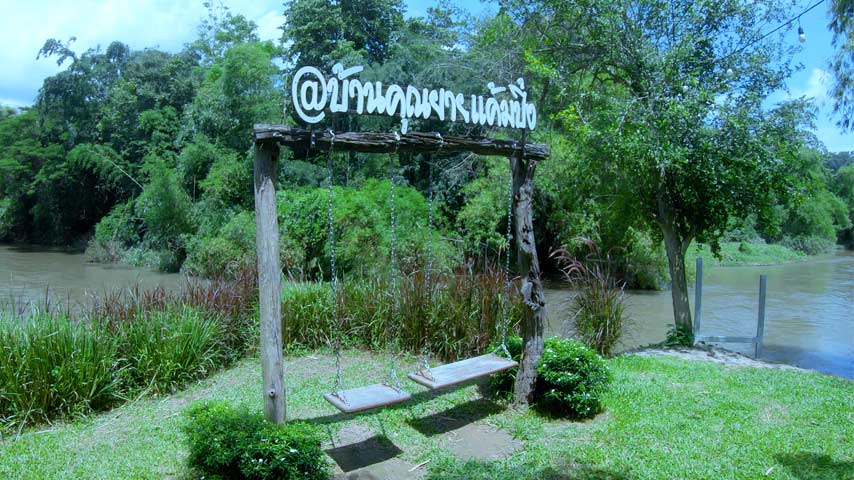 Of course my daughter will like it. because if taken to a camping place without water to play She would ask why she came. Children probably don't want to sit and enjoy the atmosphere of setting up a tent like adults. In addition to having fun activities Let's play along.
I made an appointment with my friends and drive together Nakhon Nayok route heading to "Grandmother's House Camping" using GPS to navigate. The route is convenient, reaching Prachakasem intersection. Let us turn right. Drive approximately 477 meters further, then turn left and follow the road until the end. Turn left There will be a clear sign. There will be an official coming out to receive and ask for reservation details.
After that, drive inside. which will be a slope down to the camping ground and there are officers wearing blue uniforms Waiting for the convenience of many people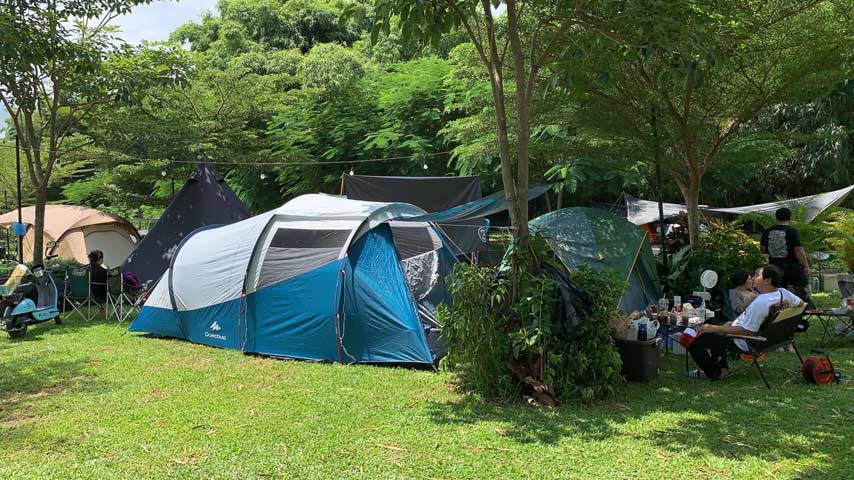 The camping staff will take us to see the camping ground. which has 3 courtyards together
The first courtyard is a bamboo forest surrounded by bamboo trees. Provides shade and coolness. Most importantly, it's close to the weir. Causing to hear the sound of water flowing against the weir all the time like the sound of a waterfall But bamboo forest terraces also have disadvantages. Right at the time of the rainy season Because the bamboo forest crushes some sunlight. causing the grass that was planted to not grow So it's an open ground. If it rains, of course the ground will be muddy. messy If the courtyard is renovated into a stone courtyard, it should be good as well. Because there will be no problem with camping in every season.
The second courtyard is in the middle. It's a beautiful grass field. And it's also a path down to play in the water. There are some trees that provide shade. This courtyard is closest to the bathroom. And we chose to set up our tent at the water's edge. Let's go to this courtyard.
The 3rd courtyard is at the end. It's a beautiful open grass field, but if the sun is hot, it should be really hot. But there were already many people setting up tents. which this section should be private if coming in a group
After selecting the tent site The staff of the camping ground also help take care of the parking and help unload the car. I really like this kind of help transporting things. There are several wheelchairs available here. We don't have to prepare a cart.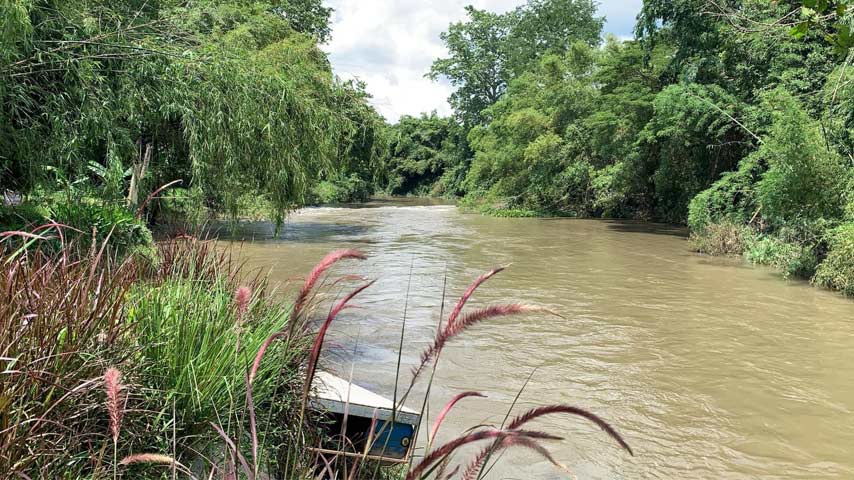 At the tent site "Grandma's Camping House" also has power plugs for us to use. You should prepare an extension cord and plug, it will be very convenient.
The bathrooms here are clean. Separated into a men's bathroom and women's bathroom What I checked was only the men's bathroom. There are 2 rooms, a toilet room combined with a shower room. There are water heaters in both rooms and liquid soap and shampoo for use. Clothes racks and bag hangers are also well provided.
At the end there is a urinal. It's convenient and clean. Below the bathroom there is a trash can. and sink for washing utensils.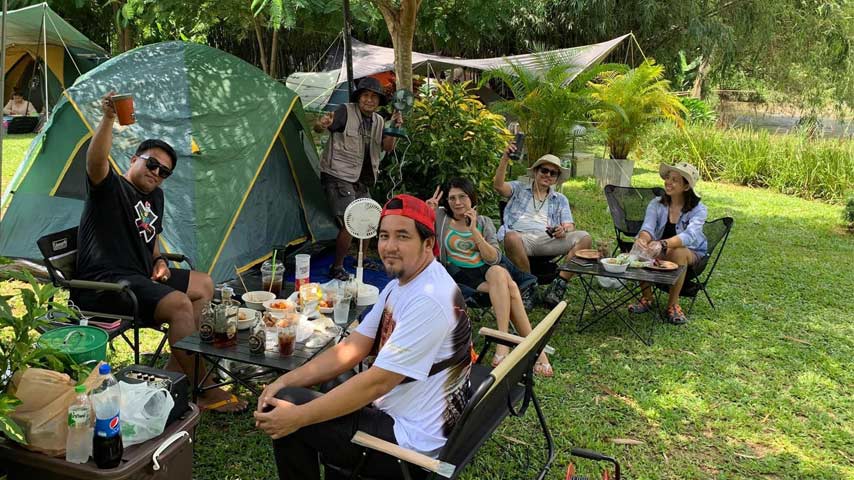 My friends and I set up the tent and then sat down to eat food and drink as we pleased. The atmosphere of camping in private places mostly focuses on social activities. As for me, I take my children and friends' children to play in the water. The water is very cold. Before they are willing to go into the water, they have to sit and soak for a long time, but the children are not afraid of the cold water. jumping and having fun.
Last night it rained, making the water flowing brown, murky, and flowing hard. Everyone who goes into the water must wear a life jacket for safety. When I go into the water found that the water was about our chest deep which is considered not too deep.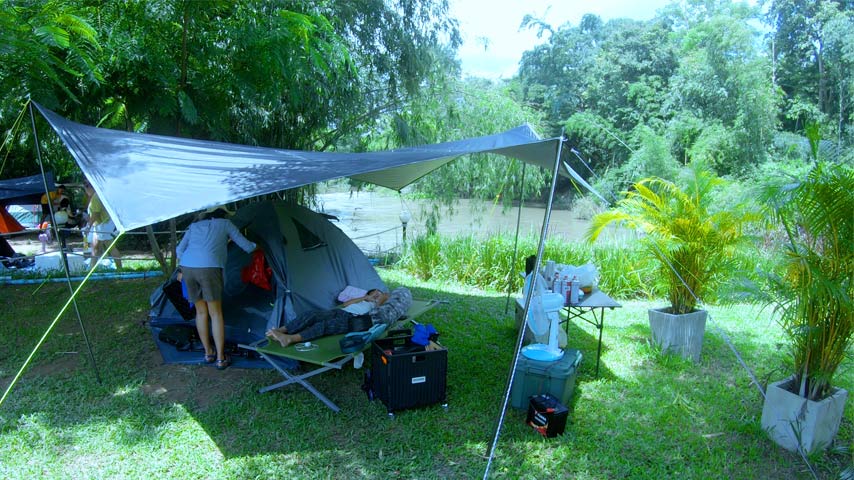 In the evening we drank and drank until 10 p.m., when the rain came down heavily. So they slept together in a tent. It rained all night and the weather was cool. The morning was refreshing when I woke up. I walked around and explored. I saw that this morning. water in stream and decreased more than yesterday We make simple food Have breakfast and drink coffee, pack up tents before continuing to travel to Pak Chong, Nakhon Ratchasima.