Sam Lan Waterfall National Park
16-17 July 2022 (rainy season)
The life of a salaryman like me is just waiting for the holidays. It's not just me stopping alone. Had to stop the whole family too. To have time to leave This time it was a trip to Namtok Sam Lan National Park. Saraburi Province.
Sam Lan Waterfall National Park It is the national park closest to my house. But I have never traveled even once. This is what is called "near salt, eats alkali"
With a distance of approximately 60 kilometers from home Take your time to travel comfortably. There's no need to hurry. It's only an hour.
when you arrive at the park Just park at the checkpoint and pay the service fee. If anyone has a national park passport, they can get it stamped here.
Service fee is 20 baht per person, tent setting fee is 30 baht/night, entrance fee is 30 baht/car.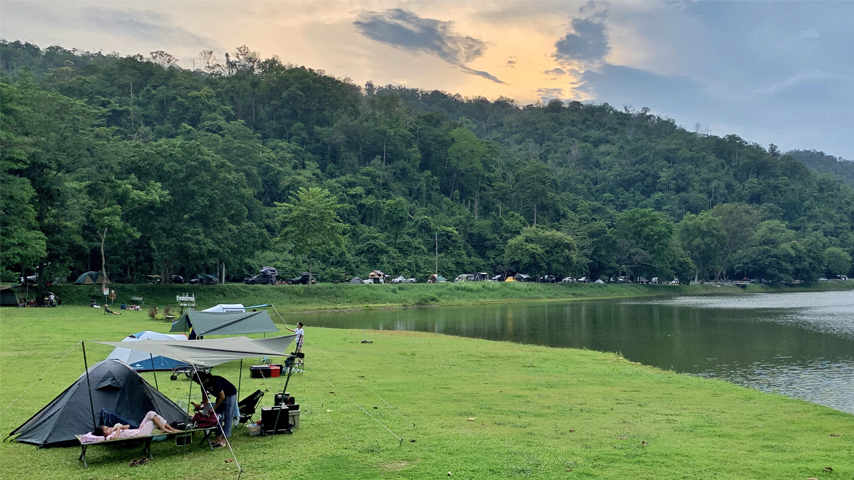 We have already paid the service fee. Drive in a little further. You will find Khao Ruak Reservoir. Along the reservoir, you will see your friends. Many people came to set up tents in peace.
I like to camp in national parks. It's just that the atmosphere is quiet. But my son doesn't like it. Childhood has to have fun things according to his age. Sometimes I have to take them to a private camping yard. There is water to play with.
At Sam Lan Waterfall National Park, during the month of July, there is still no water flowing from the waterfall. So we were only able to set up tents at the tent site.
I parked on the side of the road at the unloading point. and bring the cart that he has for service to put various luggage to put up a tent.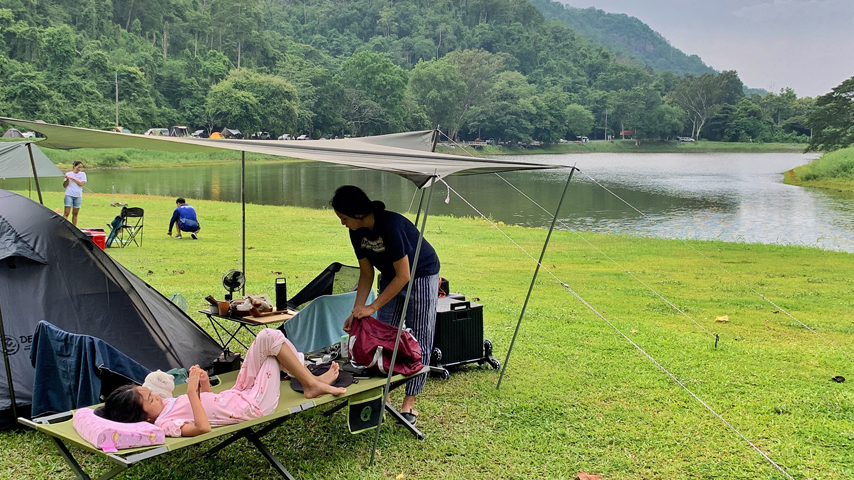 The tent site that I had planned The people who had set up tents earlier were now putting them away. So I hurriedly put the things nearby. with a shade tree behind
We had a chance to talk a little but it was pleasant. This is probably the friendship from strangers that are often encountered in tourist attractions throughout Thailand.
I hurriedly set up the tent as quickly as possible. Because the weather is very hot and stuffy. But since we have set up tents many times already Makes setting up a tent in Saraburi this time There aren't any problems.
When finished setting up the tent I had to find drinking water to quench my thirst and cool off. Because the weather is very hot My child and I went to buy drinking water from the park's welfare shop.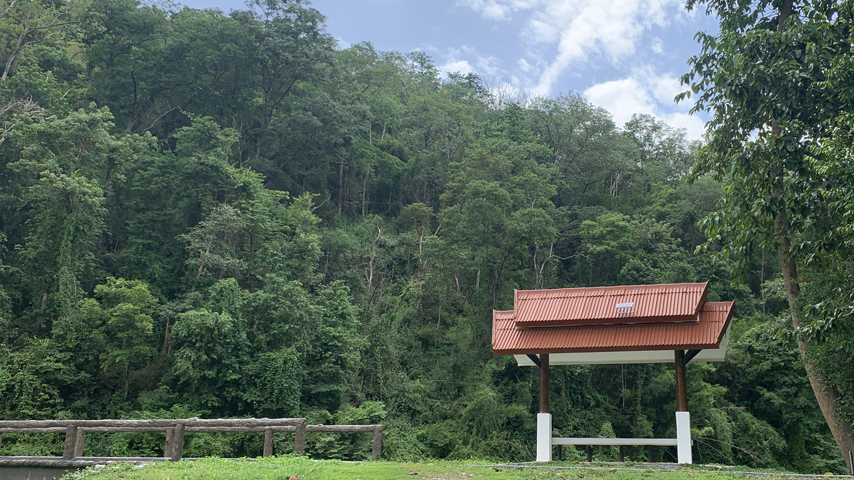 In addition to the welfare shops, there is also a coffee shop and smoothies at the park. The price is 50 baht per glass. If you bring your own glass, the price will be reduced by 5 baht, leaving only 45 baht per glass. The taste of espresso coffee is slightly sweet, very delicious and satisfying.
For lunch we ate the food we had prepared. like sticky rice and grilled chicken and lay in the shade as much as possible. The weather can only be described as hot and stuffy, like it's about to rain.
As soon as we moved the chairs under the shade of a tree, it started to rain. We moved them into the flysheet and the rain stopped. This happened two more times until we couldn't leave the flysheet anymore.
In the evening, the air starts to feel cooler from the wind that blows cool air from the rain somewhere. make us feel good
I hurriedly went to take a shower. Because I was afraid that it would be dark and there would be a lot of people. The bathroom was very clean. And the water was cool and refreshing.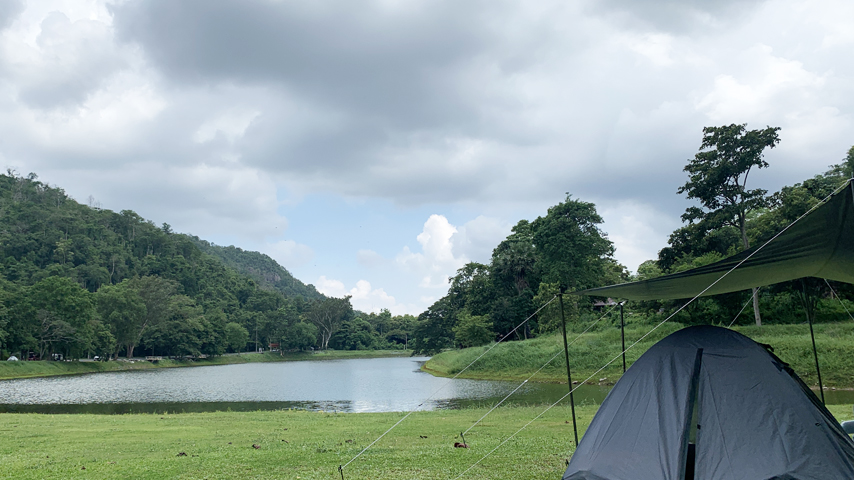 In the evening, we cooked a little food together. Sam Lan Waterfall National Park is not very strict about cooking. And most tourists know this rule and what they should do in places like this.
At night, I agreed to sleep outside on a field bed. and let his wife and children sleep in tents To reduce discomfort Due to the hot weather.
As I was drifting off to sleep, around 11:30 p.m., I heard the sound of thunder. and the rain poured down unceasingly The wind blew the rain into the tarp. up to the top of my bed Made my pillow and sleeping bag all wet.
I hurriedly got up from the bed and saw that the rain was still on the tarp. a large basin If I didn't do anything, it would definitely be broken. So I had to find an umbrella to spread out and release the ropes holding the tarp. and lowering the position to slope down Do not allow the rain to remain.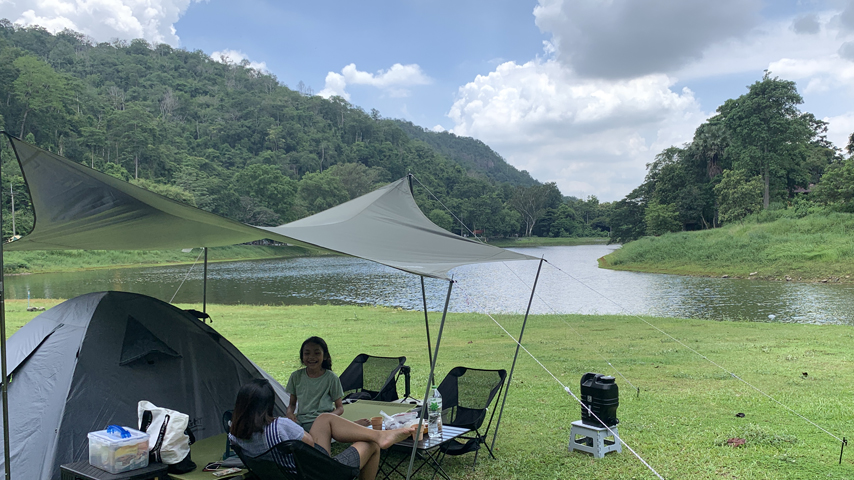 But at this momentous moment causing nothing to be found I just grabbed the hat. Then hurry out and untie the rope. Lower the height of the tarp pole. to create a slope like a gable of a house so that the water will not stagnate on top.
I came in to fold up the chairs. All so as not to get in the way. and moved the bed to hide from the rain But everything was already wet.
I tried to sleep outside. But during the time of heavy rain In this way, there were more mosquitoes than in the early evening. Mosquitoes bit my legs and arms, so I sprayed mosquito repellent spray on my arms and legs. But the mosquito still flies next to my ear. Until I can't sleep So he had to hide and sleep in a tent with his wife and children.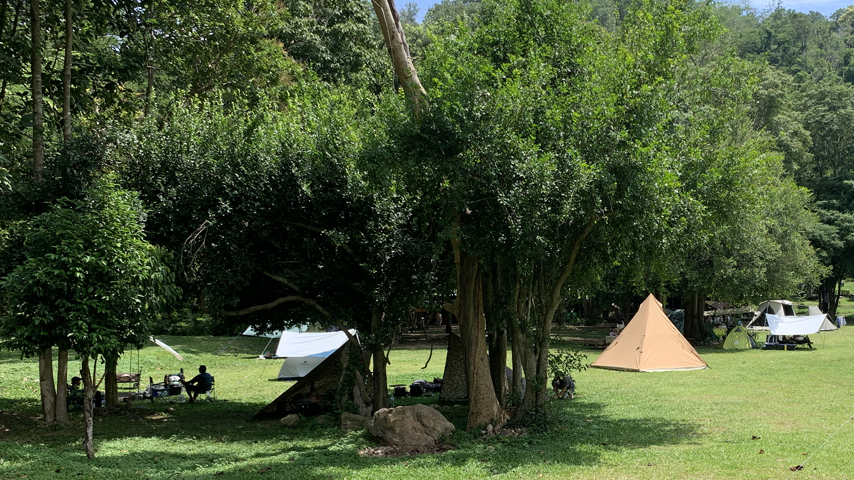 Around five o'clock in the morning, the rain began to subside and the weather began to cool. Until having to turn off the fan When I heard the sound of a rooster crowing I hurriedly get up from the tent to enjoy the morning atmosphere before the sun rises. After that I went Wash your face, brush your teeth. Prepare to pack up the tent.
Going to pitch a tent and stay overnight is very tiring. If you're thinking of camping for just one night, bring only the essentials. Don't try to carry unnecessary luggage until it's too much. It will make you tiring all the time to pitch the tent. and tent storage time
Because you just finished setting up your tent and packing all your things, tables, chairs, etc., at noon. After sleeping for just one night In the morning you must be tired of collecting those things again. If you bring a little You won't be very tired.
This morning my housewife made breakfast for me. It's a scrambled egg for my daughter. and hot boiled rice After finishing eating, we hurriedly packed up our things and prepared to go home.
Packing up the tent in the morning Please put all unnecessary items and equipment together first. Then pack up the tent, then the tarp, last. Especially when it rained last night. It is very necessary to give Tents and tarps Let it dry in the sun first. Otherwise, if we keep it And didn't take it to dry in the sun at home. The tent may become moldy.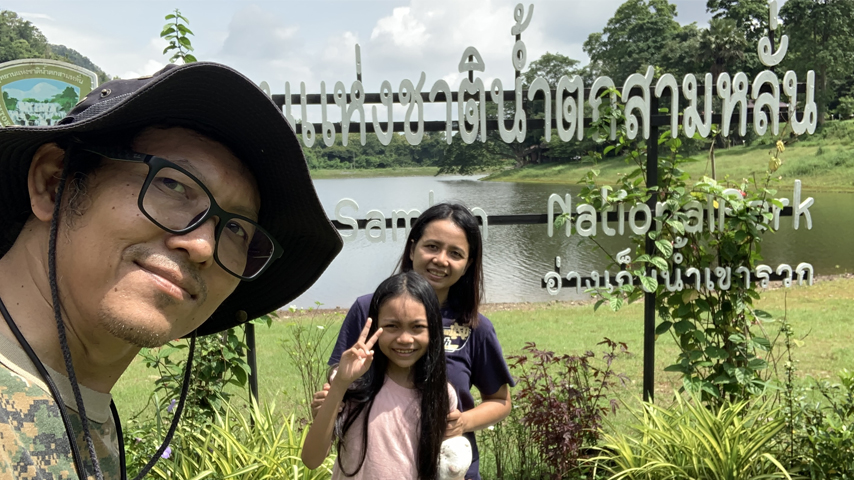 Waiting for it to dry in the sun is slow and makes us feel hot. I used the small cloth I had prepared to wipe off the water that clung to the tent area, and the tarp helped it dry faster.
After putting everything in the car I went to find some cold water to drink and took a photo with my family as a souvenir. that we have arrived at Sam Lan Waterfall National Park And I think during the winter I would like to come and set up a tent in Saraburi at this place again.