Phichit Phu Kradueng 2565
Wednesday, October 12, 2022
Phu Kradueng is a high mountain located in Loei Province. It is a top natural tourist destination in Thailand that has been accepted by many tourists from the past. until now Phu Kradueng is still a target for more tourists to conquer. Even I myself would like to have a chance to become famous. "Once in a lifetime We are the conquerors of Phu Kradueng."
Wednesday, October 12, 2022 after work I hurried into the house to prepare my belongings. Even though I had packed my luggage more than a week in advance, I couldn't help but check the contents of my luggage over and over again with excitement. Because this is the first trip to Phu Kradueng for me and 3 other friends who are now gradually driving to pick up each friend. before coming to pick me up one last time and then leaving.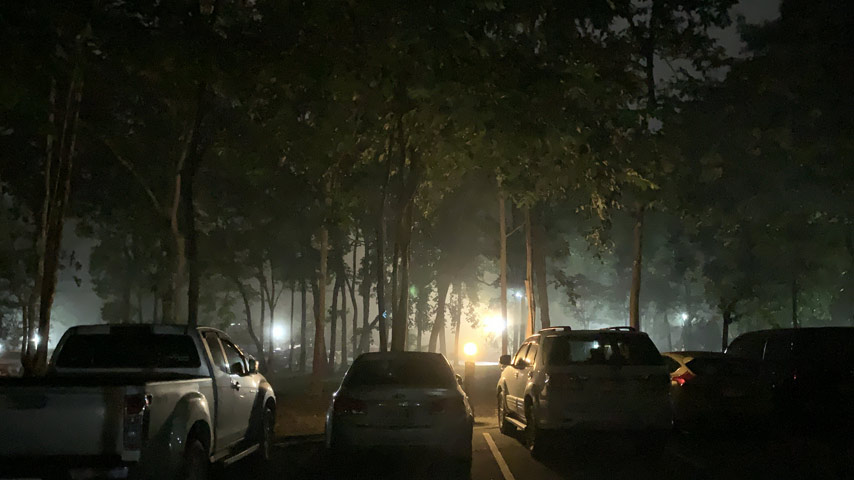 There were 4 of us going, all of whom had just gotten off work in the evening. Even though I'm tired from working. But the excitement of traveling to Phu Kradueng this time Makes us forget the tiredness of working all day.
We stopped at a gas station as the first stop to refuel. After driving out of my house at 8:30 p.m., refueling 2,430 baht for the cost, we agreed to divide 4 people.
When you have finished refueling We headed towards Phu Kradueng National Park, Loei province, using the route Saraburi, Nakhon Ratchasima, Chaiyaphum, Khon Kaen.
We sat and chatted hilariously along the way. In order not to cause sleepiness until we arrive at Chum Phae District, Khon Kaen Province at 3:00 a.m. on October 13, 2022, there is a rice porridge shop on the side of the road. So we stop by to order hot boiled rice. And various side dishes come sit and eat together as if we know that this morning we probably won't have eaten before going up Phu Kradueng for sure.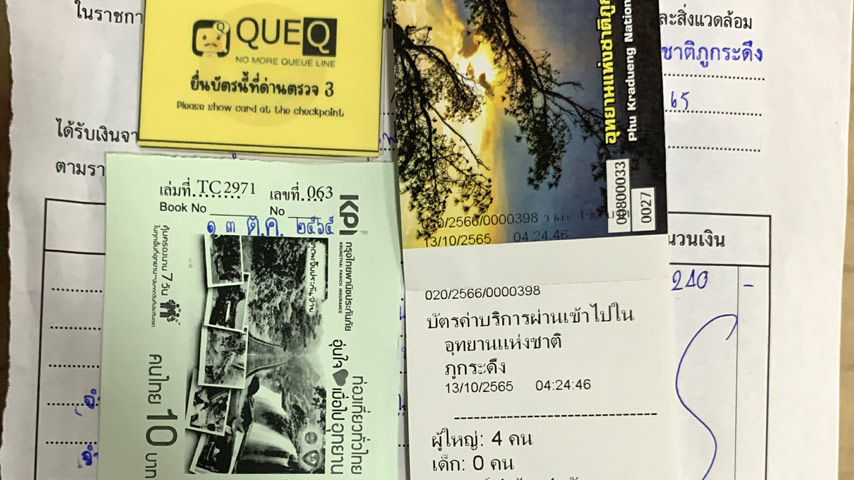 Pay 490 baht for rice and then depart to Phu Kradueng National Park It took another hour or so. We arrived in front of the park entrance. which must pay various fees By paying through an automatic payment machine
There are 4 of us going, the entrance fee is 40 baht/person, totaling 160 baht, plus an additional 30 baht for the car entrance fee, totaling 190 baht. I spent 10 baht and had to change to the next kiosk.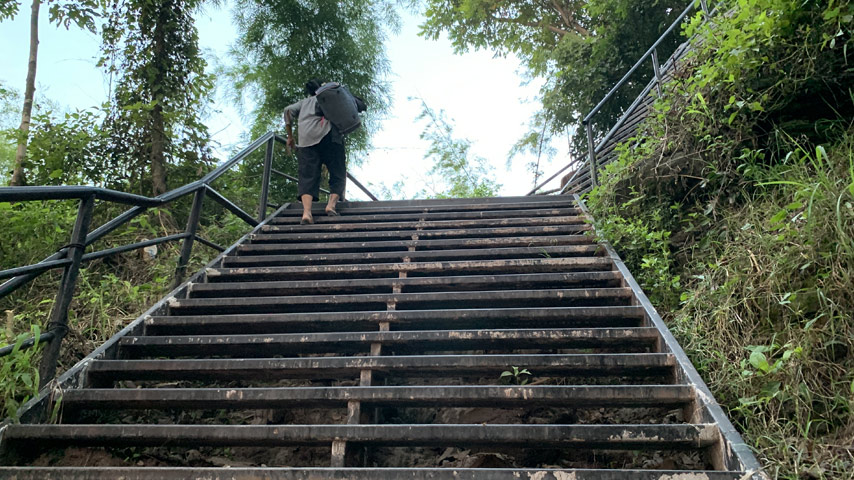 Using a machine is like an ATM where we choose the number of people entering, how many people, how many cars, the system will calculate the money for you. Then we insert coins or banknotes in the payment area. If it exceeds the system, it will change into coins. Convenient.
When the fee has been paid We drove into Phu Kradueng National Park. There will be a large, spacious parking lot. We can choose to park our car as per our convenience.
When parking is complete We also prepare luggage and equipment such as trekking poles. Boxing oil, apply to relieve pain, hats and others that you think must be easily picked up and used along the way.
Most importantly, I won't forget to go to the bathroom. Do the light errands first. Because if the enemy comes close to the back door, there will be a big problem. Especially in the forests and mountains, it will be difficult.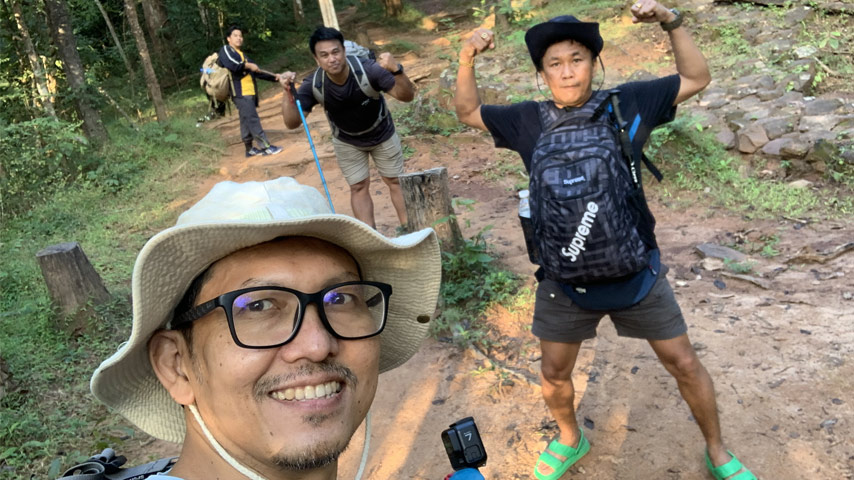 Then we walked to the visitor center. by having my 3 friends wait outside so as not to be overcrowded with other people Personally, I went inside Get in line The staff will be divided into 3 rows per 1 channel, with the first 2 rows being those booked through the QueQ application and the other row being those who walk in. During this time, it will be a little chaotic.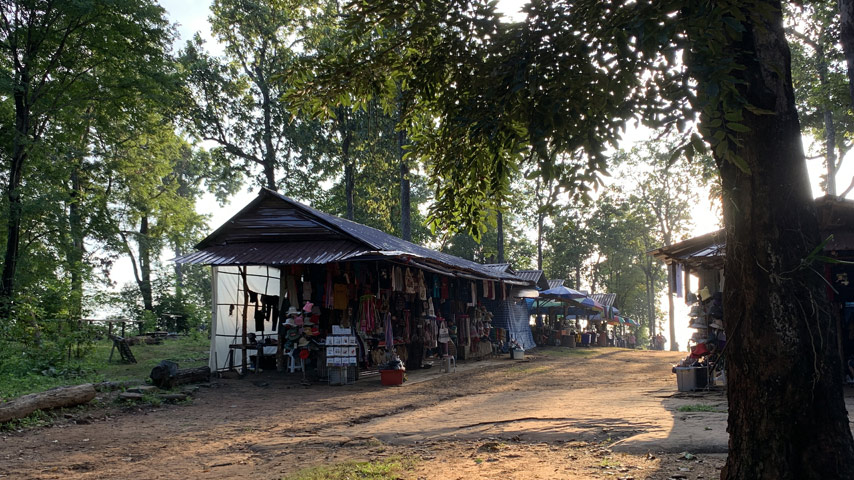 When it's our turn Show your ID card Show the fee card that you paid at the kiosk upon entering and enter your name, telephone number, and number of members. You will receive a queue card according to the number of people to submit at Checkpoint 3. ascent area.
After receiving the queue card Don't forget to buy life insurance for 10 baht per person once you have received the payment receipt. Have each person take a photo with the fee payment card. Keep the photo so that if there is an insurance claim, it will be used as evidence. that we have come to use the services in Phu Kradueng National Park.
It's not over yet. We still have to pay for tent space, another 30 baht per person/night.  There are 4 of us going for 2 nights, totaling 240 baht.
I bought a map to take with me to see where we will travel while at the top of Phu Kradueng. The price is only 10 baht per sheet.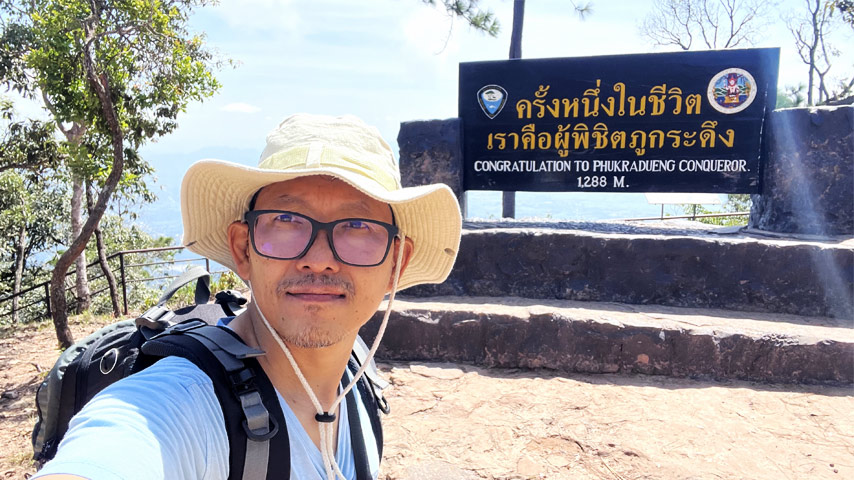 Everything is done then walked out to the back of the visitor center Go straight along the way to Phu Kradueng will pass the point where you have to get a queue card to hire a porter A lot of people in this area But we don't hire porters. Because we rented the shop tent above. It's a tent that sleeps 2 people. The price is 300 baht per night. So we only prepare clothing and necessary equipment in our bags. So we choose to carry backpacks and walk up by ourselves. Do not waste time during this time.
We arrived at the 3-way checkpoint at 6:00 a.m. The weather was pleasantly cool. There was a slight drizzle, but it wasn't heavy. We all walked up with excitement.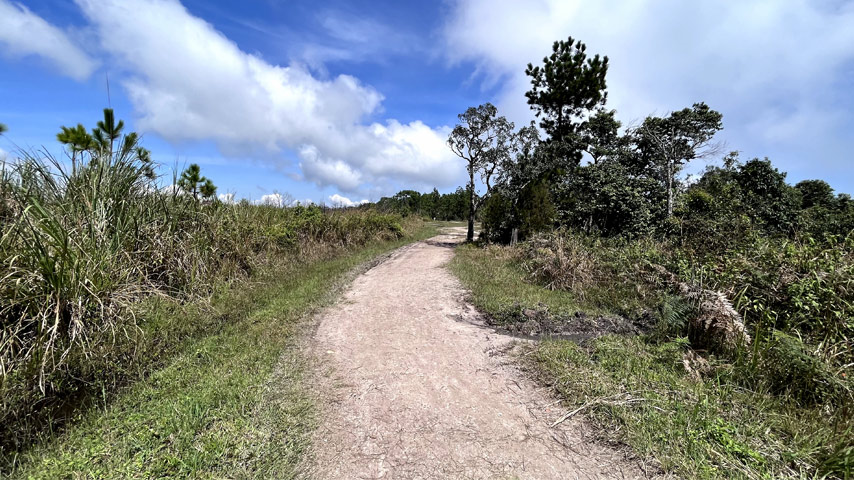 After walking for 10 minutes, I realized that my breathing started to become heavy. and have symptoms of fatigue Of course, we walk uphill all the time. However, we still move forward until we meet with shop owners, uncles and aunts who carry products upstairs to sell. We also met porters carrying ice and so on, so we walked along the way.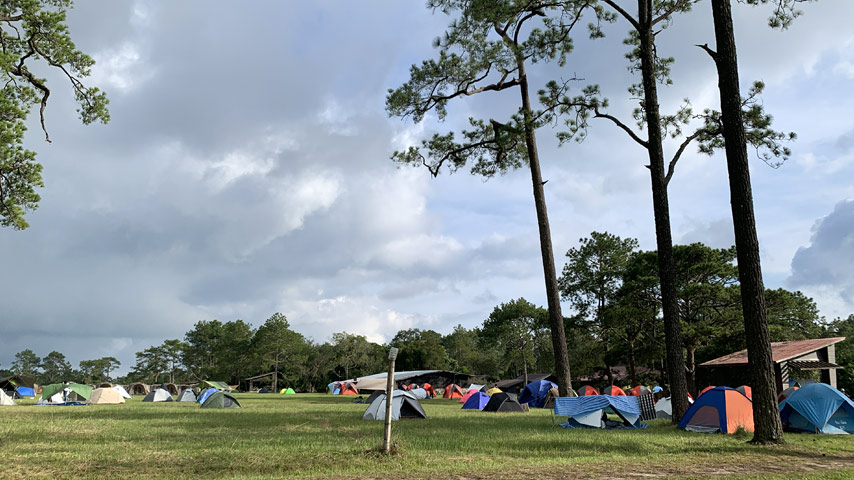 Uncles and aunts invite us to buy products in the store. When we got up too It's good that when we come to travel together we should distribute the income to people in the community as well, which is what we should do.
Along the Uncle Kluai route Who is the owner of the 5th shop on the right hand side on Sum Haek. Lukkae told me that "Sam" is the local Isaan language, which means water or pond that arises from the ground. Of course Each sum must have a water source. or a well that springs up from the ground As for the suffix, Uncle Kae didn't tell you where it came from.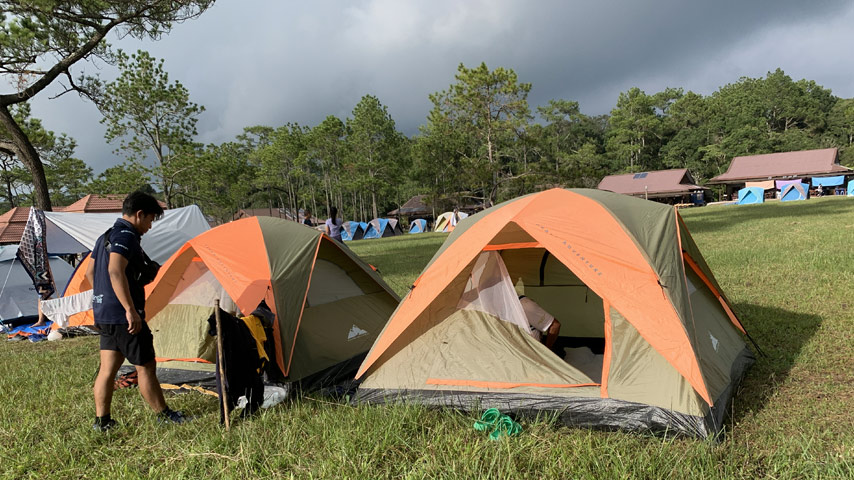 Walk together in a tumultuous manner. Half an hour later, we reached "Sam Haek" and I walked and explored. It was relaxing with a small shopping center. Everything you need is for sale. I don't forget to stop by to stop by at Uncle Kluay, Aunt Phan's restaurant that we walk and talk to along the way.
I ordered 1 piece of watermelon for 15 baht, 1 grilled egg for 15 baht, and 1 small bottle of drinking water for 15 baht, totaling 45 baht.
As for my friends, they support each other and agree that the watermelon at Sum Hak is the most delicious in the world.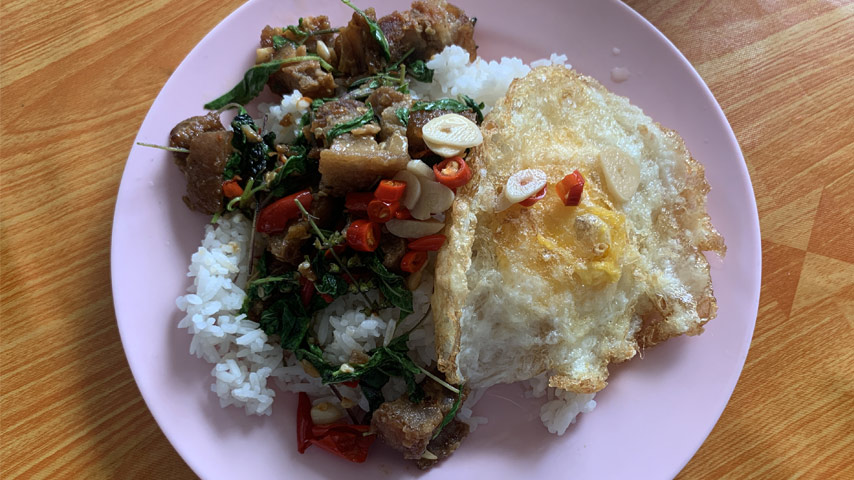 After resting for 15 minutes, we continued our journey to Sam Bon, Sam Kok Kok, Sam after Sam. "Sam Khae" which is the last sum before we go up to "behind the raft" from what we thought that "Sam Haek" is extremely brutal and tiring. considered more brutal It is a path that must be climbed up the rocks. It's good that there was an iron ladder for us to climb up. Makes walking up not very difficult. But it is not considered easy. Because we have to use strength in order to pull up to a higher place. Lifting the legs up each time is quite a lot of strength, thighs, calves, if we try to force it. May cause cramps easily and remember to cause muscle injury without cause, so if the symptoms of fatigue of the thigh and calf muscles start to become stiff. I will stop immediately To allow the muscles to relax for a while. It allows us to keep moving forward. without injury
When he reached the back
Finally, we go up to the last pair of iron stairs, climbing up to the back of the purlin. When we arrive at Pae's back patio, we enter at 10:30 a.m. and want to take a photo at the sign. "Once in a lifetime We are the conquerors of Phu Kradueng." and the light that bounces back into the camera It makes us not want to walk to take pictures. But heading into the store And buy cold water to eat to satisfy your thirst, including sitting and resting to relax your legs first Because we still have to travel to the camping ground for another 3 and a half kilometers.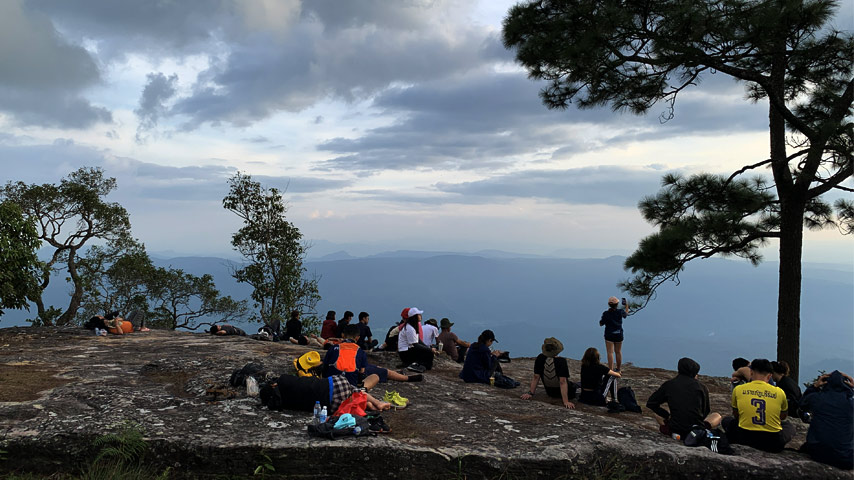 We walked and talked all the way. with a strange atmosphere on both sides of the road There is a forest of grass and pine trees alternating between them at a distance. and some stood dead Charred black from forest fires The weather is not very hot. allowing us to walk comfortably But everyone always asked questions and cursed along the way. "When will it arrive?"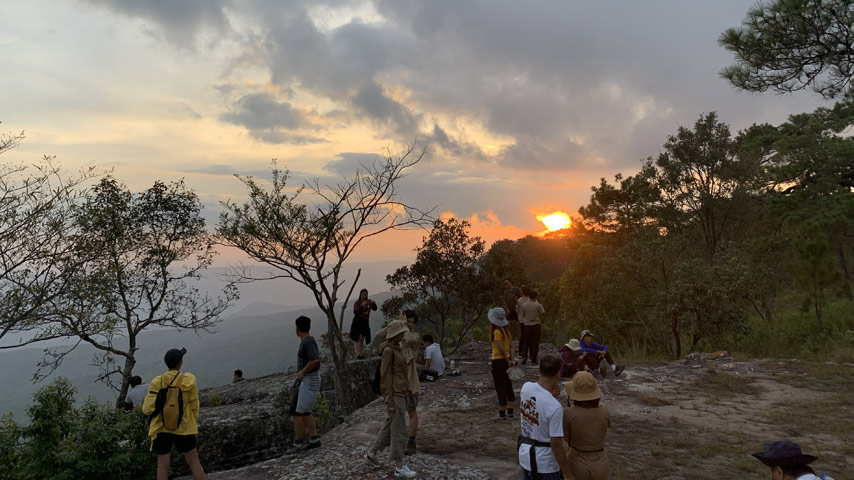 We walked together for a while. I saw the shrine sign. I really can't remember the name of the shrine, but we all raised our hands to pray and ask for blessings. Let us travel up here safe from all dangers. Walk a little further and you'll see signs giving details of various places, such as shops. Walking in, you'll see a large tent camping area. Very big, really big. It's a spacious tent camping area. and looks orderly and beautiful like never seen before.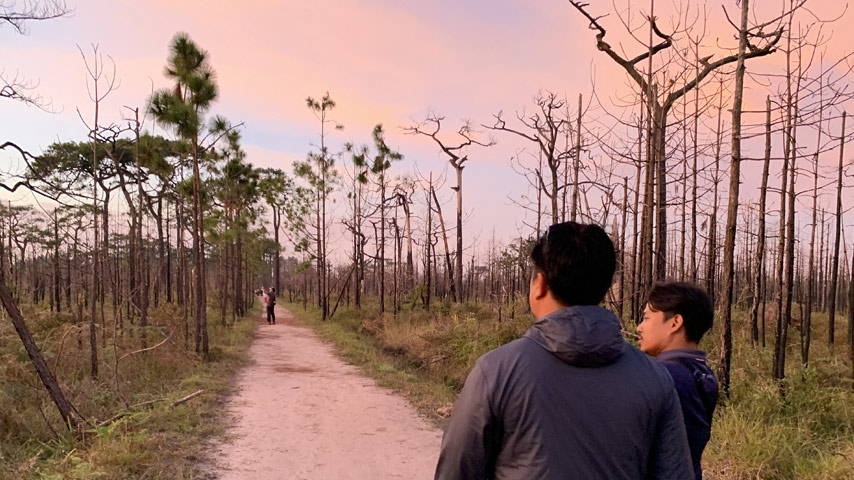 We hurriedly walked towards the shop area and called the shop where we had reserved the tent. Then he immediately brought his luggage into the tent. before going out to find something to eat and immediately went into the tent to sleep during the day.
We wake up at 4:00 p.m. and prepare to go see the sunset at "Pha Mak Dook", a distance of 2.4 kilometers, with tourists walking along from time to time. Make the atmosphere not lonely.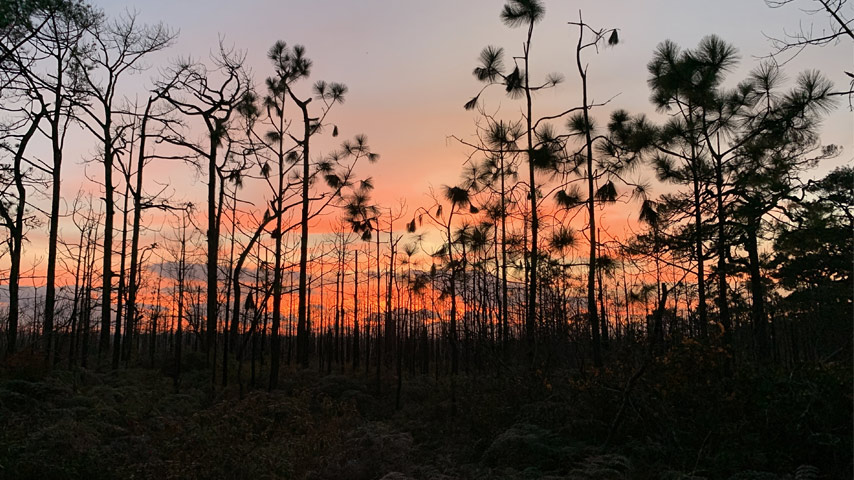 When reaching Pha Mak Duk cliff We can see the atmosphere along the cliff. The wind blows against my face all the time. and the sun setting in the sky It's a beautiful blue-orange color.
after watching the sunset We walked back. During this time, the weather changes rapidly. from a cool place to a bone-chilling chill I didn't bring a winter jacket. But with a rain jacket, grab it and put it on. But it still made me cold. Until I had to quickly walk back to the tent.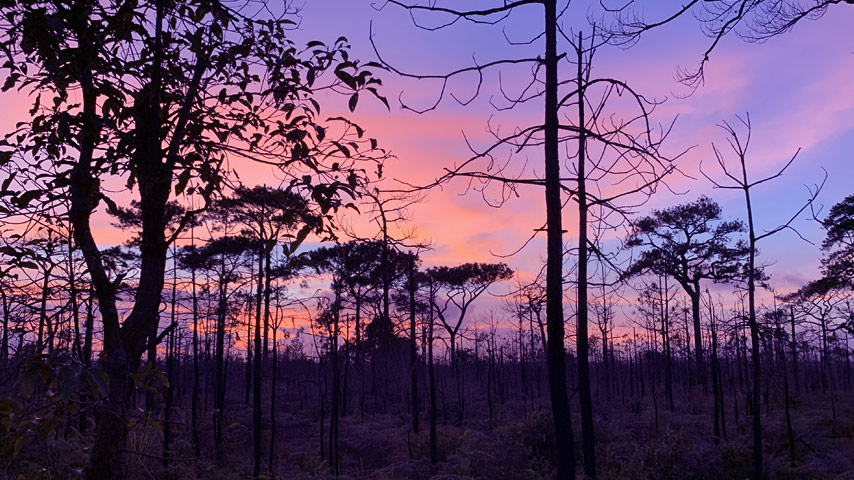 I really like the atmosphere right now, the sky is blue, red, orange and purple blended together to form a beautiful background like a painting. And there is a picture of a pine tree that is dead as a black stump, alternating beautifully. In front of the sky backdrop that changes colors beautifully. It was truly a sight I had never seen before in my life.
Map : https://goo.gl/maps/DaK2urDaV4oPm59VA