Setting up a tent for the first time at Phu Sa Dok Bua
December 29, 2022
During the New Year's long holiday I have the duty of driving my family to visit my wife's house in another province. It was great for my daughter to get to see her extended family, grandma, grandpa, and aunts and cousins. Another grandson of a similar age in Amnat Charoen Province. Northeastern region of Thailand
I departed at 4:00 a.m. on December 28, 2021 and arrived at Ban Na Mor Ma, Mueang District, Amnat Charoen Province near noon. When I unloaded my luggage from the car, I quickly set off to find something delicious to eat. I'm going to eat city duck noodles. But my wife wanted to go eat Vietnamese food, but the restaurant was closed, so she had to eat duck noodles as I had planned.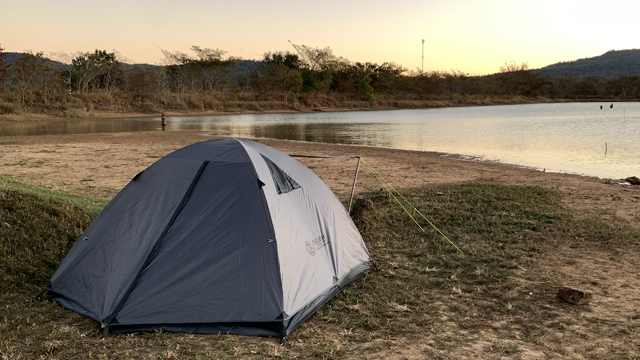 After that I went back to bed and rested. Let his relatives meet and talk. Because tomorrow morning, December 29, 2021, I have already reserved 1 house at Phu Sa Dok Bua National Park, which all relatives My wife's family will also go in to rest, including her grandfather, grandmother, grandchildren, and 2 great-grandmothers.
For me, I intend to try setting up a tent for the first time alone. Whether it will be possible to set it up at the Phu Sa Dok Bua National Park or not?
When I woke up this morning, I prepared my luggage and drove to Phu Sa Dok Bua National Park. A distance of more than a hundred kilometers, as for grandfather, grandmother, and two great-grandparents. I will go shopping at the market along the Mekong River in Mukdahan before joining in the evening.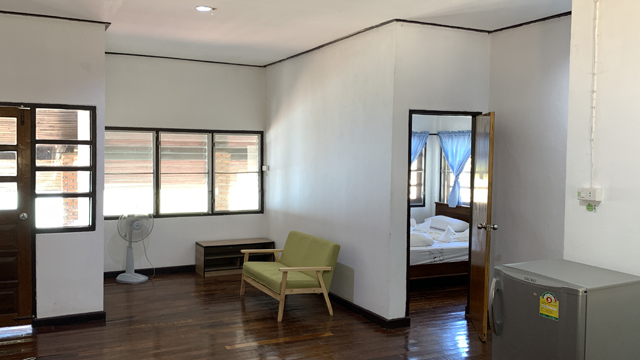 When I arrived at the Phu Sa Dok Bua National Park office Here, there are also inspections according to COVID measures. See proof of vaccination and pay the entrance fee to Phu Sa Dok Bua National Park
Each adult is 20 baht, each child is 10 baht. The cost of each car is 30 baht.
As for the cost of the house, I have already transferred the money to reserve in advance. And I had to go in and pay an additional 30 baht for setting up a tent.
After paying the fee, I took out my national park travel log book and had it stamped by the park staff. It is considered to be the first national park seal in this book.
When entering the house, which is very large, the price is 840 baht during normal days. If it is a Saturday, Sunday or public holiday, the price will be 1,200 baht. In this park there are only 2 houses for staying.
The house has 3 bedrooms, 2 bathrooms. For the beds in the first 2 bedrooms, one person per bed will be a fan room. The other room has a single bed for 2 people and is an air-conditioned room.
Outside there is a balcony and a dining table where you can cook grilled food. This point is next to "Hua Hin Khan Reservoir"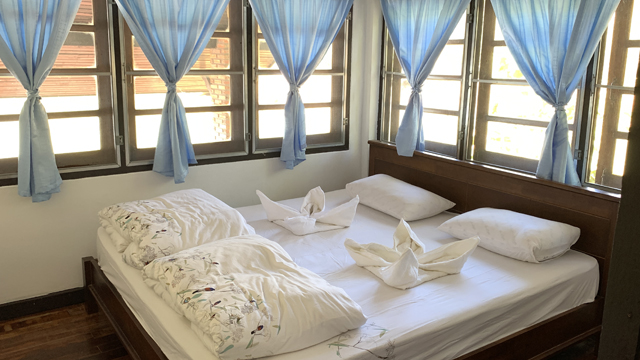 After collecting your luggage The children went to play in the reservoir. Ready to invite me to come down and play as friends. But the water is very cold. So I asked to volunteer to paddle a canoe for the children. Sitting is better.
In the evening, I took out the tent and found a space to set up the tent to sleep. The condition of the area is quite bad, rough, bumpy and not smooth at all. As a result, the sleeping pad that I had prepared could not help me sleep comfortably at all. I had to find a position where I could lie down without feeling too bad. But I still feel bad.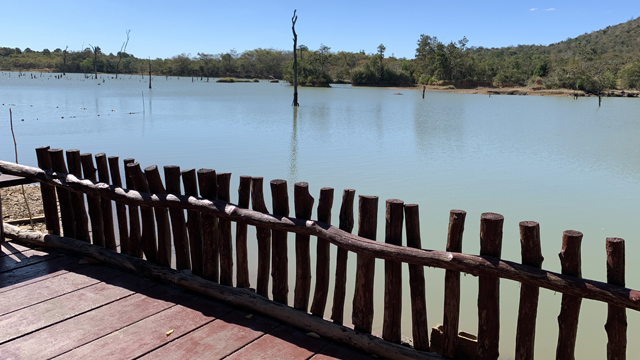 When the tent is set up and the bed is ready. He returned to the house to eat. that my wife had prepared for me Everyone ate until they were full and each went to bed.
I walked back and slept in a tent next to Huai Hin Khan Reservoir. There were 3 friends who set up tents that had already been set up and under the trees there was another rented tent from the park, making a total of only 5 tents.
Every tent has different people resting. Late at night, you can hear the sound of a very strong wind. The sound of branches and leaves rustling throughout the night. The later it gets, the more strange noises will be heard. Coming out of the forest and mountains behind the park. The sound sounded very scary. But for me, it's fun. I didn't care about anything and fell asleep in the cold weather. I woke up again according to the alarm clock set for 5:00 a.m. to see the first light of the new day.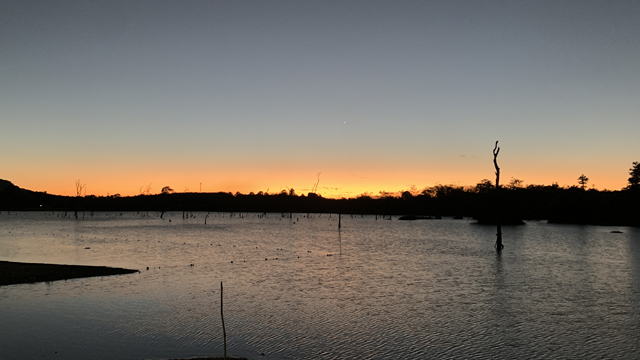 I woke up to a cool atmosphere outside, a strong wind, and the stars were still full in the sky. I sat and watched for a while. The first light slowly began to shine into the east.
It was beautiful first light with cool, refreshing air. After this, I prepared to go to Phu Pha Thoep National Park to stamp another national park.