Route to conquer the peak of Thewada mountain
January 29, 2022
Khao Thewada Peak is in Phu Toei National Park 3, Ta Phen Ki, Wang Yao Subdistrict, Dan Chang District. Suphanburi Province It is the highest peak in Suphanburi Province. Height 1,123 meters above mean sea level.
Many people still don't know. And I never knew that Suphanburi Province had tourist attractions like this. It's like a forgotten park. But nowadays the matter of communication is better. Thewada Peak and this park are regularly mentioned on social media.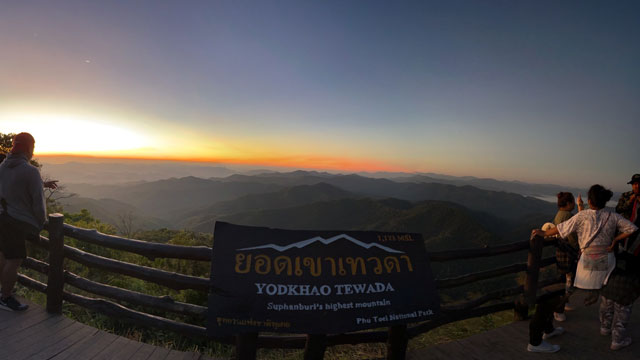 Suphanburi Province is bordered by my home province, Phra Nakhon Si Ayutthaya. What are you waiting for? So I made an appointment with friends. To set up a tent and sleep in Phu Toei National Park for 1 night and in the morning if possible, I would like to walk up to see the beautiful sea of mist as rumored.
I made an appointment with a fellow YouTuber named "Uncle Yot and Chef Kung Krua Ban Thung" and Uncle Yod's Kitchen will be traveling with me along with my family of 4 people, and there are also 2 friends of mine joining the trip together. As for my car, there will be 3 people: father, mother, and 8 year old daughter.
On Saturday morning, January 29, 2022, I made an appointment for everyone to meet at a gas station in Bang Pahan District before traveling into Pa Mok, Ang Thong, going to Don Chedi District, exiting Dan Chang, entering Phu Toei 3 National Park.
When everyone comes along We set off, with 2 friends of mine driving pickup trucks in front, turning into Pa Mok, Ang Thong, I followed along. But when I looked in the rear mirror, I couldn't see Aunt Yot's car, which had disappeared. It was assumed that he was driving straight into Ang Thong Province.
So I called everyone to make an appointment to stop at a gas station. Check each person's location before entering Don Chedi. When I stopped at the gas station, I found that Uncle Yot's car was following me and was parked at the same gas station. So we stopped to use the restroom and bought something to eat in the car. So that we don't waste time stopping to eat again.
When everyone is ready I drove everyone towards Phu Toei National Park No. 3. Along both sides of the road are fields of Suphan Buri villagers who do agriculture. There are both rice fields and sugarcane fields. Some parts have rubber plantations. The closer we drove to the park, the more mountains we could see on both sides of the road. We don't forget to park our car and buy food to cook and eat while camping. And finally we turned left into Phu Toei National Park No. 3, Ta Phoen Ki.
Another 13 kilometers route up to Phu Toei National Park 3, Ta Phoen Ki, is a very dusty gravel road and runs along the mountainside. On the side will be a deep ravine. But it was obscured by small and large trees. Makes it not look so scary.
Driving this route, I changed the 2-wheel drive system to the 4-wheel drive system 4WD (4L) so that when climbing up hills it would be easier to drive. As for the kitchen car, Uncle Yot also has a 4-wheel drive system. But my friend's car, a 2-wheel drive pickup truck, was the last one driving behind. There are some hills that you have to go back down. and accelerated the transmission engine again which was able to pass well
This route is 13 kilometers long, but it took us about 1 hour to drive together. During this time, I think that a skilled car or a normal 2-wheel drive vehicle would be able to drive up it easily. But if it's the rainy season, I don't recommend going up.
Before going up the mountain, we will undergo an urgent screening of visitors to the park. Come down and sign your name with your phone number to check your temperature according to the measures first. When we arrived at Phu Toei National Park No. 3, Ta Phen Kee, I went in to pay the entrance fee to the park. The service rates are as follows:
The cost of each car is 30 baht.
Adults 20 baht each.
Children 10 baht each.
I didn't intend to camp in this park, so I didn't pay the camping fee here. But will go inside near the top of Thewada mountain. It is a private tent camping area called "Ku Lung Dong". Before we travel to the private tent camping area, we have already arrived at the national park office. Everyone asked to stop by and do some personal business in the bathroom. It turned out that the park restrooms were very clean! I admire it.
After that, we traveled to the private tent camping area. Drive along the road that has a sign. It will meet at the car park. But inside there is a bamboo leaky door. Then use the right to move the bamboo to open the door and enter (in fact, I called the owner of the yard and asked).
When driving along the road in the rubber section It will end at the tent camping area "Kulung Dong" which is right next to the foot of Khao Thewada. This will shorten the walking distance a bit when going to the top of Khao Thewada the next day.
Upon arrival, arrange payment for the service. The service fee is 100 baht per person. Children under 12 years old are free of charge.
Once we arrived, we chose a place to set up our tent at our leisure. But this tent camping area is a bit bare. Makes you feel dry. We chose under a small bush. to pitch a tent and rely on the shade of trees to relieve the scorching sun. But the wind was also strong.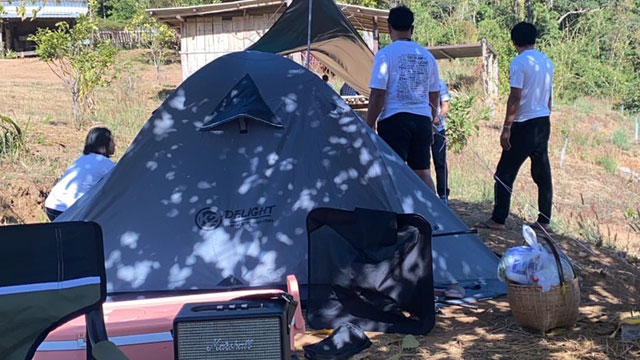 While we were setting up the tent The wind was blowing from time to time. This makes setting up a tent quite tiring because you have to fight against the wind. Once the tents are set up, it's time to sit and talk under the atmosphere of the mountain forest. Cold drinks And the prepared food was handled in the camping kitchen next to the tent.
At this tent site Can cook all kinds of food and can drink alcoholic beverages You can listen to music. But there is a rule that the mall makes loud noises that disturb others from 10:00 p.m. and above. When the time comes, we turn off the speakers. and sat and chatted quietly.
But there was a tent next to it. Still playing loud music and talked and chattered until 1:00 a.m. Even though no one warned them, they probably respected other people's rights. Because I have seen many tents come in family style. Surely no one would want to set up a tent and listen to music and drunk people talking. If you want to drink alcohol and listen to music, I don't think you have to come up and eat in the nearby park. Someone in the group's house should be able to get it. We separated and went to bed around 11 p.m.
But with music and conversation throughout the entire time It makes us hardly sleep well. So I got up at almost three in the morning. go to the bathroom When I walked back, I saw my friends. Gradually, one by one got up to do their own business and prepared to ascend to the peak of Thewada Mountain.
When everyone is ready By myself and two male friends, Uncle Yot and a 14-year-old daughter, a total of five people, walked to the foot of the mountain to go to the way up Khao Thewada.
But because it was a very dark night We rarely see anything around us. Must rely on light from a flashlight. Each person has one gun with them and they project it along the walking route. Which made us go astray in another direction. Until I couldn't find a way up to the mountain. So we had to walk back to the starting point again.
This time we shone our lights around the forest and saw deep black gaps in the trees. This makes us deduce that this is definitely the way up to Khao Thewada. So he headed down the hill and walked up the hill on that side. which is correct Because we will see a sign pointing to the way up.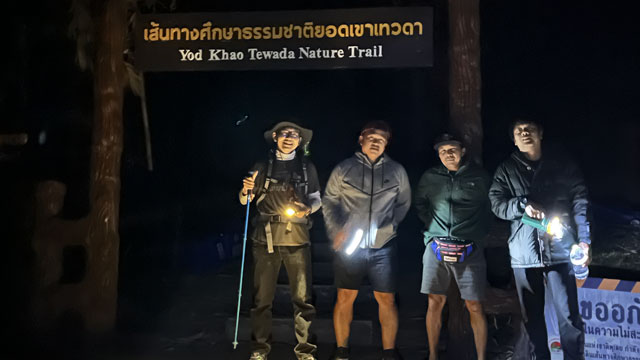 Just starting out, we were exhausted and out of breath. Even though I haven't walked up to the top of the mountain yet. Just his feet made our legs ache. But when we saw the archway to the top of the mountain, it made us feel like we had conquered the mountain. It can be seen that there is construction of a stairway up the mountain still remaining in the first 50 meters, which will have steel molds and concrete. along with deformed steel bars placed along the walkway This makes us have to be extra careful.
After passing the first 100 meters, we were all out of breath. Two other friends of mine who have football backgrounds and often play football together every evening were able to walk up without too much panting.
สำหรับผมที่ทำงานแต่ในออฟฟิต วันๆ ไม่ค่อยขยับร่างกายนัก แต่ก็อาศัยออกมาเดินสวนสาธารณะช่วงเย็นๆ ที่บ้านวันละ 1 ชั่วโมง ก็พอทำให้ร่างกายได้ยืดเส้นยืดสาย และมาขึ้นเขาครั้งนี้ก็จะเหนื่อยในช่วงแรกแต่ก็ยังพาร่างกายไปต่อได้อยู่
For Uncle Yod, he has his own business. Come evening and drink alcohol every day. It makes the body more tired than everyone else. But we tried to encourage each other and continued to climb 100 meters at a time.
My friend's aunt's daughter Still a teenager I could barely hear her gasp. It seems very normal. This makes us see that young people are different from old people like us. How much?
We walked, rested above, and then when we were over we started walking up, 100 meters at a time, until we finally reached the top of Khao Thewada at 5:30 a.m., a standard time for ordinary people. If anyone wants to climb the mountain, they should plan 1.5 hours in advance to see the morning sunrise. Which is so beautiful that it makes us forget the difficulty of walking up.
Atmosphere above Khao Thewada It was quite cold, about 16 degrees, and the wind was blowing strong. If anyone didn't wear a long-sleeved shirt, they would suffer in the early hours of the morning. Because while walking it was quite hot and the gums were very loose.
We came up while the sky was dark. Saw the stars scattered and shining brightly in the sky And it's a very clear picture. Unfortunately, my camera was unable to capture images. At first light We also saw the moon glistening with the light of Jupiter. The couple stayed together until the sun rose over the horizon and then disappeared.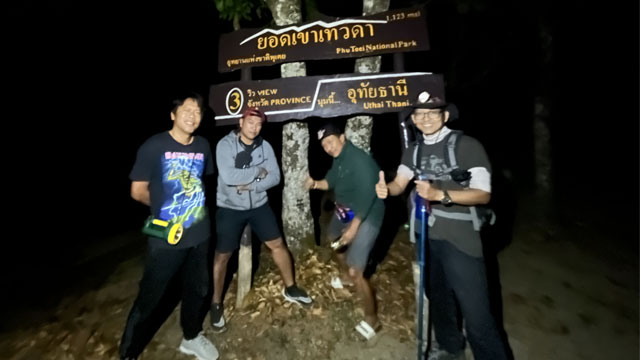 The moment the first light breaks through the darkness, we can see a beautiful orange-red glow along the horizon, and we can slowly see a sea of mist that is starting to become more pronounced, but it's closer to the summit. Because the peak of Thewada mountain is high and there is very strong wind. As a result, the sea mist may be blown away and faded by strong winds.
We took pictures as evidence at the sign for conquering Khao Thewada mountain. as a memory as well that at one time in our lives we had come up to this place.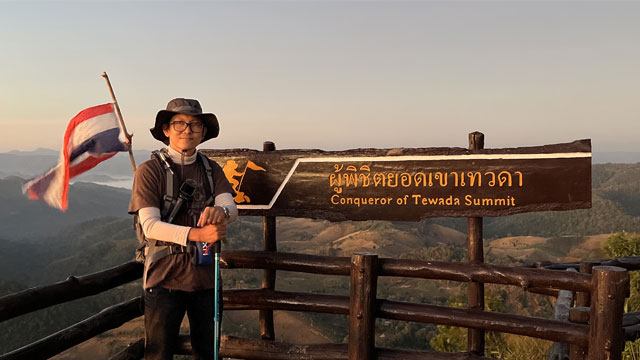 After that, we walked down to the top of the mountain. It's definitely not as tiring as it was when going up. But you have to be careful. Because the route down is very steep at some points, especially 500-600 meters. If you're not careful, you might accidentally twist your ankle or slip and fall. I myself slipped until my butt hit the ground once. If there's an injury while walking up, Going down the mountain would definitely not be good. Please everyone be careful.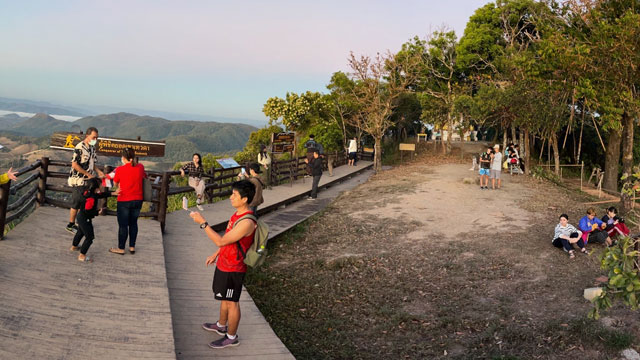 When we arrived, I went to pack up my tent and sleep first. Because it is the most boring and tiring activity for me. When finished picking, the sun was scorching hot. We hurriedly ate our fill of food and hurriedly returned home. Starting to travel from the tent camping area around 10:00 AM.
And this is the route that makes me want to record and remember it. It's a route that reminds me of when I was in middle school. You have to set up a tent to go to the scout camp. And at night there is a long journey. It made us laugh, have fun, talk and be excited about the unpredictable events on the route, getting lost, entering difficult paths. There is mutual encouragement. It was so much fun that if we met face to face again, the stories that had passed that day might be brought up and discussed again in a fun way.
Travel journal, 29-30 January 2022