Rai Thong Somboon Club 2 days 1 night
New year holidays for my family this time His wife arranged a trip to "Travel to Khao Yai Rai Thong Somboon Club" and have already reserved accommodation. I immediately searched for travel information on the internet. The information obtained was quite interesting. The distance is not very far. Convenient travel and the accommodation has a Western style atmosphere. It made me close my eyes and think back to the cowboy movies I used to watch when I was a kid. Most importantly, in Rai Thong Somboon Club, there are activities. and many players Suitable for my 4-year-old daughter because play equipment never fails to impress children. Definitely bored.
On the morning of the trip, I hurriedly woke up early, took a shower, dressed in jeans, a leather belt, and a plaid shirt. Wear it with a jeans shirt. And brown leather shoes with high tops (Got Yot), we are going to visit Khao Yai. Rai Thong Somboon Club You have to dress up to look like a buffalo herd (my wife said). Actually, I want to dress up like a cowboy. complete and complete I took my wife and children to drive through Saraburi to Pak Chong immediately.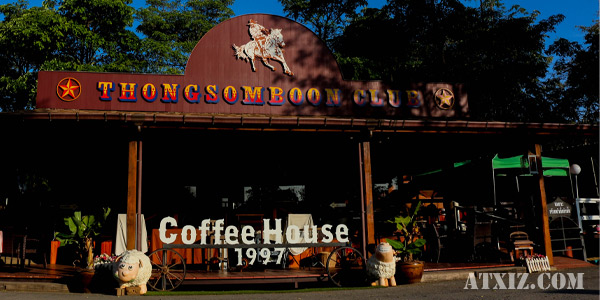 Traveling to Khao Yai Nowadays, the path is not difficult at all. Drive on Route 2 when passing Saraburi. Going to Nakhon Ratchasima for a while You will find a junction on the left hand side. It is the road number 2422, there is a sign saying to Pak Chong, turn into it. After driving into the route for a while Notice the three red light intersections. Turn left at the intersection. The intersection will be opposite the PTT gas station, which is Road No. 2423, which is a fairly small lane. Then we drove across the railroad tracks. But don't be too direct. Make a right hand turn parallel to the railroad. Otherwise, you will be lost like I have to come back again, haha.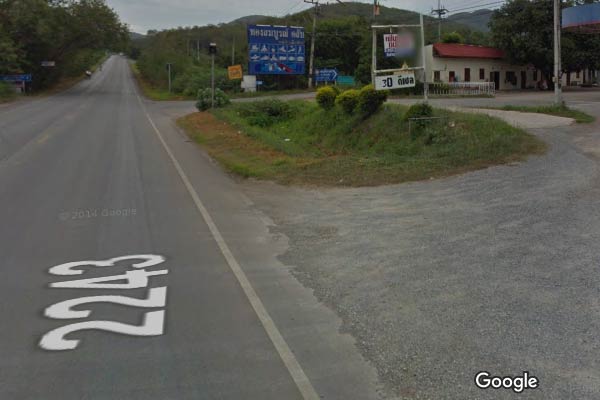 After driving along Route 2423, the atmosphere was so good. Let us notice the small gas station on the right-hand side. There will be a right-hand turn next to the gas station. Turn right in. The entrance is also marked with a sign. "Rai Thong Somboon Club", when passing along the road you will see a red hotel building. (It belongs to Rai Thong Somboon.) Driving along the road a bit further, you will see Rai Thong Somboon Club. There is a large parking lot for customers. when parking Go into the building in front on the left and check in. Mine was reserved and paid in advance. Then I went to pick up the key and most importantly the staff gave it to me. Another ride card comes, 1 large book, worth 120 baht, normally 150 baht. If we play the rides, how much? I will pay with this card. When checking out, pay the same amount as the playing price. According to that, I think it's okay.. Just as I was leaving the office, I saw many cowboy hats stacked on top of each other. Therefore, Bon hand picked it up to play. the staff said Invite customers to pick it up and wear it as they feel comfortable. Because it was distributed to customers during this holiday. There were 3 of us traveling together, so we got 3 cowboy hats in total. I really liked this free gift.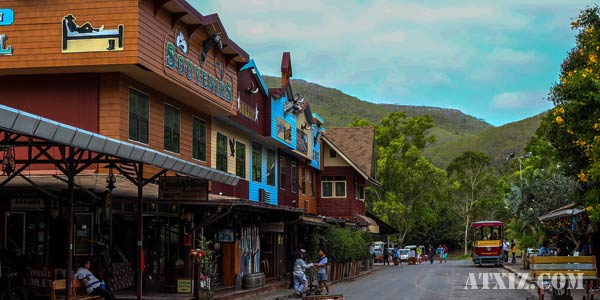 Once we received our room keys, we went to the car where a service employee would drive us to pick up our luggage. and send to accommodation The room my wife had reserved was a caravan-style room. according to western style The inside is fully equipped, bathroom, water heater, air conditioner and refrigerator, TV, kettle. As for the bed, it can sleep 2 people + my 4 year old daughter. It can sleep 3 people.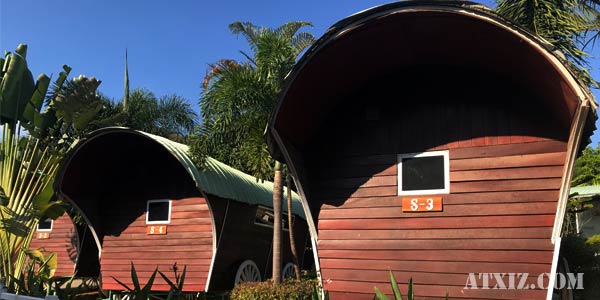 Without delay, my child and I hurriedly carried our luggage and put them into the bedroom. Then let's go out and play! There are horse stables outside. And there are horses to ride. Let me take a photo too. Having cute piglets to lure children is a waste of money. Buy milk for the children to feed the piglets. Children and girls will love it a lot. Something like this. Piglets are cute.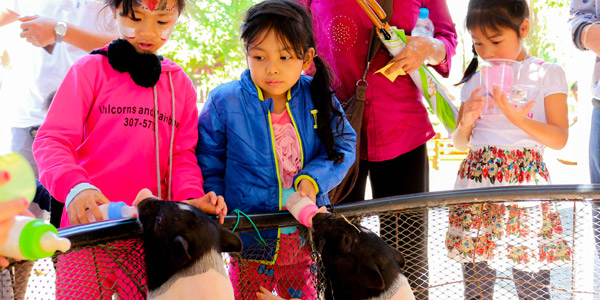 I take a walk and explore inside the building. There are shops selling vintage souvenirs, Western styles, toys and restaurants. At the end of the way, there will be a car waiting. which this car will take tourists to the play area It's not the Jeep I photographed. It's a car that can seat many people.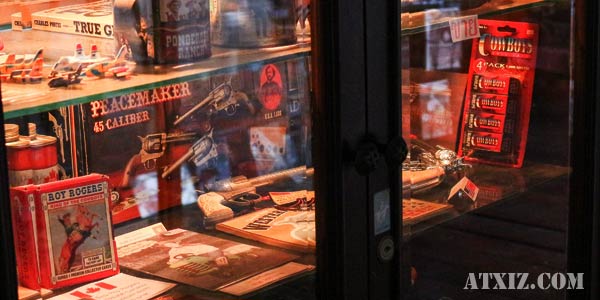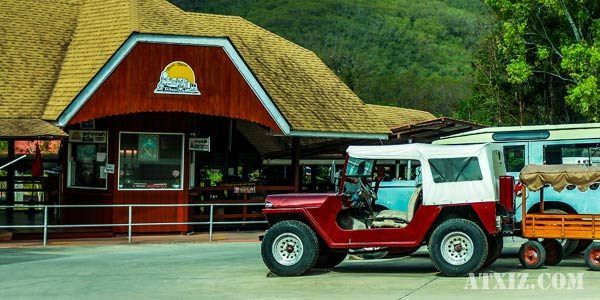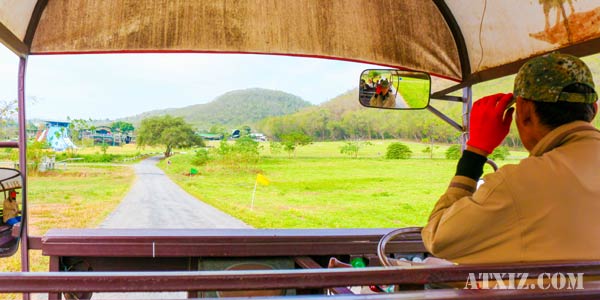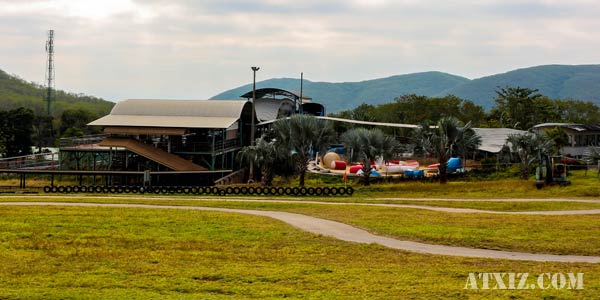 Take a ride to see the atmosphere of the fields and mountains. It was really refreshing and cool. When you get to the play area, there will be a cowgirl standing to welcome and give advice to tourists. What toys are there? That allows you to lose money to play, how to play, which ones are closed? which we can ask his younger brother.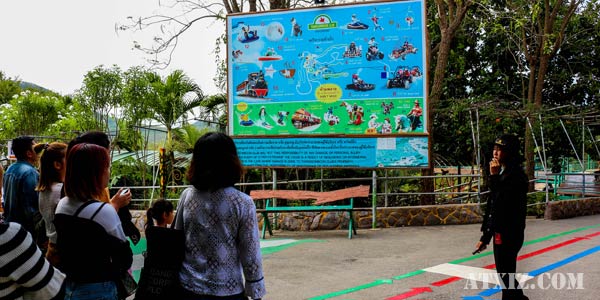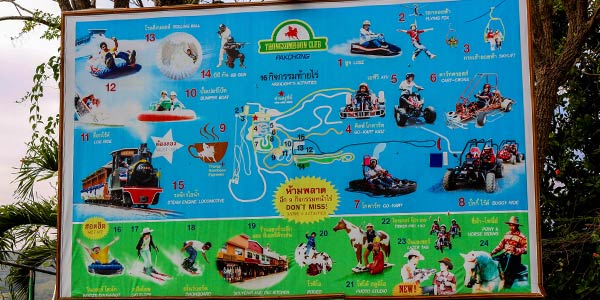 The first ride that should not be missed. Because I think it's the most worthwhile ride, that is, the Rouge, a car that runs down the hill. (Some people call it a Meow car) which they make a winding road down the mountain, exciting and fun. There are sharp curves if anyone slows down at the wrong time. The car may stop in the middle of the road. and causing him to have to come down and push the car to keep running by himself Here we have to be careful. Because the car behind may run into you. When the car has gone all the way Got to take the cable car back up the mountain again. It's fun for two. It's awesome. This type of play equipment is awesome. I gave it 5 stars because my kids and I played it 3 times (lol, we don't have any at home).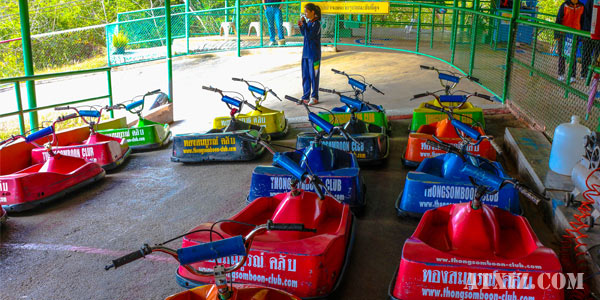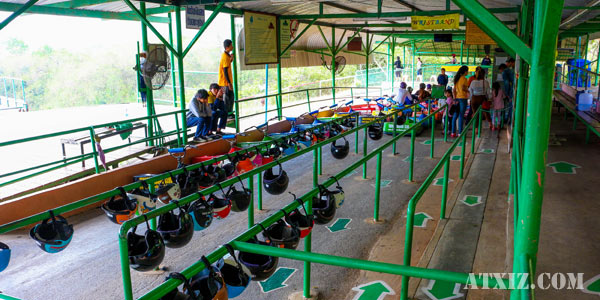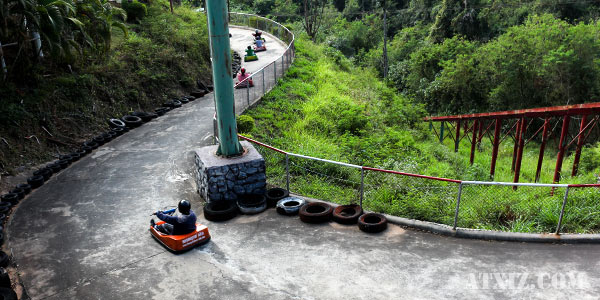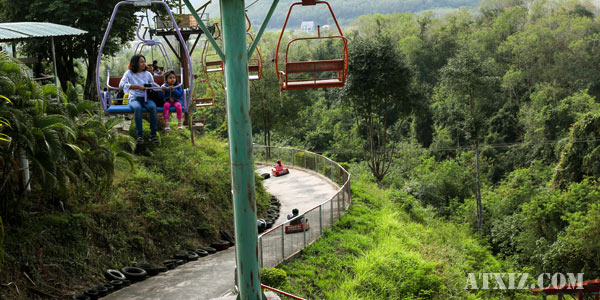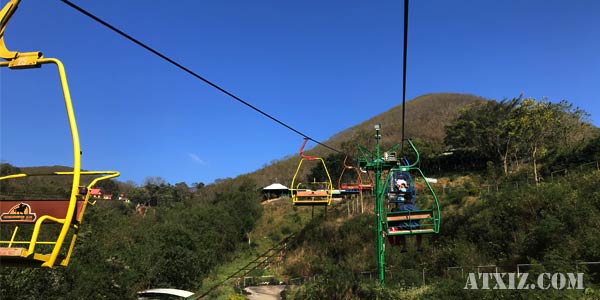 Another type of ride that is similar to a general amusement park is a whitewater boat. There is a conveyor belt that lifts the boat up to the top and lets the boat slide down into the water. Which I have carefully considered that if I play, I will definitely get wet or a puppy will fall into the water. This is my goodbye first. because the swimsuit was not prepared So asked to stand and encourage those who were wet. That's enough.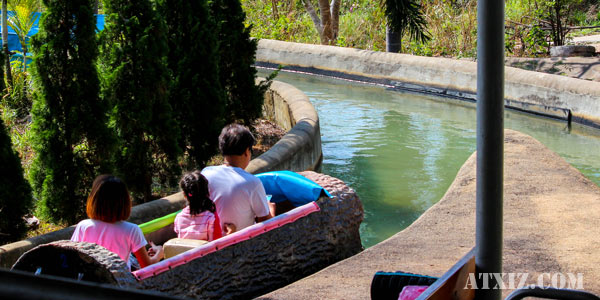 There is an amusement park for children, which is an electric car, similar to a bumper car, but only for children to drive. My 4-year-old daughter probably won't be able to control the car. So I don't want to play. The daughter wanted to play and was crying, so the staff allowed her to play. Give to adults who weigh Together with the child, the weight does not exceed 80 kg. You can drive and let small children ride along. My wife and the baby's weight does not exceed that, so she can play, but if the weight is too much, It will result in the car not having much running power. Or maybe you can't run. Really suitable for children.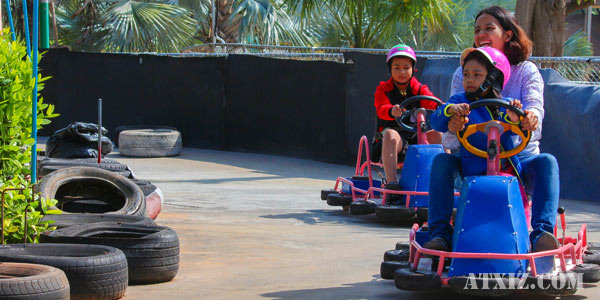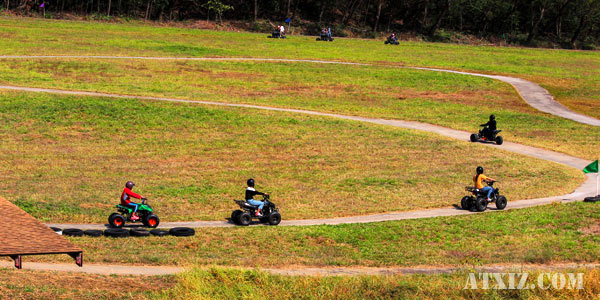 Another very fun activity It is driving an ATV through the open field. I have never driven an ATV before, of course, I have to try it once in my life, it's fun. The distance that I can drive is quite far. I brought my daughter in the front seat with me. My daughter likes it and played 2 laps. The car is powerful and fun to drive.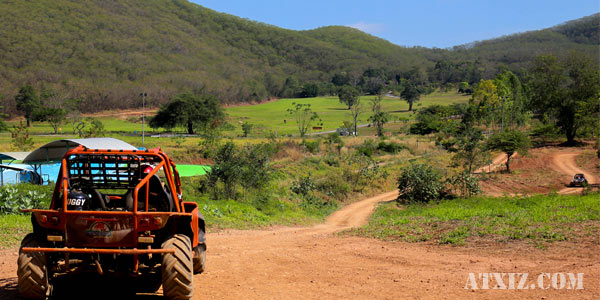 Next is Cart Cross, if anyone likes to watch action movies. Like a car chase in the forest in the mountains, burning huts, boom. You must have seen a car like this before. I also wanted to test drive it to see if it would be fun. But my 4-year-old daughter wanted to ride along. So I could only drive slowly, for fear that my child would fall out of the car. The fun and excitement disappeared. It changed to being happy to see my daughter sitting and smiling instead. But I think it was a little too small. And the distance is very short.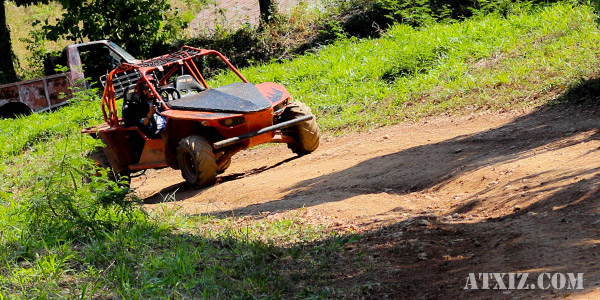 Another type of play equipment is Rolling Ball. If you look at the picture below that I took, It's not how to play Rolling Ball. I'll think of having people roll the ball down to the bottom. In fact, to play Rolling Ball, people have to get inside the ball and roll it down. But the two people in the picture rolled down and stopped there, unable to continue, so they came out to help roll the ball from the outside. I saw that my body was definitely not suitable for playing on this type of equipment. Therefore, I would like to stand and give encouragement to those 2 people to play well.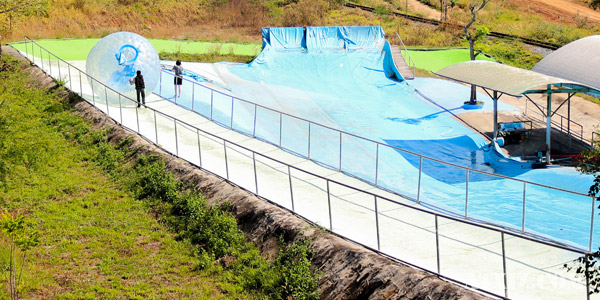 One day after it ended For lunch, I ate at the food court in Rai Thong Somboon Club During dinner time, we drove outside to find a restaurant to eat. which has many restaurants And saw the restaurant "Krua Pu Khai"  there were a lot of people eating. So hurriedly parked the car. Order Grandfather Khai to eat. But you must be disappointed because the last Grandfather Kai has just left the kitchen to serve at the next table. So I had to change to another menu instead. But everything is delicious and at a fair price.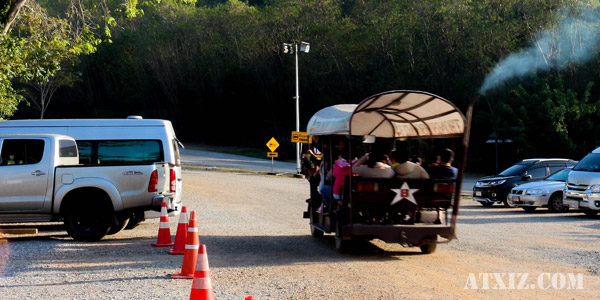 Wake up early, take a shower and get dressed to stand and wait for the car in front. occupies the coffee shop Tourists will be transported to have breakfast at the hotel. You have to wait in line. The number of people who go on vacation is quite large. I consider the service to customers to be very good.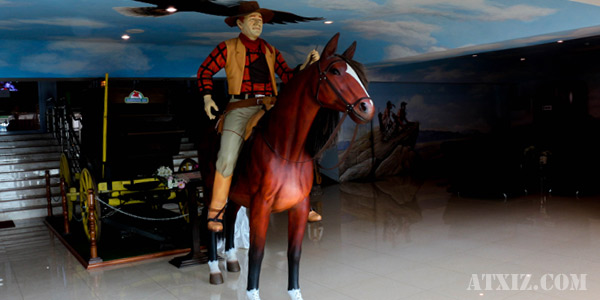 Entering the front of the hotel, you will see western-style decoration and statues. Cowboys ride horses for you to take pictures with.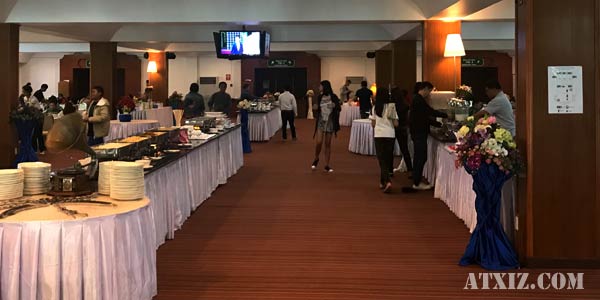 The inside of the restaurant was very large and spacious. The number of tourists is gradually coming in more and more. There is food to welcome you, including Thai food. and western food It's a buffet style. According to your preference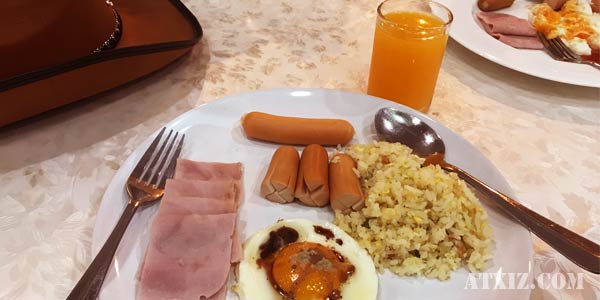 This is my breakfast. It's American fried rice, sausage, ham, fried egg, and orange juice. One plate is enough to fill you up. Can't eat much It's not that it's not delicious, but it's full first.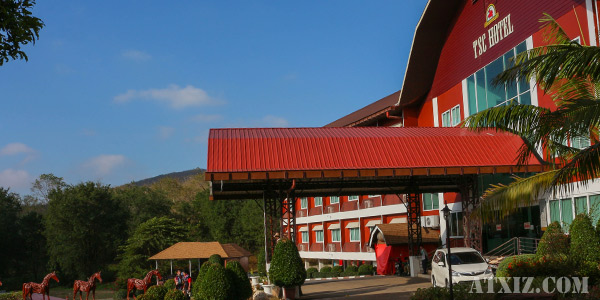 When breakfast is finished Then departed from the hotel and returned to the farm. I took my family for a ride to the ride again. Play the rides that your child wants to play, especially Rouge, which is considered the highlight ride. After everything is finished, we check out. before traveling home The trip is finished. Travel to Khao Yai Rai Thong Somboon Club this time.