Die cast car Majorette Citroen 2CV Burgundy Red , black engine
Today! I would like to present another rare die cast car model in Thailand for everyone to watch. This is a Majorette die cast car from the French toy manufacturer. The car model that we are going to see today is the Citroen 2CV. It is a beautiful antique car model, worth collecting. Real cars That began production in 1919, so it was a beautiful classic car model Let's see the details of this car, why it is rare in Thailand?
In 2018, there was a version of Citroen 2CV in yellow-black and green -white. Sold as a package and on Majorette Surprise Wheels before, it is a car that nobody wants to collect like a WRC racing cars.
It is the 2-model Citroen 2CV only "yellow-black" and "green-white". It's not fun for collectors. Because it doesn't take long to collect all. There is no "Passion" or the motivation to continue to waste more money.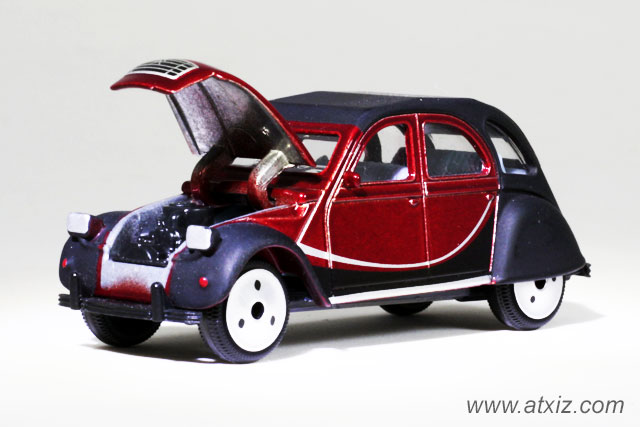 This problem for collectors It seems as if Majorette really knows the way and knows collectors, so he created a "Passion" for the collectors in Thailand by putting the die cast cars red Citroen 2CV into the surprise Majorette egg when someone found it in the egg. That have to be randomly bought only. 
Because the red Citroen 2CV car model will be packaged And sold to foreign countries only.For collectors in Thailand If anyone wants to have to search randomly in Majorette's surprise eggs only.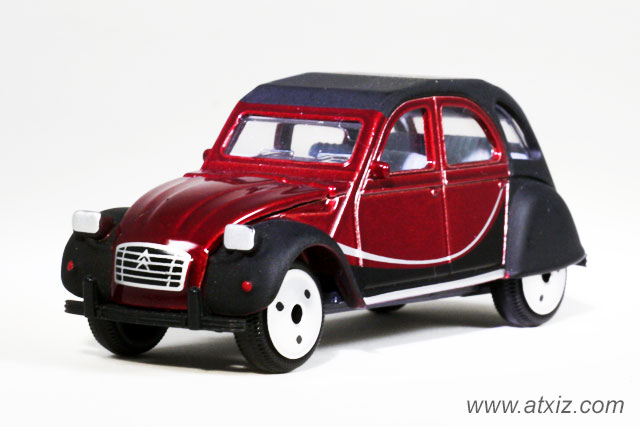 This red Citroen 2CV is called "Burgundy". The color of the grapes in Bordeaux, France.
The body color is burgundy red and is matt black on the front wheel arch and rear wheel arch to the roof of the car. There are white stripes on the side of the car door.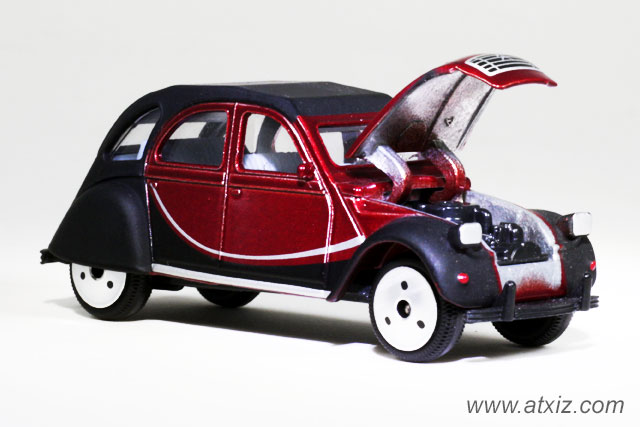 This car model will be able to open the car hood So we saw a black engine And this black engine that is rare in Thailand Because in Majorette's surprise eggs, you can randomly get a red Citroen 2CV. But you get a gray engine Because the black engine will be packed in a single package and distributed overseas only.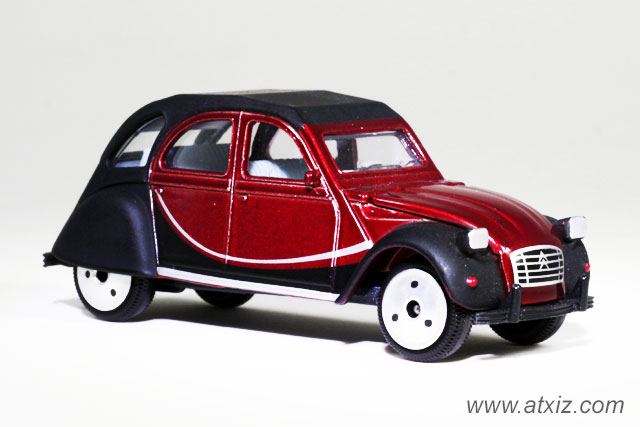 But if we are not serious about the engine Please just collect all types. Every shade is unique, no one says anything. But if we accidentally see someone else having a black engine, then it will cause us to "Passion" that will have to pay to buy the red Citoren 2CV "Burgundy Black Engine".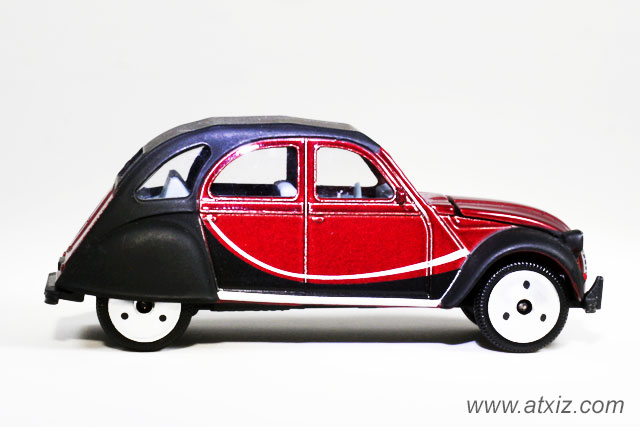 I personally like to collect classic car models. Vintage car models because they are strange in shape and difficult to find. I think vintage car models are quite charming.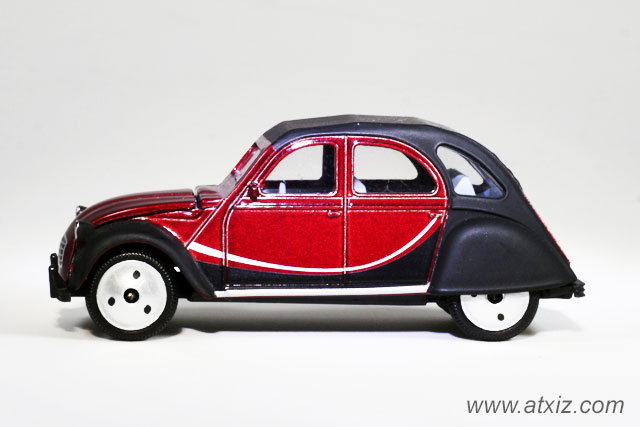 With an ancient shape, it is perfect for storing in a showcase for a great play. It is like a small piece of art. Which in the future may not be seen anymore.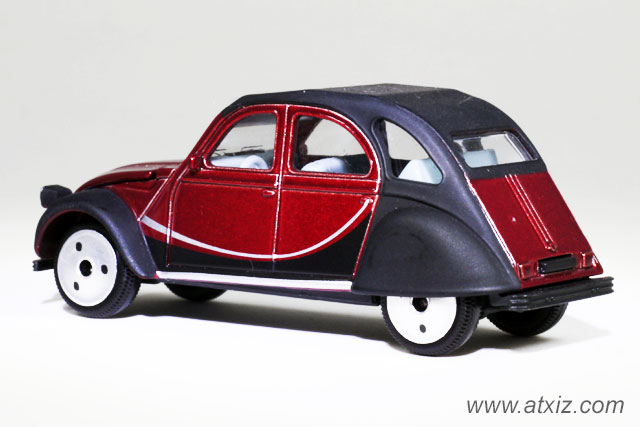 The details of this Citroen 2CV car model, aside from the red "Burgundy" are beautiful and fit together. As for the black, the contrasting sides are also very detailed.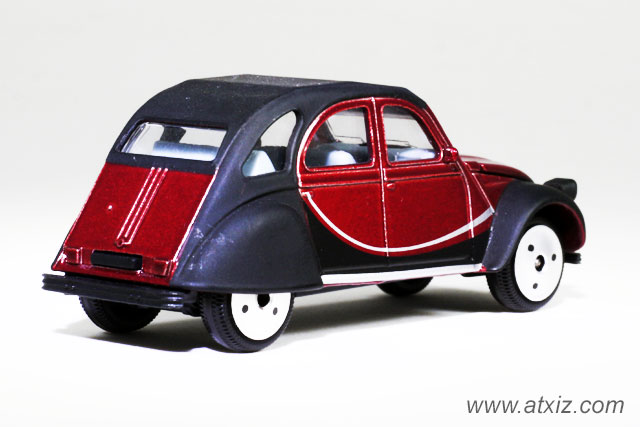 The wheels of the car are white antiques for tires made of black plastic. Not made from real rubber. But the inside of the car we can see through the glass made of clear plastic, so we see the interior of the car is classic gray.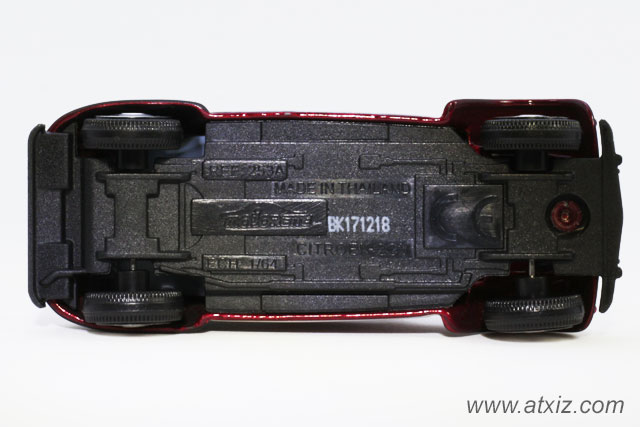 The car's floor is made of black plastic, with the Majorette logo clearly marked and the white Mark Lot.BK171218 is an indication that it was manufactured on December 17, 2018 in Thailand.Made in Thailand.
This car is 1/64 times the size of a car. If measured, the car will only be 3 inches long, which we can comfortably place on the lid. See? It's very small.
With a size of just 3 inches, making collecting is easy and takes up little space. We can collect many models of this car model. Which I am confident that many probably don't have just one model of this Citroen 2CV in the collection.
Please everyone to play collecting car models with happiness and fun.