Bang Nom Kho Temple, Ayutthaya
Ayutthaya travel Pay homage to Luang Pho Pan of Bang Nom Kho Temple, one of the most famous Ayutthaya monks in Thailand.
Bang Nom Kho Temple is located at Bang Nom Kho Subdistrict, Sena District, Phra Nakhon Si Ayutthaya Province. It is a famous temple in Phra Nakhon Si Ayutthaya Province.
Another interesting temple Because it is the temple where Luang Pho Pan Sonantho stays for Buddhist Lent. which he passed away a long time ago But your reputation and goodness Still living with the children and grandchildren of Ayutthaya Province and Buddhists in general.
When was this Bang Nom Kho Temple built? There is no clear evidence. Some people say that it existed in the late Ayutthaya period. Walking around the name Wat Nom Kho in 1767, when the smoke of war was surrounding Ayutthaya.
The enemy Burmese had set up a camp in Sikuk Subdistrict. Away from Bang Nom Kho Temple in the area of Bang Nom Kho Temple This area has more cattle than anywhere else in Burma. He took the opportunity to forcibly take cattle from the Bang Nom Kho area as supplies to feed the army. Ayutthaya was eventually lost to the Burmese.
The city is in disarray, so Wat Bang Nom Kho has become somewhat dilapidated over time. Later it was repaired. There is still a lot of cattle raising. Therefore, the villagers affectionately called it Wat Bang Nom Kho. The territory of Wat Bang Nom Kho Bang Nom Kho Temple has a total area of 24 rai 21 wa 3 ngan.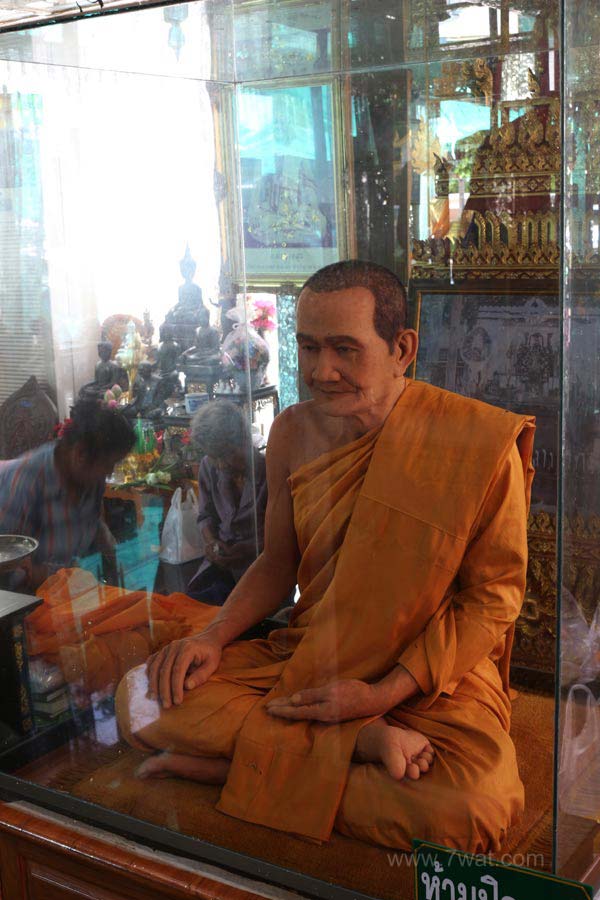 In the past, Luang Por Pan of Bang Nom Kho Temple was respected by many monks and people in the past. With Luang Por Pan's charisma, he was able to support and maintain many temples in Sena District and nearby districts. People who are suffering from common illnesses or have been attacked by occultists or ghosts, if they come to Luang Por Pan.
Everyone must disappear. Even the common disease (cholera) which killed people in Phra Nakhon Si Ayutthaya Province went a lot in those days, but reached the Bang Nom Kho subdistrict There was no epidemic like in other sub-districts.
Because Luang Phor Pan He was able to treat everyone in a timely manner, including the villagers in Phra Nakhon Si Ayutthaya Province. dubbed him "Phra Doctor Luang Por Pan" aside from his good deeds in helping the villagers and upholding the religion. What he has created as an inheritance for the present generation is sacred objects and amulets made of clay.
Filled with itthi powder of Luang Phor Pan. This is the only version that you created yourself and consecrated yourself. He received the knowledge of making these various Buddha images from Chee Pa Khao, which is a Buddha image that is unlike any other Buddha image in the past.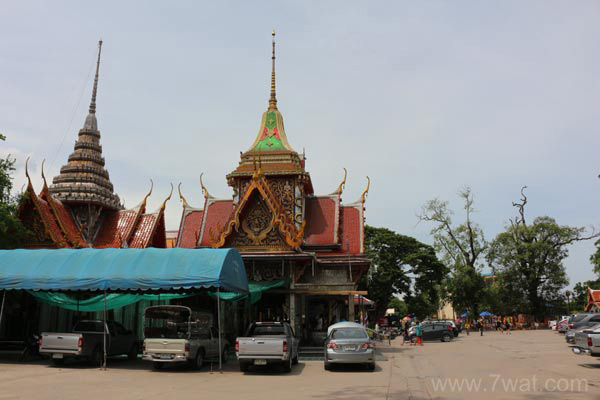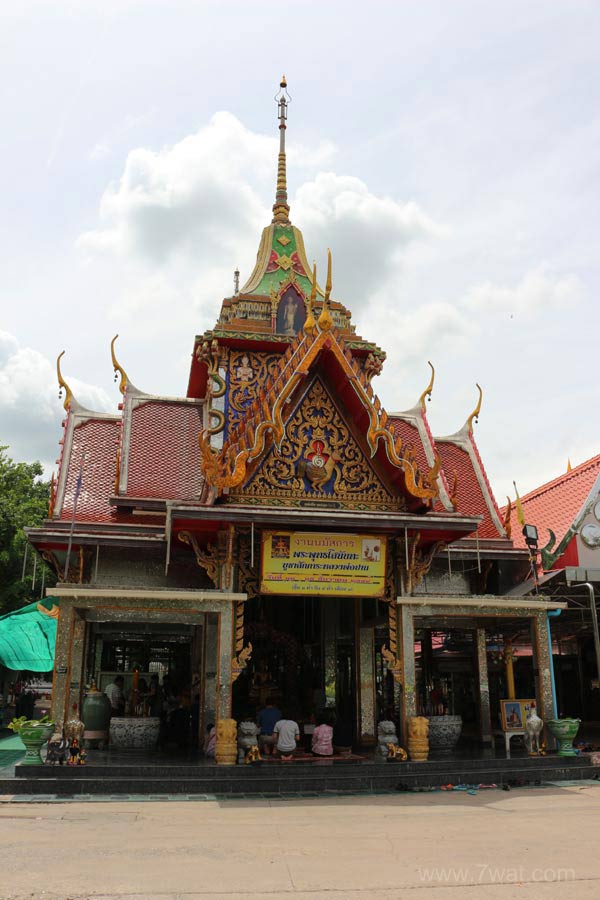 When reaching the temple, the parking place is spacious. Parking is convenient. There are many shops and drinking water shops. In the parking area you will see the Luang Por Pan mandap. You can go in and make merit and put them in the cabinet and bring incense sticks, candles, gold, flowers to pay homage to Luang Por Pan of Bang Nom Kho Temple in the mondop.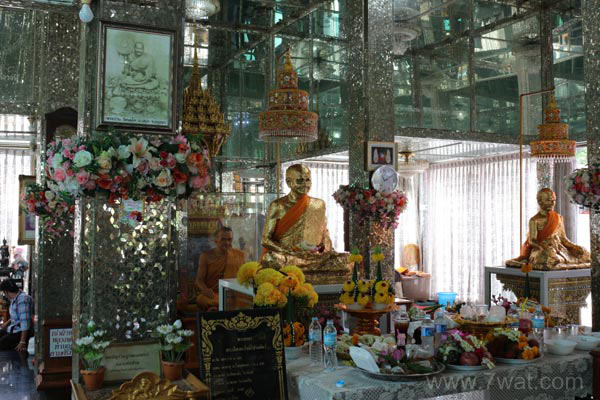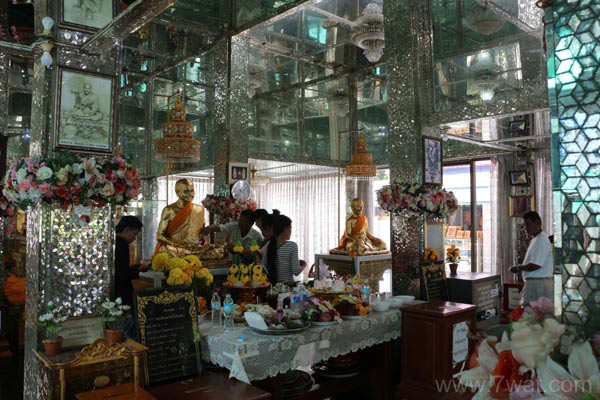 Within the temple area, there are also two large trees in front of the mandapa. It is a double takhian tree. In the past, the temple used to cut down the two Takhian trees. But a young woman came into Luang Pho Pan's dream.
Please don't cut down this pair of takhian trees. Because it will cause you to have no place to live. Luang Phor Pan therefore ordered not to cut down this pair of takhian trees. Both of these trees have been with Bang Nom Kho Temple for over a hundred years.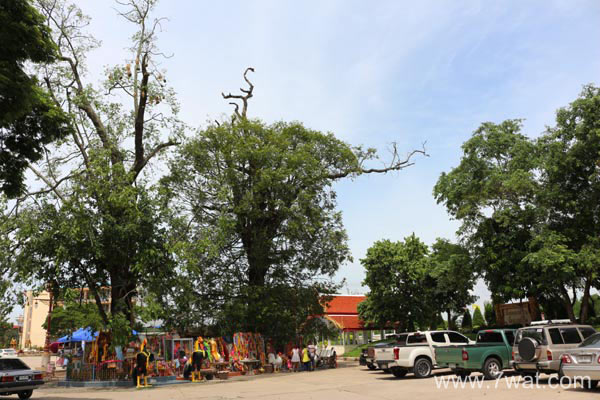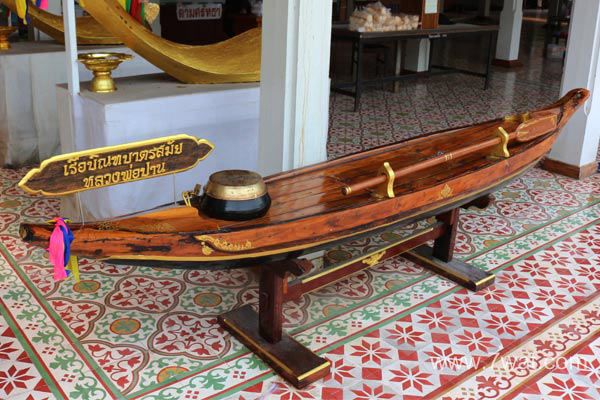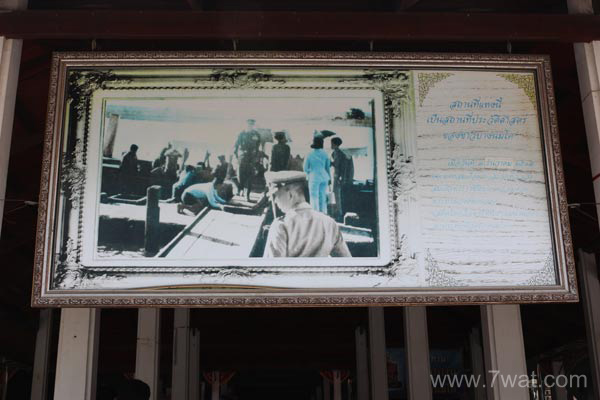 When you have finished making merit and paying homage to the Buddha. You can make alms by the front of the temple being a water pier. Next to the canal in front of the temple which is a sanctuary There are many fish living in front of the temple. You can feed the fish in the canal in front of the temple.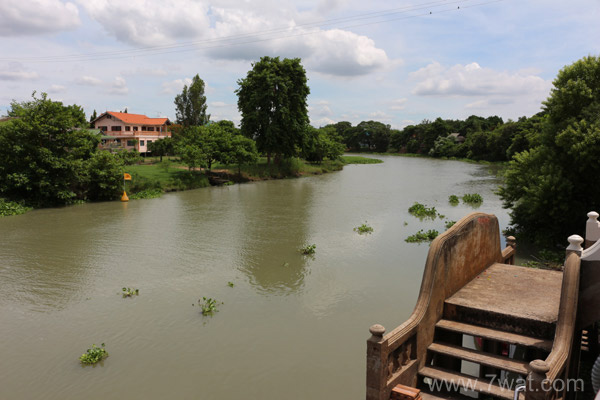 In addition, Those who go to Bang Nom Kho temple can go to worship in the temple. which is behind the Luang Phor Pan mosque Inside the church, there is also a channel that goes down. Which is like hell. There will be a picture of hell for you to see. If anyone is interested, you can go and see it in the church.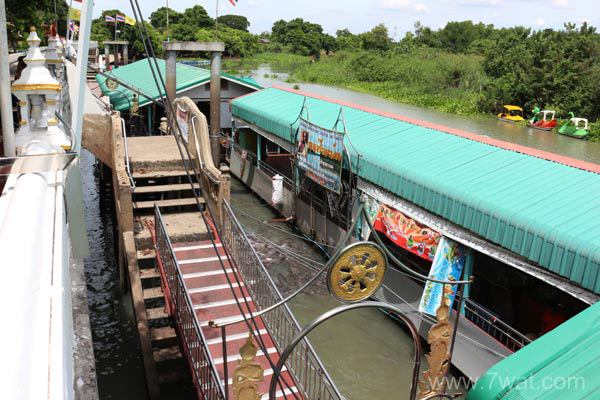 Traveling to Wat Bang Nom Kho by car, you can search through the application. internet map It's easy. The route is comfortable. The entrance to the temple is next to Road No. 3263 if you travel from Phra Nakhon Si Ayutthaya Province.
Keep heading towards the line. Suphanburi-Sena District Run across the Si Kuk Bridge. On the left hand side is the Chang Beer Factory. Run straight and you will find Lotus Sena Department Store. A little past the mall is the entrance to Bang Nom Kho Temple.