Visit Wat Khun Inthapramun
This trip to Wat Khun Inthapramun, Ang Thong Province, is a continuation of the journey. Maharat Buddhist Park, Luang Pu Thuat, Ayutthaya, which Wat Khun Inthapramun has an interesting history and has a reclining Buddha. The second largest statue in Thailand ever.
But due to the urgency of the travelers who had to continue their journey Makes it impossible to collect many details and photos. Plus I brought my two-year-old daughter with me. Therefore, it is not convenient to separate yourself and take photos in different places. Including today there is an event inside the temple and many people come to visit.
Traveling to Wat Khun Inthapramun You can travel from Bangkok. By Asian Road No. 32 when you see the intersection into Ang Thong Province. Turn left into Ang Thong Province on Road No. 334, turn left onto Road No. 368, continue onto Road No. 3064, then make a U-turn to enter Road No. 3003 until you reach the temple.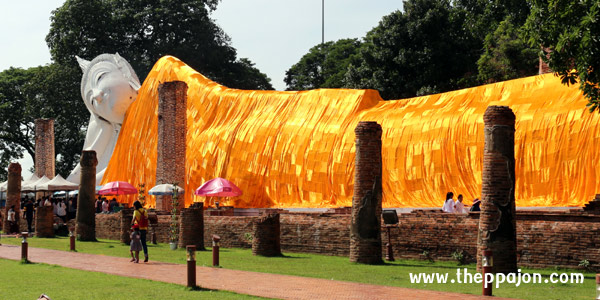 Khun Inthapramun Temple has an interesting history, being a temple built since the Sukhothai period. By Phraya Lethai who was the eldest son of King Ramkhamhaeng He built the reclining Buddha. and named it Phra Reclining Buddha Lue Thai Narumit After that, in the Ayutthaya period, the city was lost for the first time.
Causing the temple to be destroyed and dilapidated which later had Khun In auctioned off in the King Borommakot's urn who occupied the position of undercover tax collector Faith in Buddhism arose. Since he had no children, he used all the money he had saved to build a church. and intends to restore the reclining Buddha As a result, many villagers came to help because they saw Khun Intha's intentions.
But the restoration of this temple reached the governor of Wiset Chai Chan. So he reported to Ayutthaya that this Khun In had embezzled money to renovate the temple. The authorities therefore sent officials to investigate. Khun In refused to admit his guilt because he had not embezzled money and was therefore beaten dozens of times. Because Than Khun Intha was old, he could not endure the pain.
Before he died, he said: Khun Inthapramun was a court official of His Majesty King Borommakot. Therefore, I would like to honor His Majesty the King by upholding Buddhism, building churches, building pagodas, and repairing the Buddha statues. It was to enhance the prestige of His Majesty the King.
After Khun Inthapramun passed away So the matter reached His Majesty the King. This made him very sad, so he gave 100 pounds of gold as the hair of the reclining Buddha. and repair the temple Then the name of the reclining Buddha was changed to Khun Inthapramun's reclining Buddha since then.
Summary: Wat Khun Inthapramun The important point is the very large reclining Buddha. Number two in Thailand, 50 meters long, His face is very beautiful and beautiful. There are also ancient temples and churches that are interesting. It would be better to go in the morning or in the evening because the weather in Thailand is very hot.