Khao Yai National Park There are 2 tent sites available.
is the Lam Takhong tent camping area and Pha Kluai Mai tent camping area Lam Takhong tent camping area It is a large tent area. There is a spacious, comfortable area, a Pha Kluai Mai tent camping area. It is a small tent area. It is close to Haew Suwat Waterfall. Suitable for camping in a tent for 2 days and 1 night.
October 21-22, 2023
This weekend is a long holiday, 3 days in a row, from Saturday, Sunday until Monday, October 23, so I took this opportunity to take my family on a camping trip. At Khao Yai National Park Because it is a park that is not too far from home.
But because Khao Yai National Park is not far from Bangkok It makes for a long holiday. Like this, there will be many tourists coming to set up tents. It's been this way for many years.
I remember that 20 years ago, I used to set up a tent here through the persuasion of young acquaintances. When I arrived, I was faced with many tents on the Lam Ta Khong tent site. Today, the tent site is still full of people during public holidays. It's not the same as it was 20 years ago.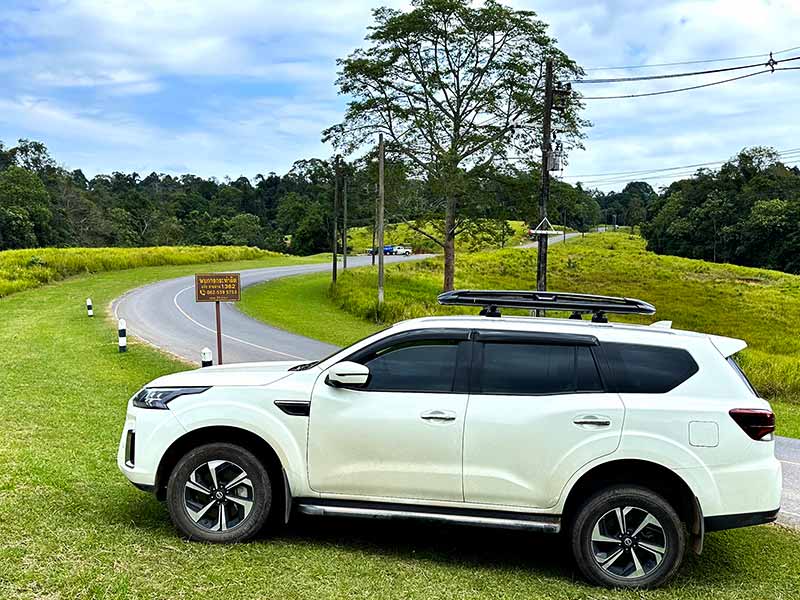 I traveled from my home in Phra Nakhon Si Ayutthaya Province around 8:00 a.m., drove at a leisurely pace, no need to hurry. The car on Mittraphap Road is There were quite a number of them this Saturday morning.
We headed towards the shore checkpoint. "Khao Yai Shrine" arrives at the checkpoint around 10:30 a.m. and opens the QueQ application. After paying, there will be a QR Code for the officials to scan through. without wasting time registering and paying cash at the checkpoint
This route is a paved road the entire way. Both sides of the road are filled with lush green trees in the rainy season. It is a refreshing and comfortable time with natural scenery along the route.
We found a group of monkeys along the road at one point. These monkeys sit and lie on the side of the road. And some of them walked across the road. Until all tourist cars had to slow down. because he was afraid he would hit a monkey But in the end, every car slowed down to see their cuteness.
We arrived at the Lam Takhong tent camping area. which is full of many tourists There were tents spread out all over the area. I drove around and looked at it twice. Then go back inside to square D.
There are a lot of empty parking spaces. We parked the car and went down to explore the surrounding area to find a place to set up a tent. But found an empty space filled with deer droppings where he came to eat grass and defecated all over it Deer droppings are round, black, and smell similar to cow droppings.
So I chose to set up a tent near the parking lot. Because there isn't much grass in this area. It is like a gravel yard. So there is no deer droppings. I anchored it here. because other places It's all full.
I studied the information before coming to set up a tent in Khao Yai. You will find that there are animals such as monkeys, deer, and porcupines that often come to find food to eat with people who set up tents. At worst, you might be able to break into the tent by tearing it down. So I didn't bring any food.
This time I went to buy Minced pork omelet rice from the welfare shop came back to eat at the tent. Ordinary taste Not very palatable But he ate just one meal.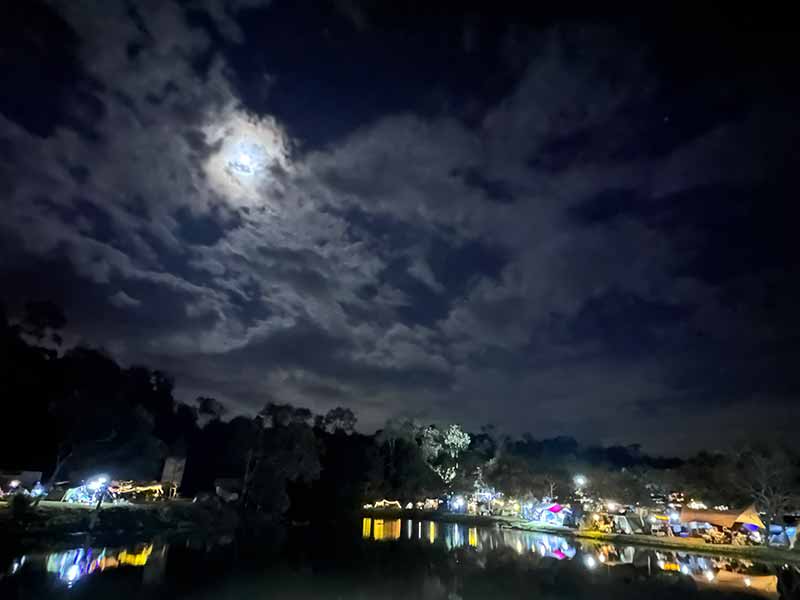 At night, many people expect to see a meteor shower tonight. But I looked up at the sky and it seemed like it was raining more than stars. Because the rain clouds gradually More and more forming.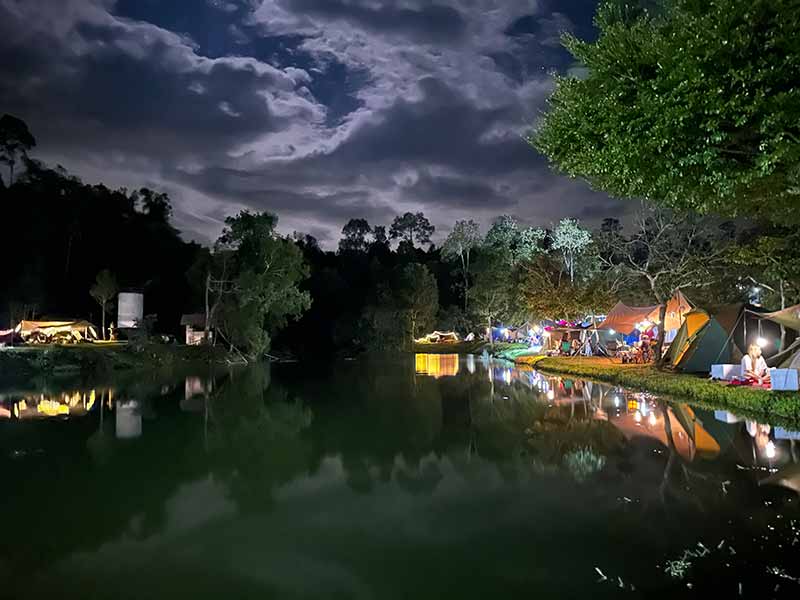 Atmosphere of the tent camping area It is full of people and many different colored tents. Complete with decorative lights Makes it look relaxed from measuring work. Or the night market, I don't know. But it's beautiful.
During the hours of 10:00 p.m., officials used loudspeakers to make announcements. Everyone should refrain from using loud noises of any kind. and turn off the tent lights Makes the tent camping area peaceful. And the sound that follows is the sound of rain instead. It was raining heavily until the early hours of the morning. But there was no strong wind to worry about.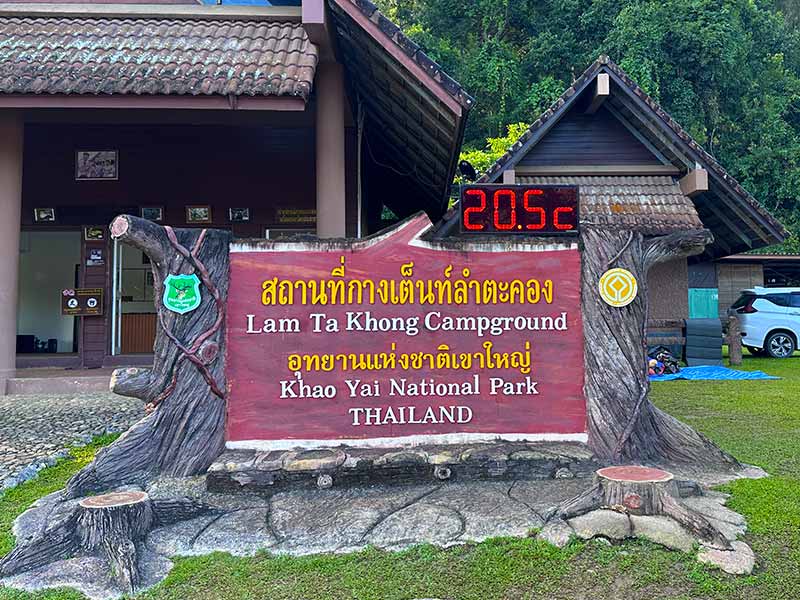 Woke up early today. Along with the fresh air after the rain last night. The weather is comfortably cool at 20.5 degrees. I hurriedly woke up at 5:00 a.m. Go to the bathroom before there are more people using it. When finished, put things in the car. and dry the tent before putting it away During this time, I went to find something to eat at the welfare store.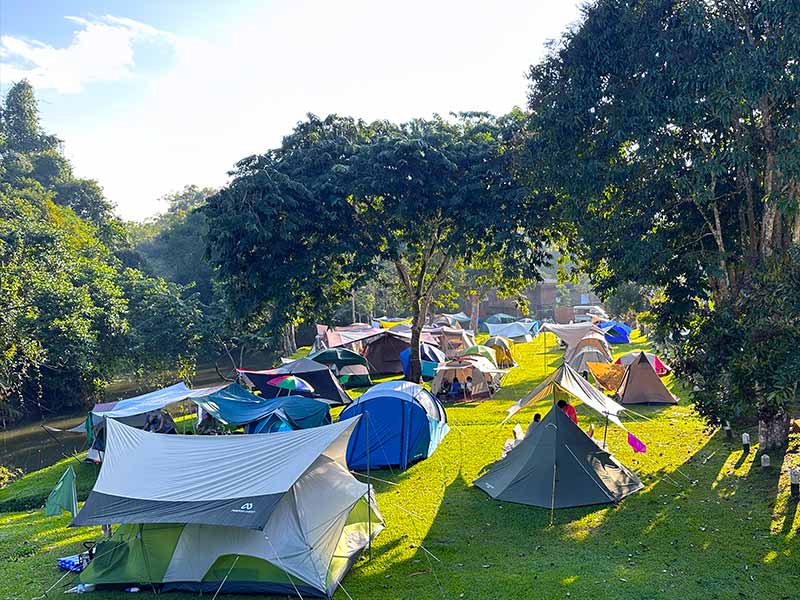 The tent area next to the welfare shop is quite beautiful. and next to the Lam Takhong stream If you come early, you should choose to set up a tent at this point.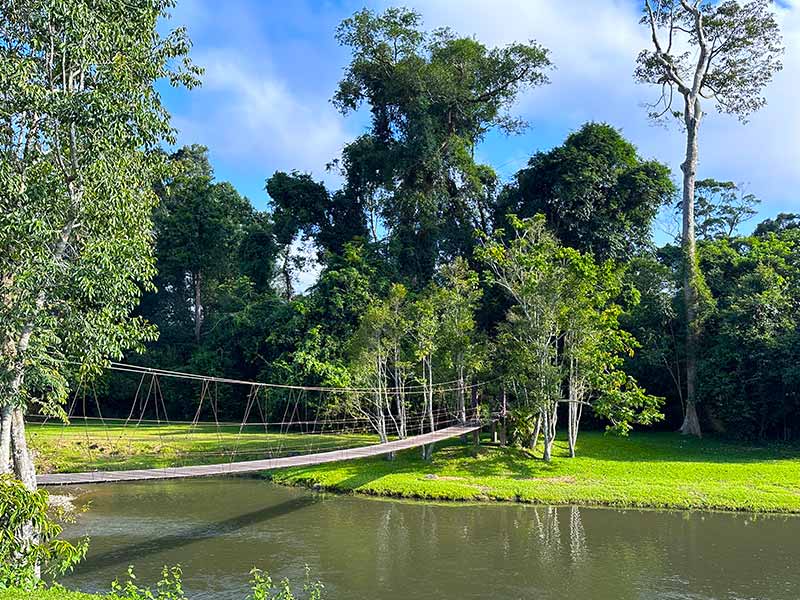 After finishing breakfast with coffee I saw a suspension bridge. So he invited the family to walk across and explore what there was to admire on the opposite side.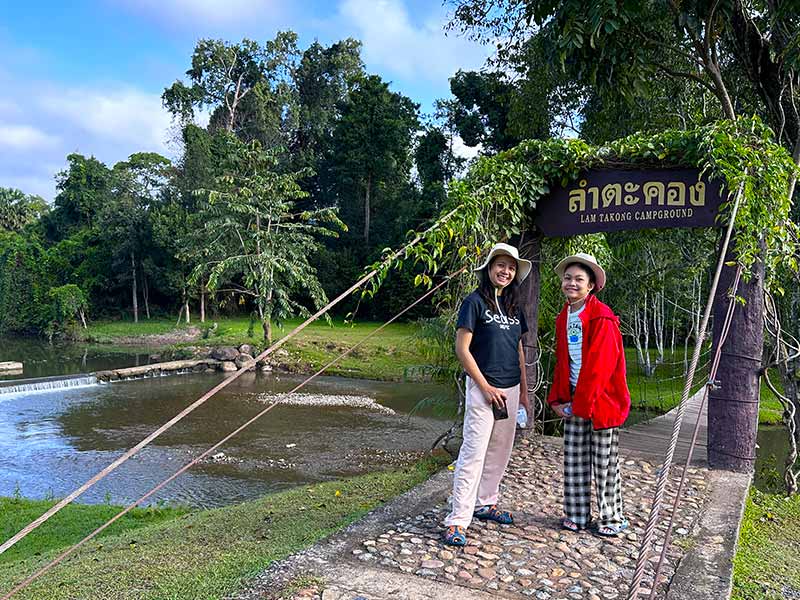 for the sake of time During this time we have to wait for the tent to dry from last night's rain. We walked around and took pictures. without hurry We walked across the bridge to the opposite side. There was a small path for us to walk along. It turned out that the walkway was full of blood-sucking slugs that were crawling towards us. Therefore, the troops had to retreat to their tents first.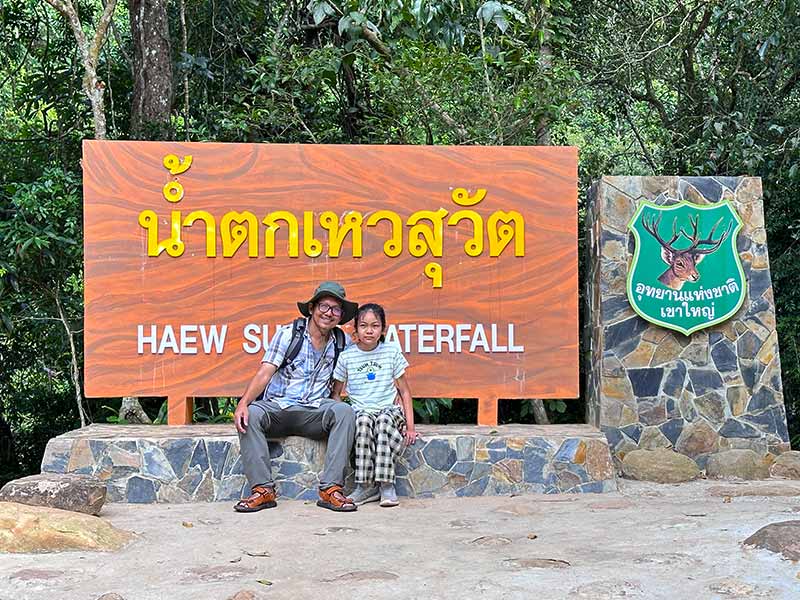 After wiping the water dry, I put away the tent. and drive to travel to Haew Suwat Waterfall Which is not too far from the Pha Kluai Mai tent camping area. During the time I was driving past the Pha Kluai Mai tent camping area, I didn't see a single tourist tent. Didn't see any tourist cars parked either. I later found out that he had canceled setting up a tent at Pha Kluimai. Because a tourist was attacked by an elephant and died.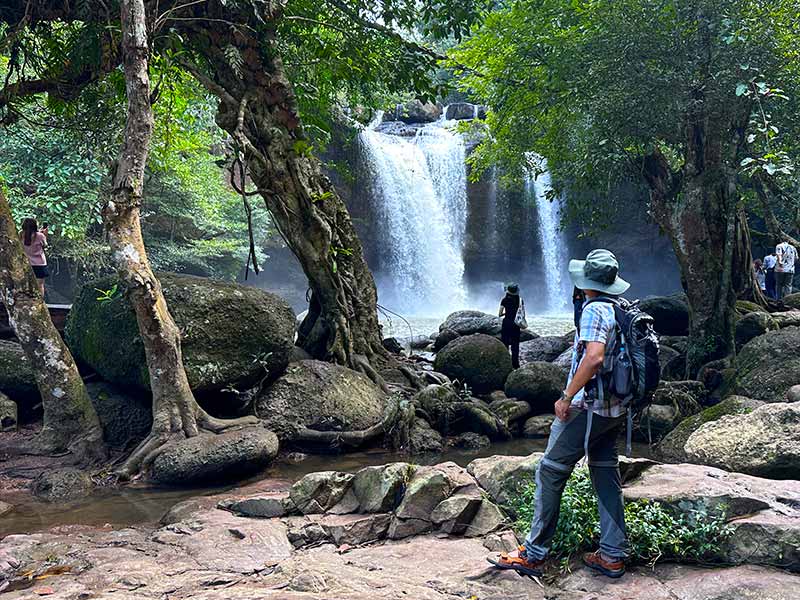 We arrived at the Haew Suwat Waterfall parking lot. And you have to walk a little further down to the bottom. It's not very far. There are stairs to walk comfortably. Haew Suwat Waterfall is a waterfall that is not very tall. But there is a strong flowing waterfall. Officials announced a ban on tourists from swimming. Because a tourist went to play in the water and died here.
After admiring the waterfall to our hearts' content, we walked up to the parking lot and drove home.
Preparation
Reserve a tent site in advance at the Khao Yai National Park website or the QueQ application. You can transfer and pay the service fee immediately.
Prepare tents, bedding, sleeping bags, pillows, and sleeping pads.
Prepare cooking equipment (except grilling), food and drinking water ready.
Prepare hygiene equipment, soap, toothpaste, and personal medicine, mosquito repellent, slugs, and wild ticks.
Prepare flashlights and lighting equipment. Phone and camera battery chargers.
Prepare clothes for Stay overnight for 1 night with a nature walking package.
Study nature trails and various viewpoints. Within Khao Yai National Park.
Strictly follow the regulations of the national park.
Travel plan.
First day.
Travel from Bangkok Heading to Khao Yai National Park. Travel time takes approximately 2 hours.
Check-in at the Lam Takhong tent camping area, pay in cash or show QR code if paying through the QueQ application. Noen Hom Checkpoint, Khao Yai Shrine Checkpoint.
Set up your tent and prepare your things.
Have lunch Welfare shop Or you can cook your own food, whichever is more convenient.
Walk to study nature along the Kong Kaew route. It is a 2-kilometer nature trail through deciduous dipterocarp forest, mixed deciduous forest, and montane evergreen forest.
Have dinner
Watch the stars in the sky.
Go to bed according to park rules. Turn off the lights and keep quiet at 10:00 p.m.
Second day.
Eat breakfast, coffee.
Keep your tent and equipment organized.
Drive to Haew Suwat Waterfall.

Walk to study the nature along the Haew Suwat Waterfall route. It is a 2.5-kilometer nature study trail through a mountain evergreen forest. See Haew Suwat Waterfall, which is 100 meters high. 

Come back for lunch.
Return to Bangkok.
Precautions.
You should pitch your tent away from large trees and electrical wires.
You should maintain the cleanliness of the tent area.
You should be careful of wild animals that may be dangerous, such as wild elephants, deer, porcupines, monkeys, blood-sucking slugs and deer ticks, etc.
Additional advice.
You should prepare personal medicine and basic first aid equipment.
You should prepare clothing and equipment appropriate to the weather conditions.
The regulations of the national park should be strictly followed.
Accommodation and tent areas should be reserved in advance. Especially during the tourist season.
You should prepare tenting equipment such as a tent, sleeping bag, pillow, blanket, flashlight, lighter, cooking equipment. dining equipment.
You should prepare clothing and equipment for hiking, such as hiking boots, thick socks, hat, sunglasses, raincoat, water, and snacks.
You should study the nature trails carefully before leaving.
More details.
Lam Takhong tent camping area Pha Kluai Mai tent camping area.
Admission fee for Thai children aged 3-14 years: 20 baht/person
Admission fee for Thai adults: 40 baht/person
Service fee for vehicles entering the area: 4-wheeled vehicles: 30 baht/vehicle
Tent space service fee for adults: 30 baht/person/night
Children's tent space service fee: 10 baht/person/night
Facilities: There are bathrooms, toilets, parking, shops, restaurants.
Nature trail.
Kong Kaew Nature trail.
Haew Suwat Waterfall Nature trail.
Pha Kluai Mai Waterfall nature trail.
Precautions for setting up a camping tent.
You should set up your tent in a safe area. Not close to large trees or power lines.
The tent should be pitched at least 20 meters away from water sources.
The tent should be pitched in a sturdy way. It doesn't tilt or fall easily.
You should leave enough space around your tent for walkways and activities.
You should check the area to see if there are ant nests, insects and wild ticks or not.
You should put away your tent before leaving the area.
Hopefully this itinerary will help you set up your tent and camp in Khao Yai National Park in a fun and safe way.