Luang Phor Perm, Wat Pom Kaew
Travel to Ayutthaya at Pom Kaew Temple, where one of the three auspicious monks of the "Ruay Perm Phun" era is staying at Pom Kaew Temple. One of them is "Luang Pho Perm Wat Pom Kaew".
Pom Kaew Temple is located at Ban Klueng Subdistrict, Bang Sai District, Phra Nakhon Si Ayutthaya Province. The famous abbot who is well known and is the pride of the villagers of Klueng, Bang Sai District, is "Luang Pu Perm Wat Pom Kaew", a monk who is a monk who is a strict monk in the Dhamma and discipline, and who governs and maintains Wat Pom Kaew. Until it is beautiful and prosperous with many permanent objects and makes all Buddhist devotees who enter this temple feel cool, clean, pleasing to the eyes. If it weren't for the merit and merit of "Luang Pu Perm Wat Pom Kaew" these things probably cannot be seen.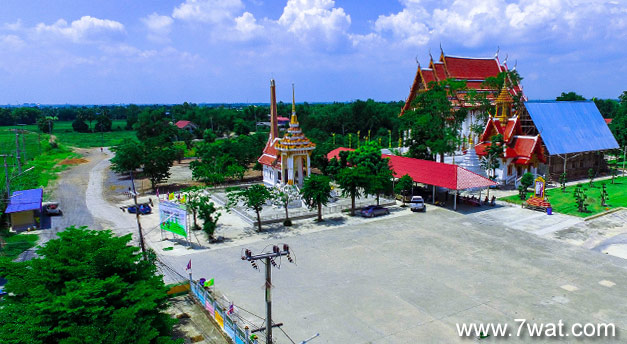 Sunday morning, July 24, 2016, I had an appointment with the kids. who runs a private business in Bangkok I would like you to take me to the temple to pay respects to the Buddha, especially the famous monks of the land of Ayutthaya. Right now, this is.
1. Luang Pho Ruay, Wat Tako
2. Luang Phor Perm, Wat Pom Kaew
3. Luang Por Poon, Ban Phan Temple
All 3 of them are considered auspicious monks who lived in the same era. and were in the land of Ayutthaya, the old capital, where all three monks were monks who were strict in the Dhamma and discipline and had stone inscriptions worth paying respect to. In the past, all 3 of them had received knowledge from the greatest monks of that era. which all have high Buddhist knowledge It is believed that these 3 famous monks have Buddha powers that are no less than one another. Therefore received an invitation to go to the Puttha Phisek ceremony. Many amulets and sacred objects.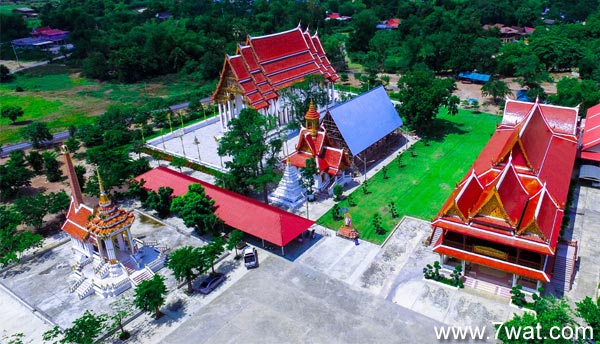 The young people from Bangkok want to come and pay homage to the 3 monks, believing that they will receive blessings from them to bring prosperity to their lives and businesses to proceed according to the auspicious names of the 3 monks, namely "Ruay, Plenty, Poon".
My family and I made an appointment to meet the young people from Bangkok. In Phra Nakhon Si Ayutthaya Province and sat down to eat breakfast at a restaurant near Wat Yai Chai Mongkol. After finishing breakfast Then drive out of Phra Nakhon Si Ayutthaya Province, heading west, namely Road 3263, route to Sena-Suphanburi District. Run straight and pass the red light intersection, Worachet, go straight for a few kilometers. Notice the Esso gas station on the left. Drive a little past the gas station and you'll find a small, white intersection with a tall, majestic "Wat Phra Khao" sign clearly standing out. Please turn to the left intersection. Going to Ban Klueng Subdistrict Drive along the road for about 2-3 kilometers and you will find a road that splits on the left with a sign pointing the way to Wat Pom Kaew. There will be a police station at this intersection. Turn left and follow that intersection. Will head into the gate of Wat Pom Kaew.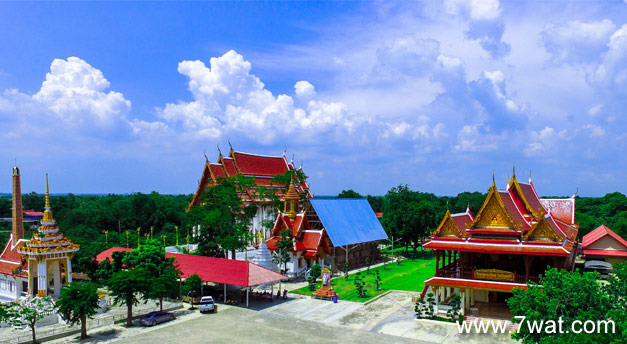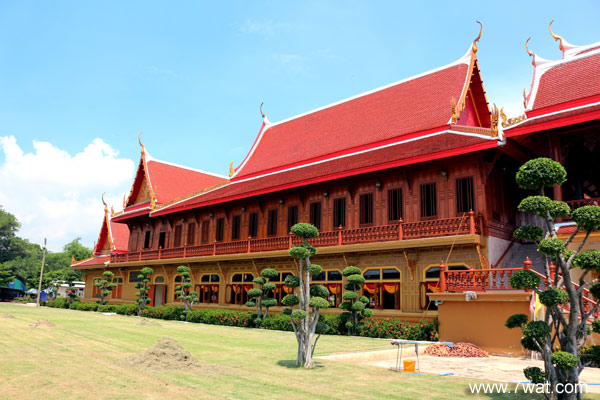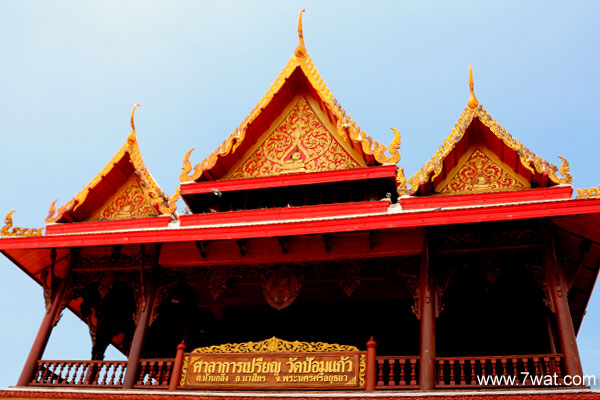 Many years before that, I had been to this temple. I still remember the shop next to the temple. Came today and the temple looks very beautiful. A 2-story pavilion in Thai style. The lower floor is cement. The upper floor is a large, magnificent wooden house. It is very beautiful and eye-catching to those who see it. We parked the car under the shade of a tree and walked in front of Luang Pu Perm's residence. I inquired with the people at the temple and got the following answer: Grandfather is staying at the temple. It was free around 4:00 p.m., which was very cold. We probably didn't have to wait to pay homage to him.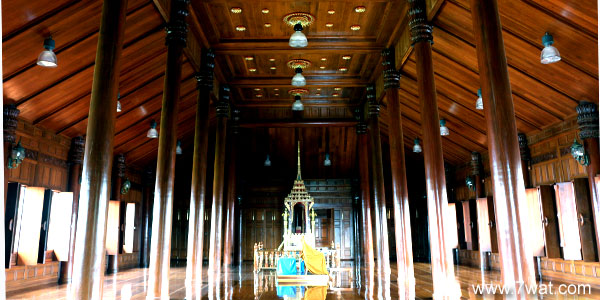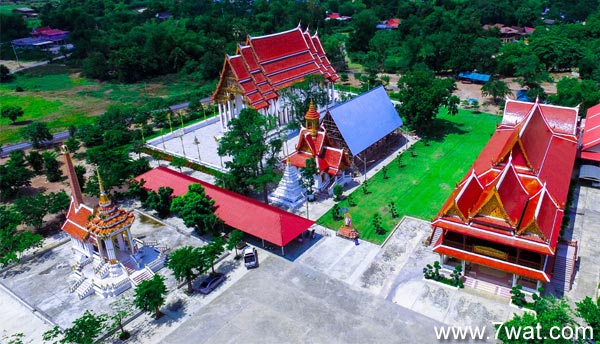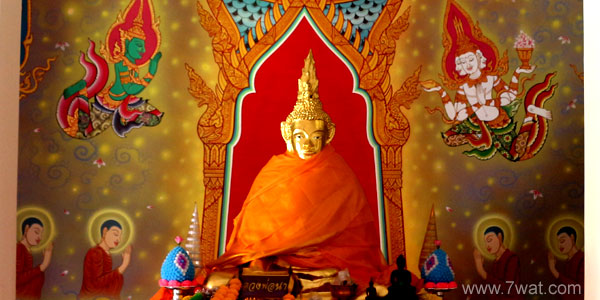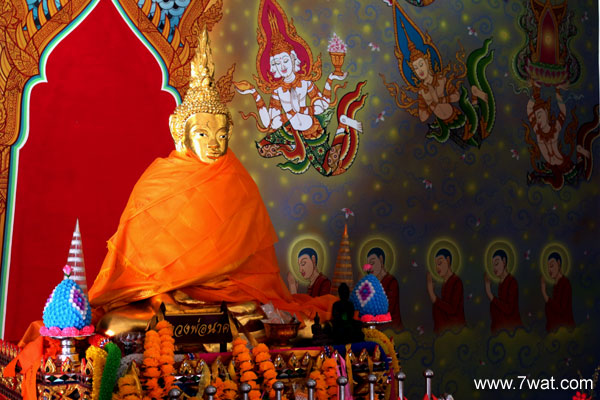 So we went to pay homage to Luang Phor Nak. Pair of sacred Buddha images at Pom Kaew Temple and is a monk of the people of Ban Klueng Subdistrict. The Buddha image is in the mandap next to the U Bodhi temple. Because the church's doors are closed, it is not possible to enter and worship inside the church. But still went to pay homage to Luang Phor Nak. which is considered auspicious as well Inside the mondop, Luang Phor Nak is seated as the principal Buddha image. On the walls of the mondop are beautiful murals as well. After praying and asking for blessings from Luang Pho Nak I came out to sit and relax under the shade of a tree, bought snacks and water to quench my thirst. I walked around and took beautiful pictures. in order to write articles according to regulations This time I took the drone and flew it in the area of Wat Pom Kaew School. We also took photos from a high angle for you to see.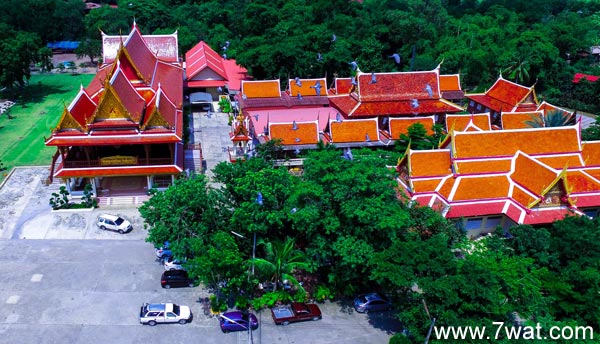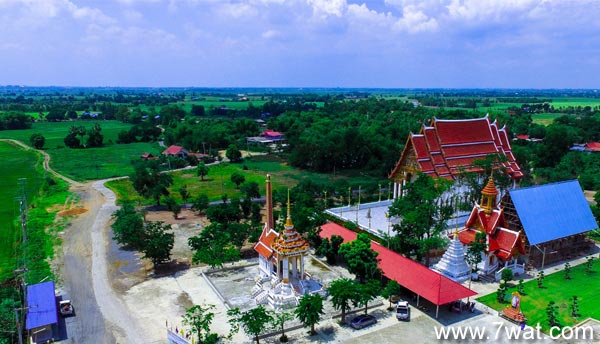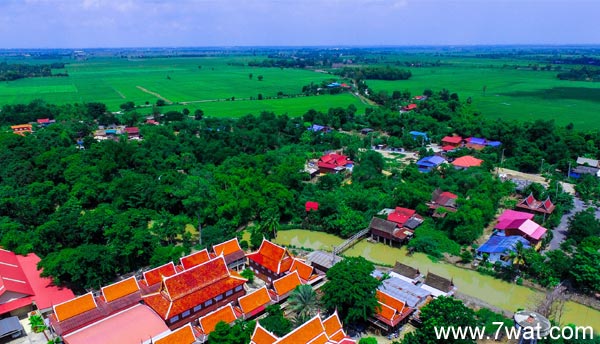 After that, I took the kids to "Ban Pan Temple". Even though today we missed out on being able to meet and ask for blessings from "Luang Pu Perm Wat Pom Kaew" but today we also got to pay close respect to "Luang Pho Poon, Wat Ban Pan". As for "Luang Pho Ruay, Wat Tako", if there is a chance I would like to be able to pay respects to him sometime. Because I have never been able to pay homage to him once. But since today is the opening day for reservations for sacred objects, quarter 2016, it is expected that there will be a lot of people, so we will not take the children to visit the temple to pay respects at Wat Tako.