Ride a motorcycle to visit Ayutthaya
I drove my motorcycle to visit this Wat Chaiwatthanaram. Which reminds me of my childhood. who came to study in Phra Nakhon Si Ayutthaya Province We rented a dormitory in Ayutthaya city. If you are free from studying We often come to sit together under the claw tree. Along the Chao Phraya River In the past, the crab claw tree was not this big.
In the past, these places were like parks. Ayutthaya people can walk in and out at any time. There is no fence around the perimeter like today. In the evening, we still have fun playing takraw in this temple area.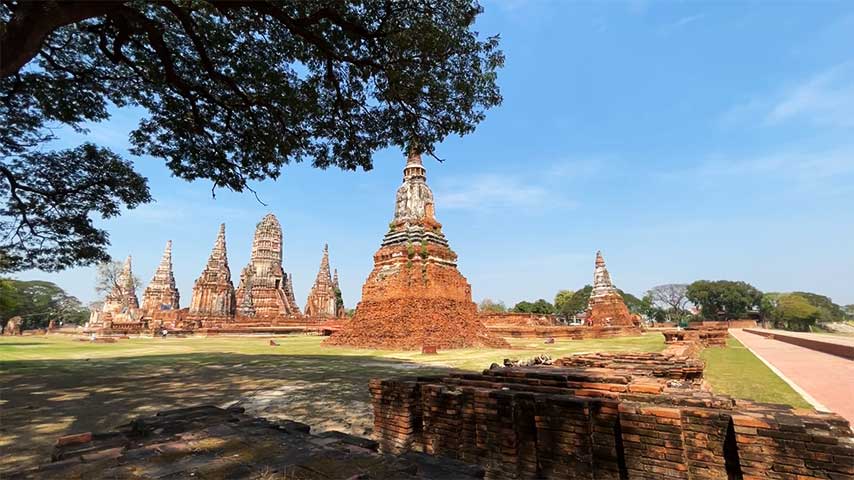 Currently, Wat Chaiwatthanaram has been acquired by the Fine Arts Department. Newly restored Give the structure strength and remains more beautiful than before And there is a fee for admission, with Thai people paying only 10 baht per person, which is considered very cheap. The income should be used to care for the ancient sites so that they will be with Thai people for a long time. Keep it for our children and grandchildren to admire.
Wat Chaiwatthanaram is assumed to have been built in the reign of King Prasat Thong. The 24th King of the Ayutthaya Kingdom He is the first king of the Golden Castle Dynasty. After the Sukhothai Dynasty
It is further assumed that He built it to dedicate merit to the Queen Mother. And this area was probably the home of his queen mother before she ascended the throne as king of the Prasat Thong dynasty.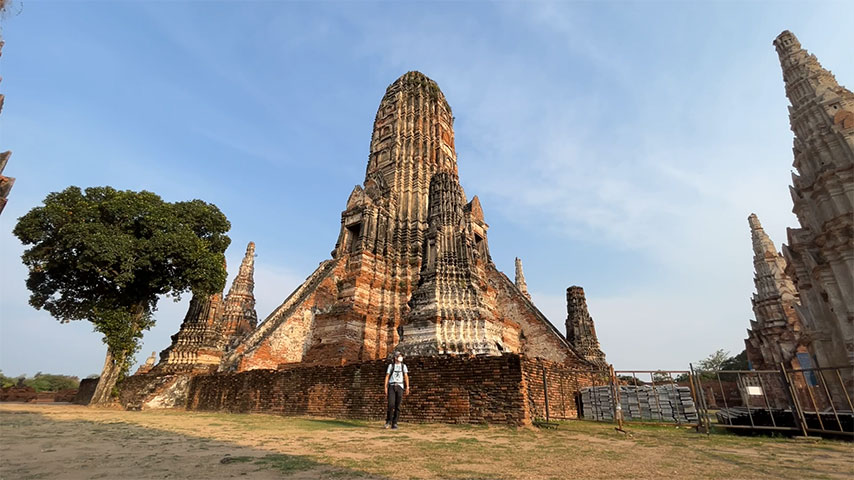 But there is another assumption. that he built it to announce victory over the Khmers By bringing art from Angkor Wat Let's model it as Wat Chaiwatthanaram.
The location of the temple is located on the banks of the Chao Phraya River on the west side of Muang Island. The temple faces east along the Chao Phraya River. From the ancient remains, it can be seen that there is a large main prang chedi in the middle and a crematorium-merurai surrounding it. The surrounding walkway is called "Balcony Khod" surrounded by Buddha images in the posture of Maravichai, similar to Wat Phutthaisuan. Ray and Wat Yai Chai Mongkol But at Phutthaisawan Temple It will be more beautiful and complete. Because the balcony will have a roof. And the Buddha statues were all beautiful and perfect. In front of the temple on the river bank There are ancient remains as the base of a large temple. no roof walls But there are probably Buddha statues to be seen as well.
Before Ayutthaya lost to the Burmese for the second time, this temple was converted into a fortified camp to face the enemy battles. But he was unable to resist his enemy. cause to be destroyed and later was also secretly dug for treasure by criminals Cutting off the head of a Buddha statue and moved away various valuable materials, leaving only ruins as far as could be seen.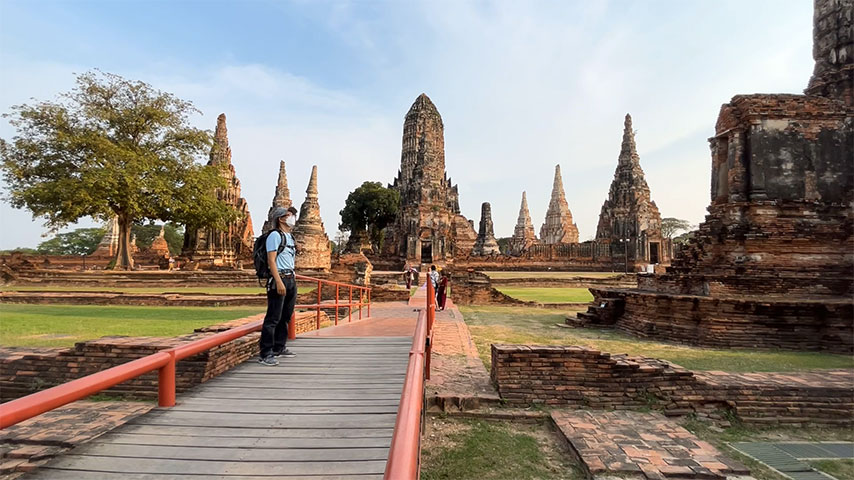 If Thai people in the past Not divided into unity divide into factions By fighting together to protect us, we will not have to lose these precious inheritances. Conflict leads to war and often creates only damage Destroying without regard to life and property Even if the people who start the war cannot endure it. It can be immortal. Just satisfying the desire to have something at that time, not thinking that after death these things cannot be taken away. It will probably be passed on to children and grandchildren.
During this time, I still see tourists renting traditional Thai costumes. We walked around and took a lot of photos. Even though it's during the COVID-19 outbreak, but during Saturdays and Sundays like this. Tourists refuse to disappear from this place at all.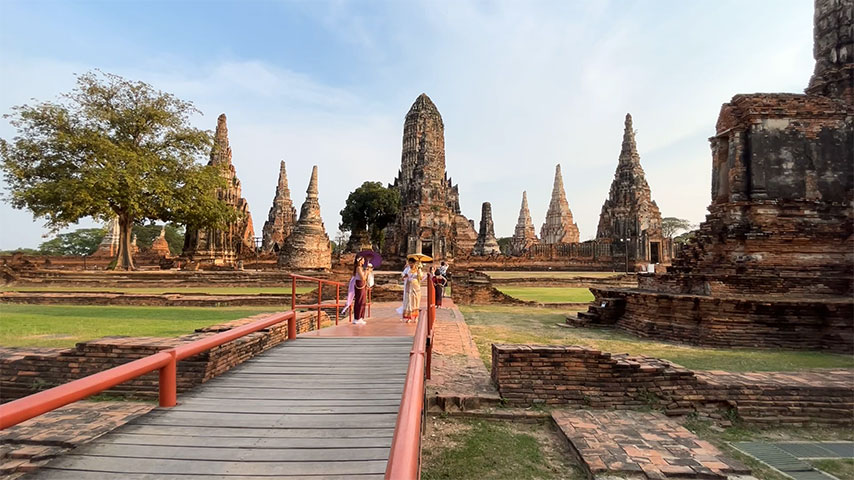 At 4:00 p.m., officials began to walk around informing tourists. that the place was about to close and that it would close at 4:30 p.m. It was me who was waiting to take pictures of the sunset. must be disappointed And try to stay and take as many photos and videos as possible until 4:30 p.m. Tourists are gradually coming out. Some people stood outside and took pictures. Parking area
I would like to end the story of Wat Chaiwatthanaram. On Sunday, March 6, 2022, that's all. If anyone has never been to Ayutthaya, if they have the opportunity, they should come and experience the greatness of the ancient sites. Ayutthaya Kingdom Watch it once in your life.