Die cast Cars
Die cast Cars
Majorette Pickup Toyota Hilux Japan Police
Come see other Toyota Pickup models. Right now I only have 3 cars. Everything has gone. Now finding new ones is very rare.
Hits: 201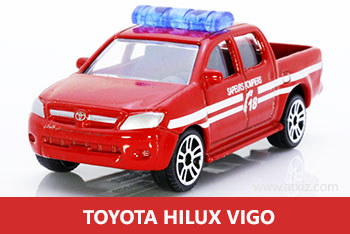 Majorette Toyota Hilux Vigo Pickup
Throughout the years, I have never known before that the all-model Toyota HILUX VIGO pickup truck, all the colors of Majorette, will be very popular nowadays. In the past, I had a beautiful Toyota Hilux vigo car model, but it was used until it disappeared. Regretting it now
Hits: 245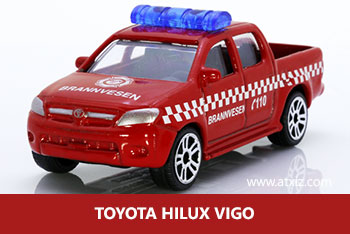 Majorette Toyota Hilux Vigo Brannvesen
The car model that has been popular for a long time is legendary and is in great demand for collectors, the Toyota Hilux Vigo. All models of the Vigo car model are rare because Majorette has stopped producing this car model. Therefore, the Vigo car is in good condition. Is therefore a car that pickup truck collectors want.
Hits: 231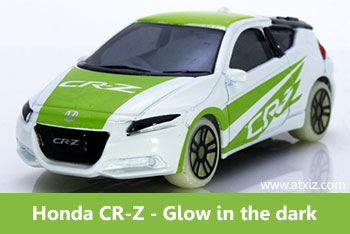 Majorette Honda CR-Z Glow in the dark
Majorette's car model in the Limited Edition Series4 Glow in the dark set is a car that can glow in the dark. All of that will include this Honda CR-Z. The glowing model cars that I have about 8 cars. Let's see the details of this car better.
Hits: 171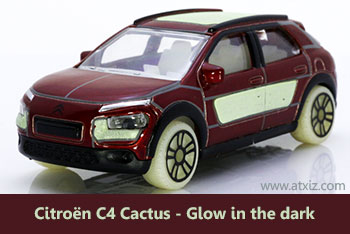 Majorette Citroën C4 Cactus Red - Glow in the dark
The Majorette car diecast that many people are searching for to be a key jigsaw for the Limited Edition Series4 Glow in the dark. That car can glow in the dark. Why is this red Citroen C4 Cactus so rare? Since it is only in Multipack Exclusive boxes. Cannot be purchased in regular single packs.
Hits: 186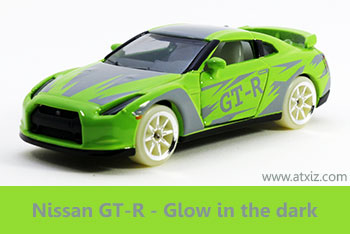 Majorette Nissan GTR - Glow in the dark
If we are talking about Japanese cars with powerful engines, I think of the Nissan GT-R in the past that used to be the most powerful engine. With a 3,799 cc 6-cylinder engine, but with a power output of 570 horsepower With a top speed of 315 km / h, acceleration 0-100 km / h in just 2.8 sec. Only when we know the real car information We also came to see the model cars.
Hits: 183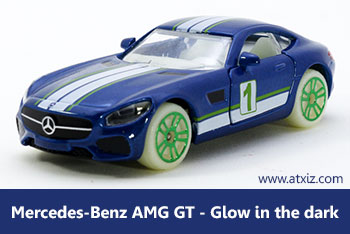 Majorette Benz AMG GT - Glow in the dark
We come to see the beautiful cars in the Limited Edition4 Glow in the dark, which is a glow in the dark. This is the Mercedes Benz AMG GT, a cool 2-door sports car. For real information, this car is an 8-cylinder 3,983 cc engine with 476 horse power and a top speed of 304 km / h at 0-100 km / h at 4 seconds. Weight only 1,615 kg.
Hits: 168