Swiss Sheep Farm
Saturday afternoon, October 12, 2019, after my family and I checked in at Eurasia Cha-am Lakun Hotel finished At Cha Am, Phetchaburi Province, there is Swiss Sheep Farm which is another good attraction for tourists.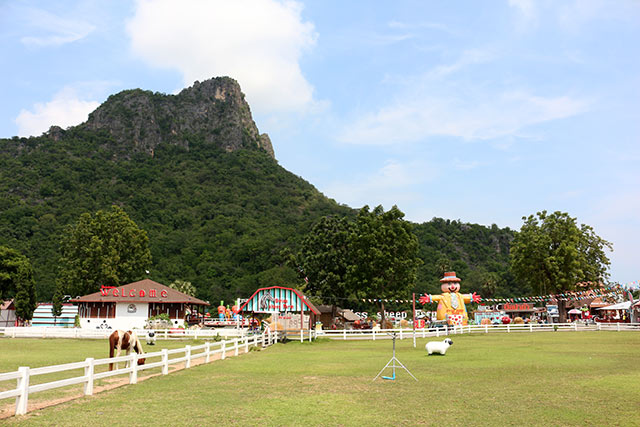 I've been here 2 times, and this time I still stopped by. This place is very suitable for people who like to take photos with a DSLR camera. They can come and practice taking beautiful pictures. There are many photo angles, including girls who like to take selfies. You shouldn't miss coming in to take selfies to post on social media to show off to your friends.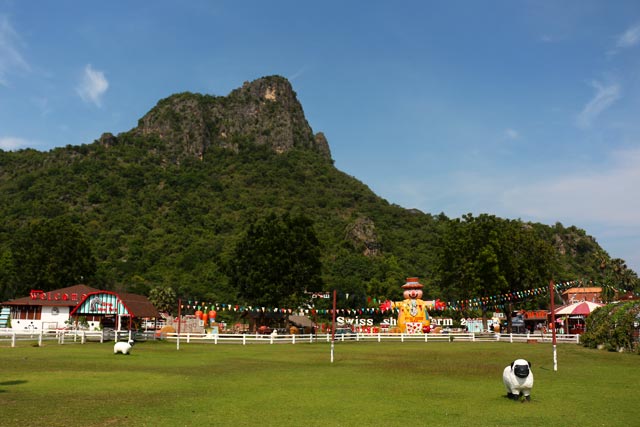 During this continuous holiday There are a lot of cars on this road. If we come from Cha-am Beach, we have to return by car. I suggest going back and forth under the bridge is the safest. Because the U-turn lane is in the middle of the road, it is very difficult to make a U-turn because of the number of cars running at high speed and there are a lot of them. Need to shift a good distance In making a U-turn, otherwise an accident may occur. But if going back and forth under the U-turn bridge, it will be the safest.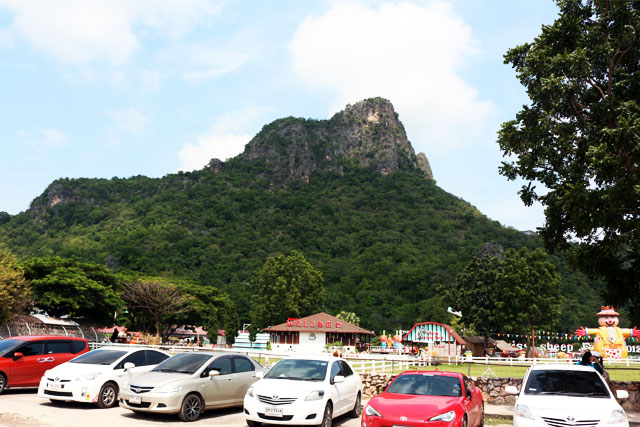 When entering the parking lot, you can clearly see the scenery of the farm. In the background are tall and prominent mountains, making the farm look outstanding and interesting.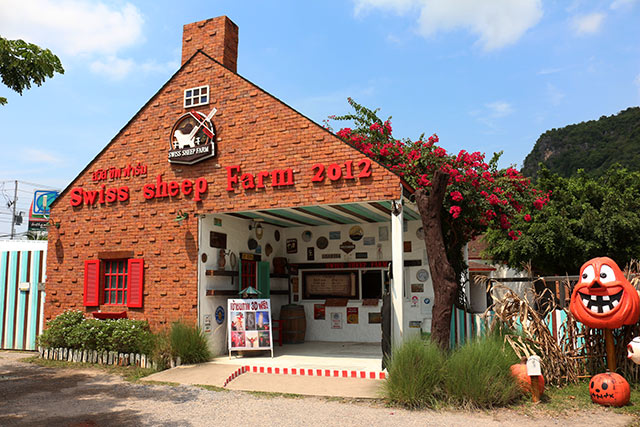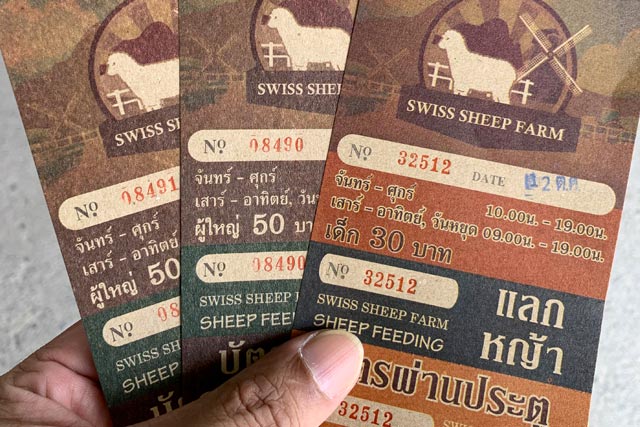 Before entering, you must first buy a ticket to enter the farm. For adults, each ticket is 50 baht, children only 30 baht, and the tail of the ticket can be exchanged for grass for every sheep to eat as food. The entrance path has been made into a beautiful archway.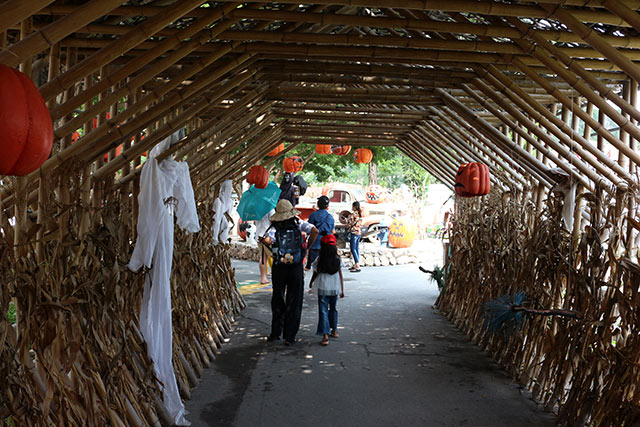 Inside there is a train trailer. The head is a tractor. The trailer is made from a 200-liter fuel tank, beautifully decorated. Service for tourists to sit and admire the farm. This car will drive around. The farm is suitable for people who don't like walking in the sun. For me, it's better to walk around and take photos.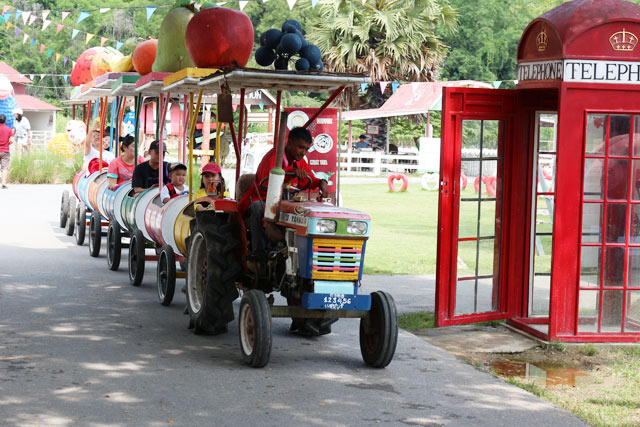 The atmosphere inside the farm is really decorated for photography. Because the colors are bright and very beautiful. Impress the tourists quite a bit.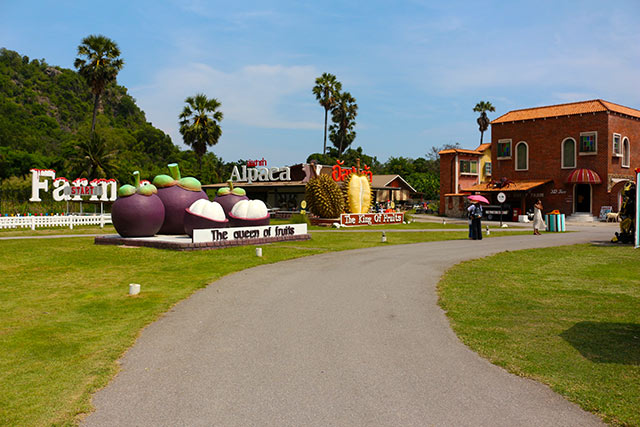 There is an old white forklift. But it's the most classic. Parked for tourists to take photos at their leisure.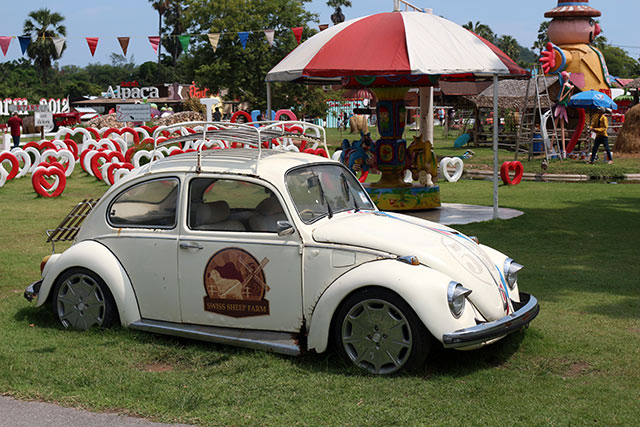 When the tail of the card is exchanged for grass Each of them gave to the sheep who were waiting for grass from tourists. I feel that they are very hungry.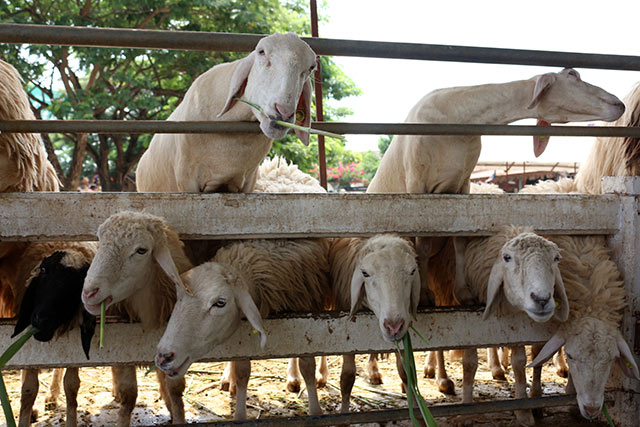 There is a small lamb. Separated from the stall together with the mother sheep, there are many cute ones.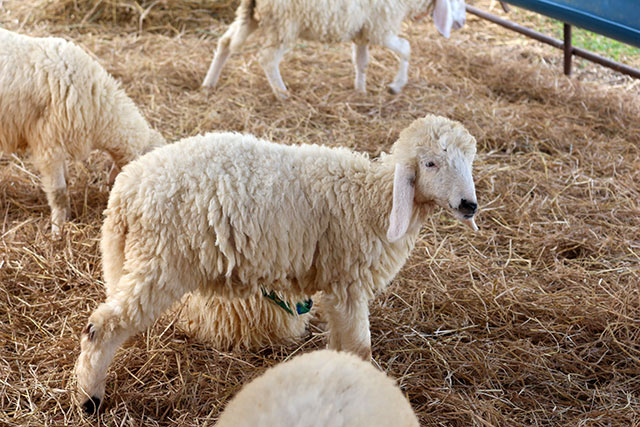 Another very outstanding shooting angle is It occupies the windmill and has a bright red Swiss Sheep Farm sign, suitable for taking pictures.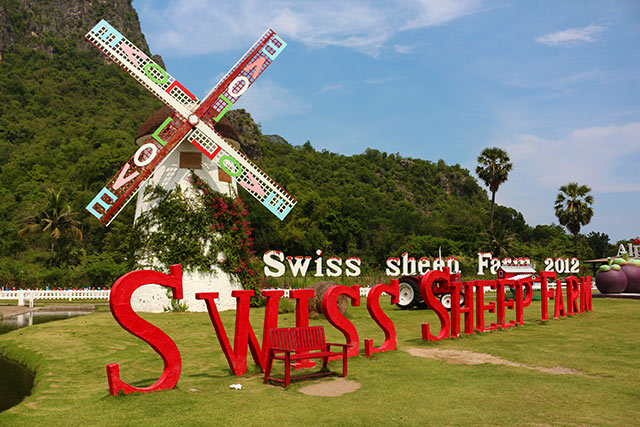 Another photography angle is Bright Orange Carrot Sculpture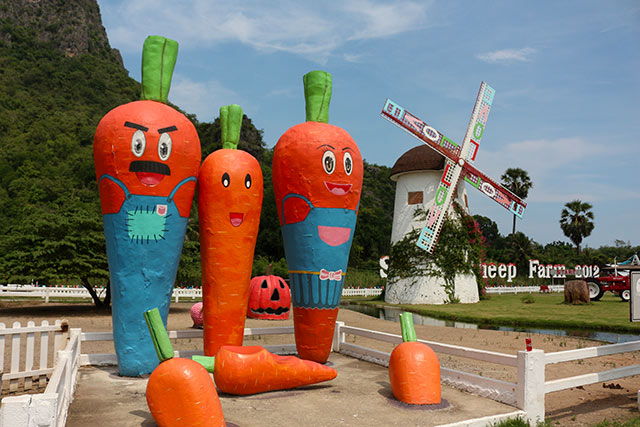 The path to the building is for viewing 3D paintings and there are alpacas to see as well, which are inside the air-conditioned building. Entry is paid. Along the walking route, there is a stable of miniature horses for tourists to view and take photos. picture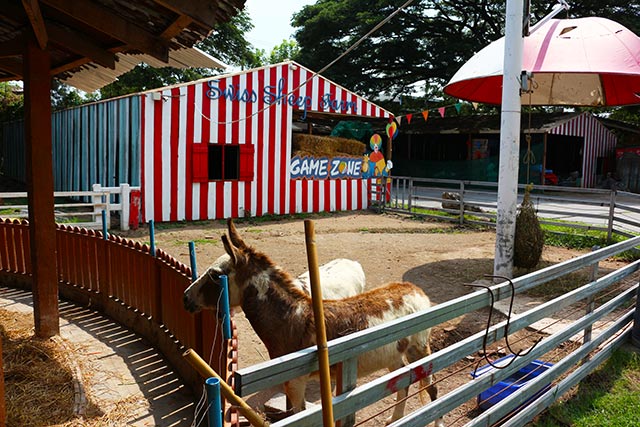 There are beautiful buildings for tourists to see as usual. And there is a tractor parked in front. decorated to look like a farm abroad.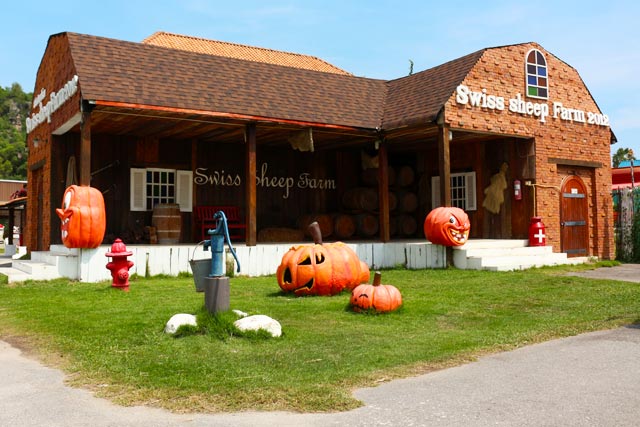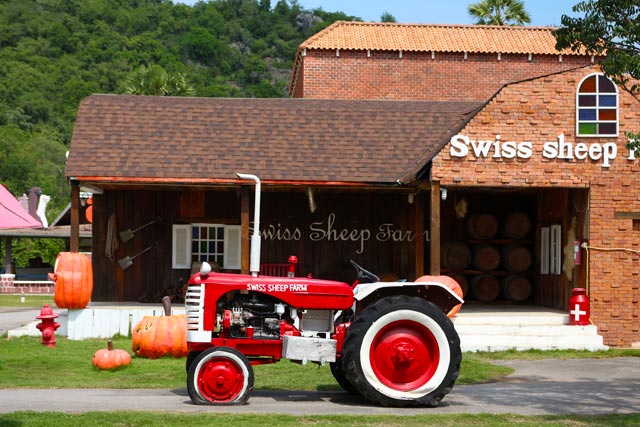 Another corner is the rabbit house. Inside there are many wild rabbits. Which we have to pay for 1 bag of carrots to bring to the rabbit to eat. My daughter likes it very much Then give it to the rabbits to eat. I watched today, the rabbit should have eaten a lot because some of them sleep comfortably, not interested in food in the hands of tourists at all. Rabbits are always cute animals for children.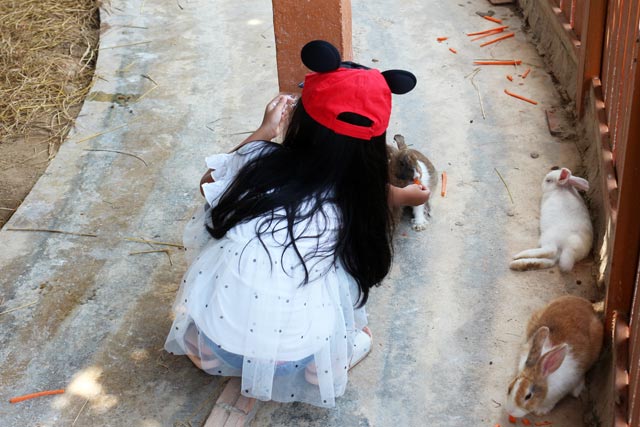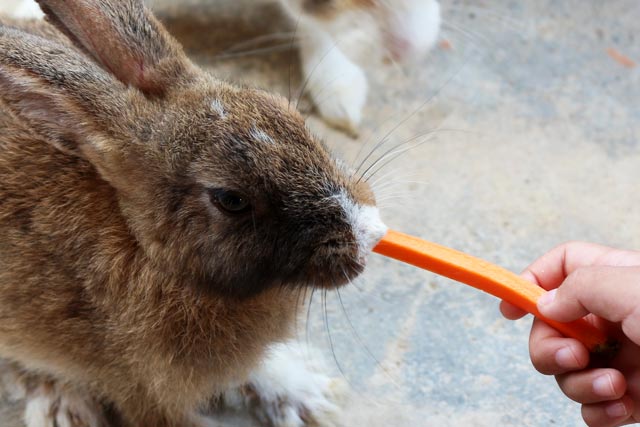 The highlight of the farm is A very large giant doll. I'm not sure if it's a scarecrow or something. It's brightly colored and has a sign on the front that says, shepherd boy It is a point where everyone must take pictures as souvenirs.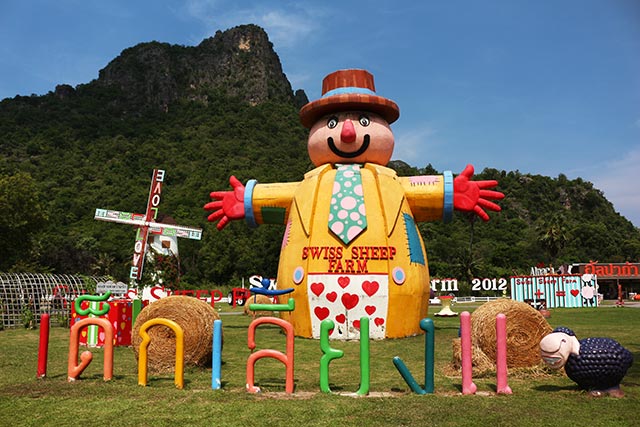 The place in the farm is beautiful. The photo shoot will get a beautiful picture as you see it. Because the place is already beautiful, 95% of my photography skill is only 5%, and I already get beautiful pictures.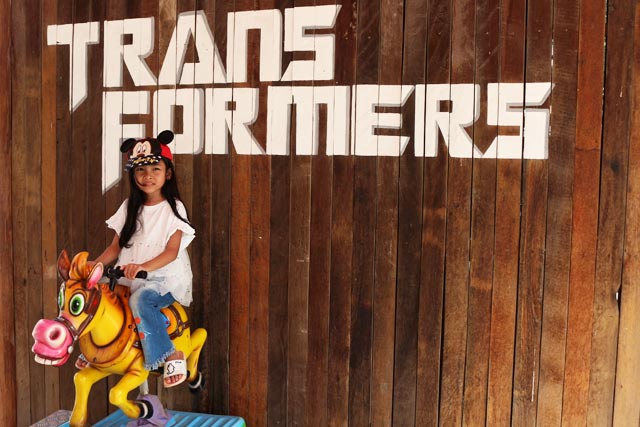 There are many photo spots. My daughter doesn't like being outdoors in the sun. will choose an indoor corner to take pictures.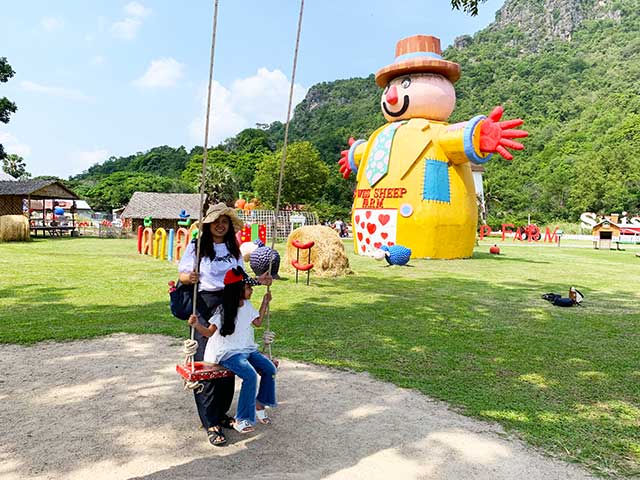 My wife and daughter took photos with the swing set under the tree. It is a shady and cool spot.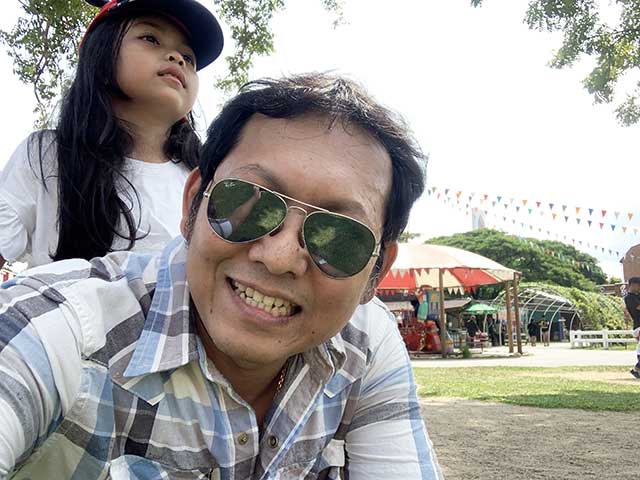 Sometimes it is difficult for daughters to walk around on their father's backs. They must get tired. In the past, when they were little, Always ride on the back of her father, but she grows every day. need some help yourself.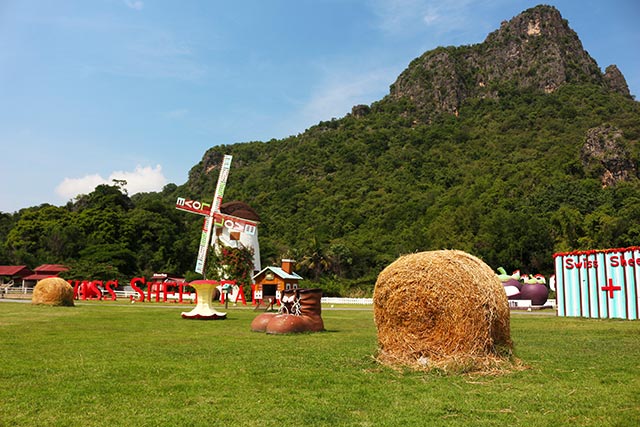 Before leaving the farm, there is a kiosk that leads to a souvenir shop. Inside there are many souvenirs. And there is a big teddy bear waiting to greet the entrance of the shop. Anyone who likes to sit and take photos is fine.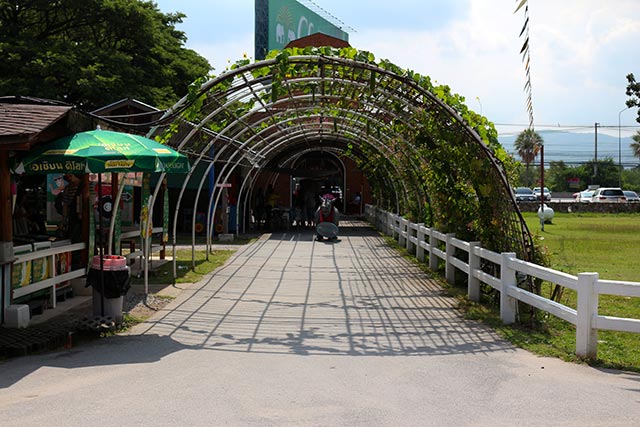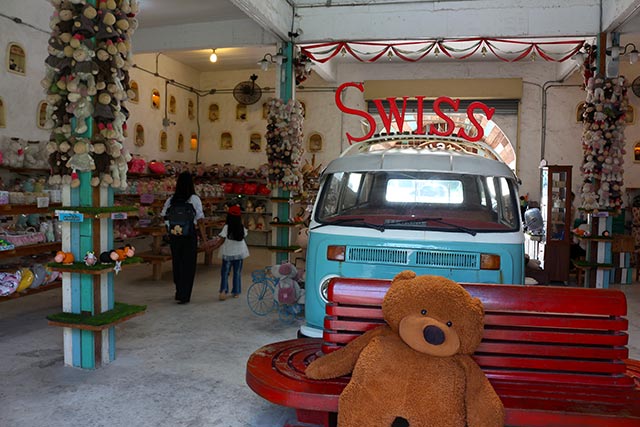 Today I took my family on quite a trip. It's time to go find a restaurant for dinner. The shop you have to go to has to be a shop that accepts "wallet, taste, shop, use" because today it is a right. It's a pity if you don't use it on the last day. set one thousand baht The target restaurant to eat at is "Aunt Yuen's Kitchen Restaurant" missed it this morning before the shop opened. It's now 4:00 p.m. and I'm going to eat as much as I can. We'll follow me to dinner at Restaurants in Cha-am are better.
Saturday 12 October 2019