Die cast Cars
Die cast Cars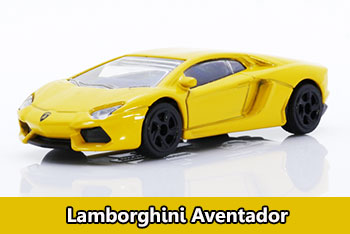 Majorette Lamborghini Aventador 
This Lamborghini model is produced in Majorette, the manufacturer of the model car. Children's play cars from France Which has production bases in Thailand Nowadays, these model steel cars are very popular with collectors. Due to the beauty and realistic details Let's see this Lamborghini Aventador.
Hits: 362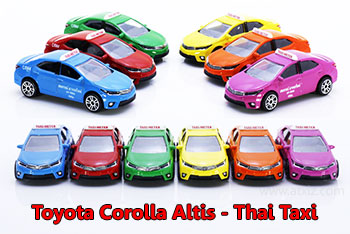 A collection of 6 Thai taxis that are extremely spicy.
For model steel car collectors looking for and collecting Thai taxis, I can say that it is not that difficult for some people. But for some collectors it can be difficult Since some areas may not be available for sale And I can say that some vehicles are very rare.
Hits: 481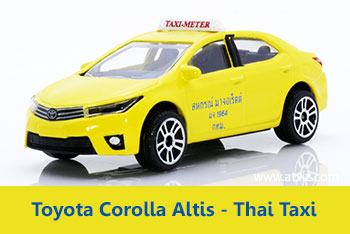 Thai yellow taxi model
Thai taxi model There are 11 different types as the Toyota Altis car. Divided into 6 pure single colors and 5 types of two-tone colors. If any model car collectors Want to collect Thai taxis Have to follow to collect all 11 types ever We come to see the pure yellow taxi. This car is better.
Hits: 725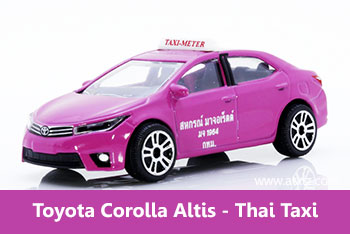 Pink color Thai taxi
Arrived at the pink taxi in Thailand in the group of model cars Majorette, Thai Taxi series. There are only 6 pure color cars. Before that, I wrote an article for orange taxis, blue taxis, red taxis, green taxis coming to this car. Is a pink taxi, let's see the details and photos.
Hits: 585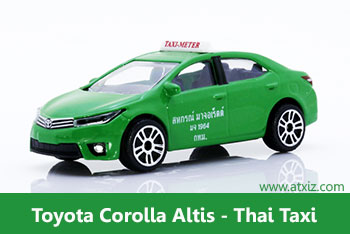 Majorette Thai Taxi, green Altis
Today we come to see the green taxi. Of Thailand.The company Majestic, a manufacturer of model cars from France. But has production bases in Thailand and sells die-cast model cars around the world.The Toyota Altis is another model that has been made into a 3 inch compact car model only.We come to see the various details better.
Hits: 885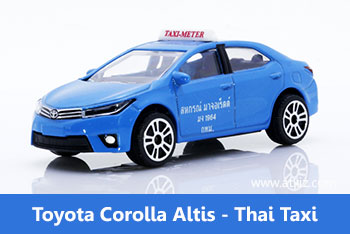 Majorette Blue Thai taxi car diecast 
Toyota Altis car model can be considered a beautiful car model. For collectors, there are many types to collect, especially Majorette has produced in the form of Thai Taxi, which has 11 types, considered as a model car that can be easily collected to complete. When it was first released.
Hits: 470