Car diecast Majorette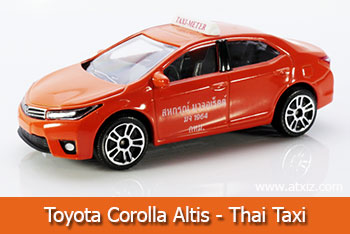 Majorette Orange Thai Taxi Toyota Corolla Altis
This time, let's take a look at the model Taxi. This car is the legendary orange taxi that many people search for because it's not in a single package. Like other taxis But will be put in a package of 5 cars and 1 in 4 cars will have 1 orange taxi, therefore making it harder to buy than Majorette but still making fun by putting this orange Taxi in Easter Egg to surprise us.
Details

Category: Diecast Cars
Also available: th-TH

Thai (ภาษาไทย)

Hits: 1151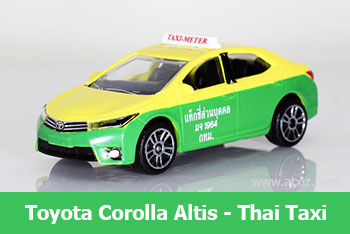 Majorette Thai Taxi Green Yellow
Majorette, a model car manufacturer, has produced a small 1/61 model taxi, which is only 3 inches in length. The taxi in this set is a Thai taxi with 11 cars, 11 color models for us to collect. Is a Toyota Corolla Altis. We come to see the inside details.
Details

Category: Diecast Cars
Also available: th-TH

Thai (ภาษาไทย)

Hits: 1085