Car diecast Majorette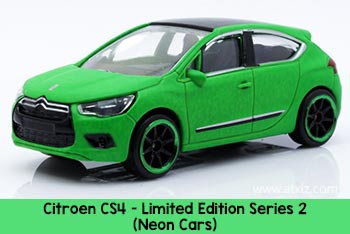 Majorette Citroen DS4 (Neon Cars)
The Majorette model car in the Limited Edition Series 2 Neon Cars concept has a total of 11 cars. Finding all 11 of them can be considered the pinnacle of Majorette's car collectors. Quite For this one is one of the 11 cars that must have Neon Cars!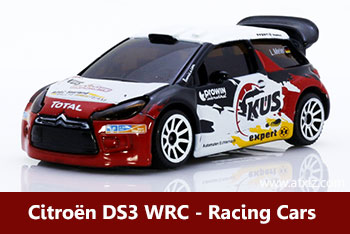 Citroen DS3 WRC KUS Car Diecast
Another very rare and beautiful Majorette metal model is the WRC - World Rally Championship. It is a Citroen DS3 with a large KUS on the side of the car. The shade of the car is very beautiful. Today is a metal car model that many people want to collect a lot.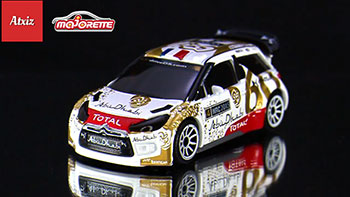 Majorette Citroen DS3 WRC2015  "60th Anniversary"  
This time, we will come to see the "WRC" model steel car, a race car that many people like it a lot. For toy car manufacturer brands Or model die cast cars from France, which have production bases in Thailand There are many models of die cast cars for children. Have played a lot and most importantly, many adults still collect a large number of die cast cars If a rare car, the price is also very high.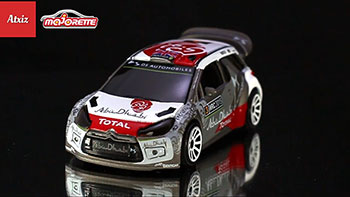 Majorette Citroen DS3 WRC Grey No.3
Another beautiful metal car, worth collecting work Probably a gray model No. 3 Citroen DS3 WRC with beautiful details makes it very attractive to collectors.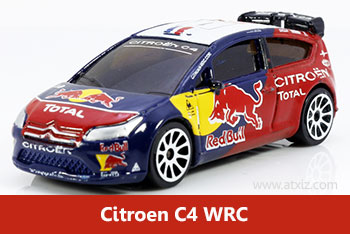 Majorette Citroen C4 WRC "Red Bull"
Regardless of whether you own it or not, for the "Majorette Citroen C4 WRC" (Red Bull) metal model, produced in 2009-2011, this is the car model collection of world rally championship.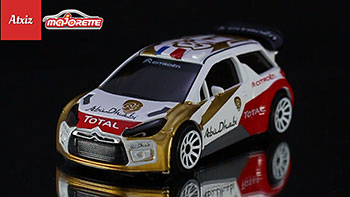 Majorette Citroen DS3 Gold No.1
Today! We come to see beautiful model cars.This car from Majorette is a manufacturer of toy cars from France. And have production bases in Thailand There are many model cars for children. Who are over 3 years old, play to improve But many adults still collect as well.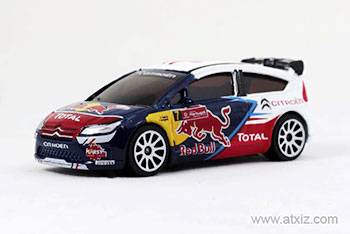 Die cast car Majorette Citroen C4 WRC Red Bull No.7
Today I would like to introduce you to Majorette, the Citroen C4 WRC Red Bull model. Rare and expensive! As for the price, I would like to not allow you to mention how much it is currently trading. It is a matter of the market mechanism, that is, there are few, rare, and many people want it, the price is expensive!