Car diecast Majorette
Diecast Cars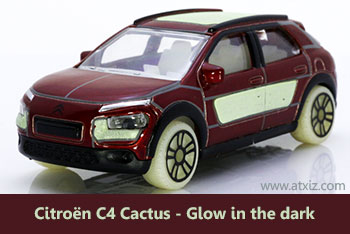 Majorette Citroën C4 Cactus Red - Glow in the dark
The Majorette car diecast that many people are searching for to be a key jigsaw for the Limited Edition Series4 Glow in the dark. That car can glow in the dark. Why is this red Citroen C4 Cactus so rare? Since it is only in Multipack Exclusive boxes. Cannot be purchased in regular single packs.
Details

Written by:

Atxiz

Category: Diecast Cars
Also available:
Hits: 1309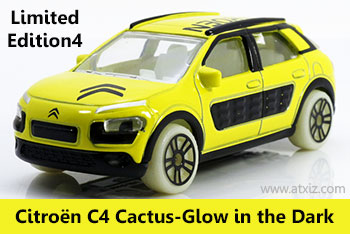 Majorette Citroen C4 Cactus Glow
Citroen Citroen C4 Cactus is a French national 5-cylinder engine with 1,199 cc engine capacity of 110 horsepower, top speed at 188 Km / h, acceleration 0-100 Km / h at 9.3 seconds, body weight 1,020 Kg.
Details

Written by:

Atxiz

Category: Diecast Cars
Also available:
Hits: 1388